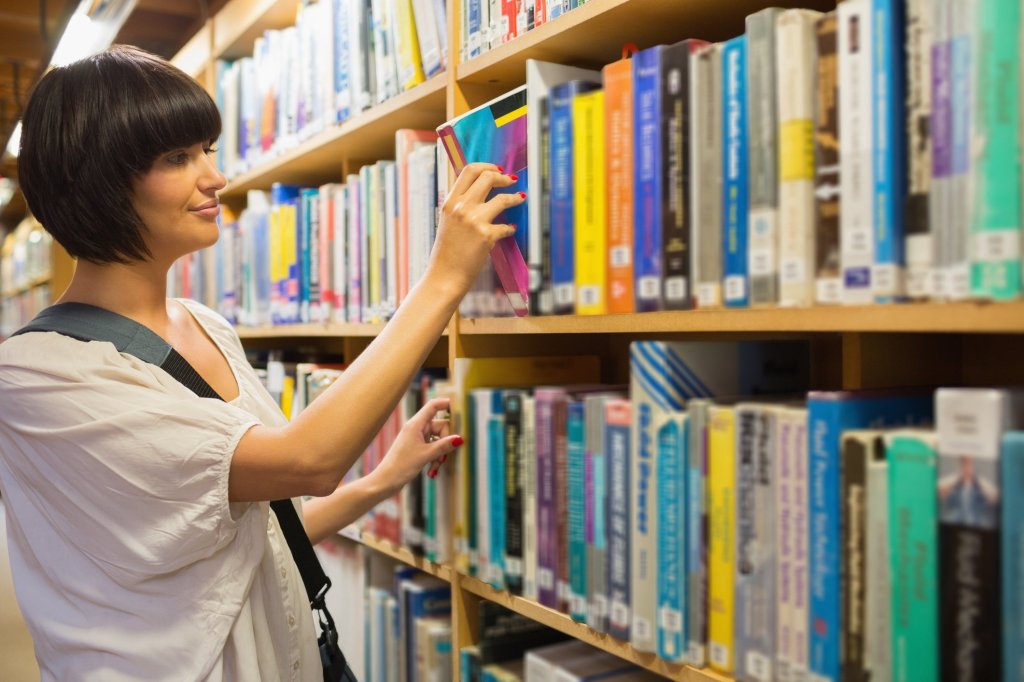 Caregiver Training: 50 Top Caregiver Courses
When it comes to caregiving, there seems to be a course, training, webinar, and certificate for everyone and every reason, and for good reason: caregivers come in every stripe: loving family members, taking care of aging seniors; home health aides, looking to expand their skill sets; certified caregivers, seeking updated information; certified nurses, looking to specialize in gerontology; and more. Thanks to the availability of comprehensive courses, training programs, and learning resources, both professional caregivers and family caregivers can gain valuable knowledge and skills to better serve the people they care for.
The 50 Best Caregiver Courses
We've pulled together this list of the best courses and training for caregivers, including everything from free webinars to weeks-long series with multiple training modules and comprehensive training programs that can take several months or more to complete. Whether you're looking for specialized knowledge to better care for a loved one with Alzheimer's disease or simply looking for expert guidance on how to be the best caregiver you can be, we think you'll find something of interest on this list. While the courses and training programs below aren't ranked or rated in any particular order.
General Caregiver Training & Courses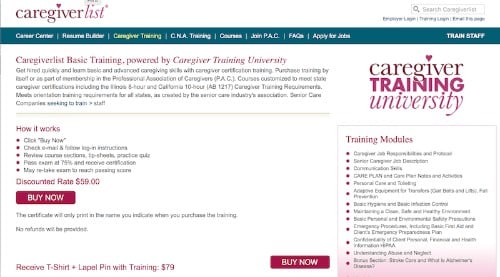 We'll kick off our list with certified caregiver training from Caregiverlist: basic job responsibilities and protocol, patient communication skills, developing care plans, tending to personal care and toileting, how to use adaptive equipment, confidentiality, emergency procedures (including basic first aid), and understanding abuse and neglect – these are the skills and knowledge you'll gain from this caregiver prep course. Key Features:
Pass a 36-question exam and receive a certificate to show employers and clients
Certifications available: Professional Caregiver (Certified Caregiver), Certified Home Health Aide (C.H.H.A. status is given in N.J.), Certified Nursing Aide (C.N.A. certification is given in all states), or Certified Personal Care Assistant (C.P.C.A. is given in N.Y.)
Bonus section: Stroke Care and What Is Alzheimer's Disease?
Price: $59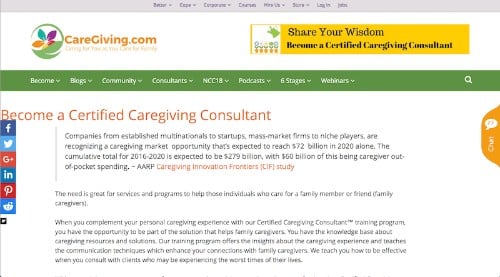 If you care for a family member or friend, then Caregiving.com offers just what you need: Certified Caregiving Consultant Training. It's the perfect complement to your personal caregiving experience – the addition of a solid knowledge base, improved communication techniques, and a whole host of caregiving resources and solutions. The goal: Learn how to be more effective at your job, every time you consult with clients experiencing a difficult phase in their lives. Key Features:
3 Training options: 8-Week Virtual Training, Fast-Track In-Person Training, and Fast-Track Virtual Training
Approved to provide 8 continuing education hours [graduates of the Certified Caregiving Consultant™ training program]
Ideal for caregivers who already work in home health or a hospital, long-term facility or social service agency
Price: $999+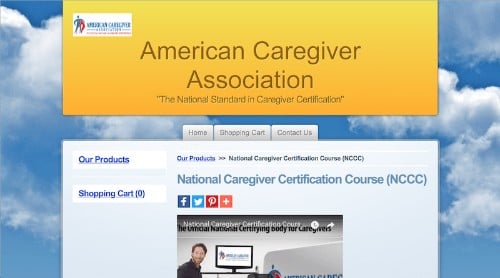 The American Caregiver Association (ACA) is the National Standard for caregiver certification in the United States, and this course is one of their most complete: Offering 120 hours of in-class credit, it covers dozens of caregiving topics, knowledge and know-how – from resident rights, caregiver communication, and managing personal stress, to preventing abuse, the aging process, and general hygiene. Key Features:
120 hours of ACA in-class credit for this course
Available to ACA Members only (membership: $25)
Bundle ACA courses for savings
Price: $79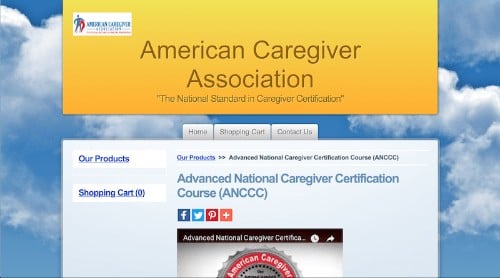 A third offering from the ACA, this advanced-level National Caregiver Certification (ANCCC) is one of the most comprehensive trainings available to caregivers – and, at twice the length of the standard NCCC course, it's also a serious commitment. If you choose this course, you'll study everything in the standard course, plus topics including ethical considerations, medical and environmental emergencies, peri-operative care, fire safety, physical and mental disabilities, and the storing and documentation of narcotic drugs and controlled substances. Key Features:
200 hours of ACA in-class credit for this course
Available to ACA Members only (membership: $25)
Bundle ACA courses for savings
Price: $99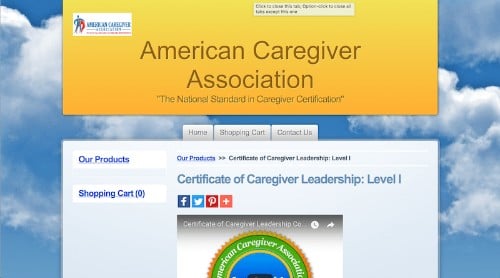 Beyond basic training, the ACA also provides continuing education and ongoing leadership opportunities for the nation's caregivers. So, whether you work at a home health company, a caregiving facility, or in private homes, this Caregiver Leadership – available to both new and experienced caregivers – training provides a strong foothold in advanced caregiving skills and inter-personal relationships that will further your knowledge and career. Key Features:
Earn 20 hours of continuing education units
Available to ACA Members only (membership: $25)
Bundle ACA courses for savings
Price: $40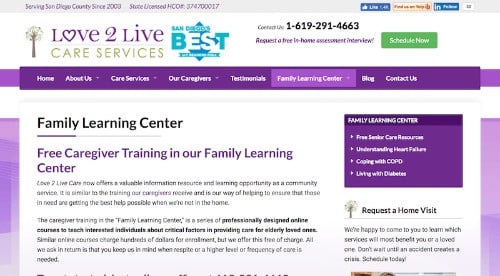 This free Caregiver Training from the Family Learning Center is a valuable tool and resource for caregivers: professionally designed and always available, this is similar to the type of training that professional caregivers receive. The course covers almost everything you'll need to know, from understanding senior rights and the tasks of a caregiver, to emergency first aid and common diseases. Key Features:
Designed around professional training, especially for family caregivers
Learn about becoming a caregiver, from the day-to-day realities to the ways you can change lives
Acquire practical and necessary caregiving skills
Price: Free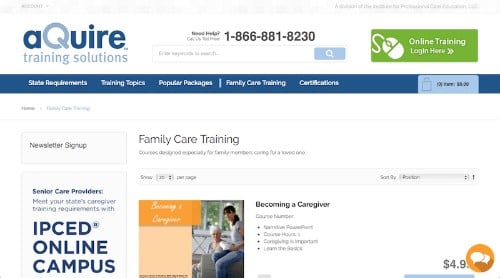 If you're exploring the idea of a caring for a loved one, be it in your home or theirs, this Family Care Training from aQuire can give you a great introduction. The short course covers the basics, helping you assess your responsibilities and ensuring your loved one receives the care s/he needs and deserves. You'll also touch on care-related topics, such as memory loss, compassionate care, and personal care. Key Features:
1-hour course
Designed for amateur caregivers taking care of loved ones
Acquire a basic understanding of Alzheimer's and memory loss
Price: $5-$30 per class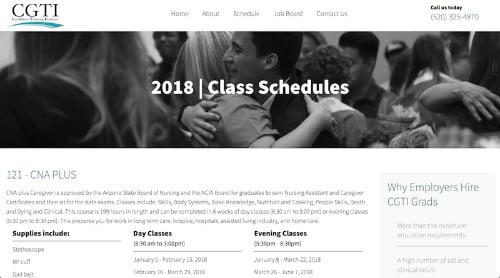 If you're looking for an in-depth and very comprehensive option, this Caregiver Training Course from the Caregiver Training Institute provides curriculum for professional caregivers. The course is part onsite (Arizona) and online, and covers a wide range of topics, including legal and ethical issues, understanding service plants, mental health, special needs care, medication training, restorative skills and activities, and care for the cognitively impaired. Key Features:
116-hour training course
High School Diploma or GED is recommended
Required: CPR Certification (Healthcare Provider Level) (estimated cost: $45-$95)
Price: Contact for pricing information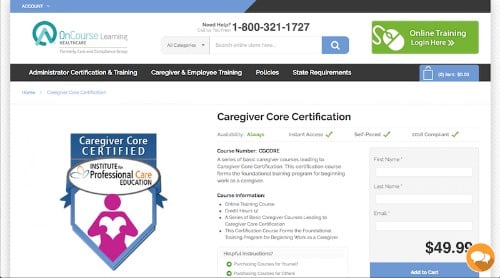 The more robust of aQuire's Caregiver Training courses, this option offers 12 one-hour courses in the following topics: Caregiving Tasks And Client Populations; HIPAA And Client Rights; Observation, Reporting, And Recording, Instrumental Activities Of Daily Living; Infection Prevention And Control, Observation, Reporting, And Recording; Instrumental Activities Of Daily Living; Infection Prevention And Control; Caregiver Conduct: Regulations, Co-Workers, and Families; Understanding Cultural Differences in the Senior Population; and more. Key Features:
12-hour course
Leveled courses require step-by-step completion
Covers both practical and logistical topics in caregiving
Price: $5-184 (12-hour package)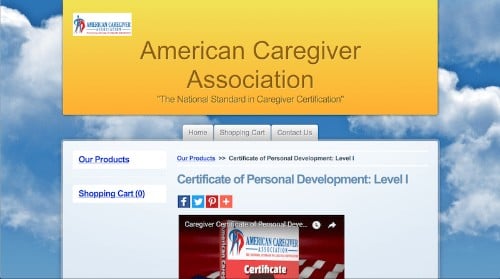 The ACA keeps rolling out the great courses, this time a Certificate of Personal Development. While most courses on our list are all about giving you new skills, this course focuses more on examining your existing strengths and weaknesses as a caregiver, working to improve your weaknesses, and then setting new goals and enacting plans to achieve them. This course is designed both for new and experienced caregivers. Key Features:
Earn 20 hours of continuing education units
Available to ACA Members only (membership: $25)
Bundle ACA courses for savings
Price: $40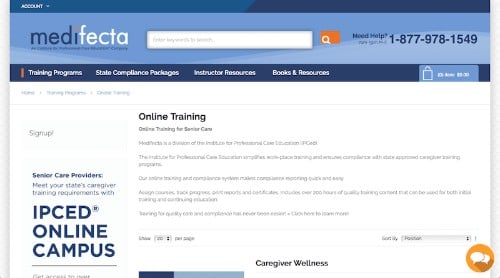 This online training and compliance program from Medifecta, a division of the Institute for Professional Care Education (IPCed), makes it easy and convenient to deliver both initial training and continuing education. There are many courses available, each offering a different tool, skill, or requirement: How to Communicate Effectively with Someone Who Has Aphasia, Developing Cultural Competence, Caring for Someone with Early to Mid-Stage Alzheimer's Disease, How to Manage Medications, and Providing Personal Care at Home. Key Features:
Dozens of courses available
Spanish-language courses also available
2018 compliant
Price: $10 per course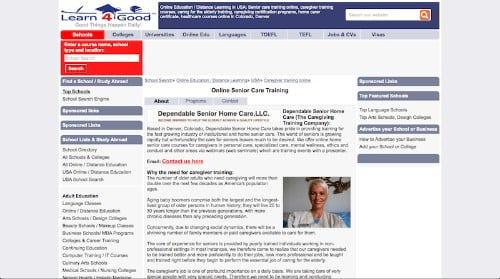 The daily duties of a caregiver never cease (and, usually, increase), making your job one that constantly grows. This Online Senior Care Training from the Caregiving Training Company is the ideal complement to your role as caregiver: Covering topics including ethics and conduct, professional etiquette, personal and mental wellness, and specialized caregiving, this course also arms you with educational and industry resources, as well as a guide to being a self-employed contractor. Key Features:
The e-course is a fully printed text version of webinar sessions and classes
Intended for self-study, at your own pace
Two tests are given to validate comprehension of subject matter
Price: Contact for pricing information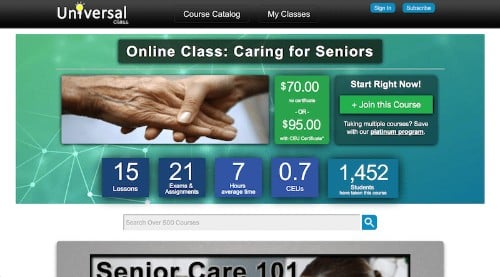 When it comes to your nearest and dearest, taking on the role of caregiver to aging friends and family – or to clients – can be a fulfilling, if challenging experience. This course addresses all the challenging bits, like dealing with the symptoms of Alzheimer's (aggression, forgetfulness, and more), loss of independence, how to ensure security and safety, and encouraging and enabling seniors to stick to their medication schedules. Key Features:
15 total lessons
7 class hours
0.7 CEUs
Price: $70 (no certificate) or $95 (with CEU certificate)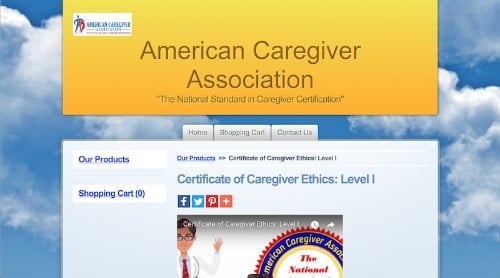 Our final offering from the ACA, this Certificate of Caregiver Ethics is your professional ticket to trust: How can you convince families, coworkers, and employers that you're trustworthy? With this certificate, as a start. Bottom line: This training provides a strong background in caregiver ethics – doing the right thing, the right way, and at the right time. And, since action speaks louder than words, this certificate provides proof that you'll uphold these ethics. Key Features:
Raise your "trust factor" and stand out from the crowd with certified proof of your caregiver ethics
Available to ACA Members only (membership: $25)
Bundle ACA courses for savings
Price: $40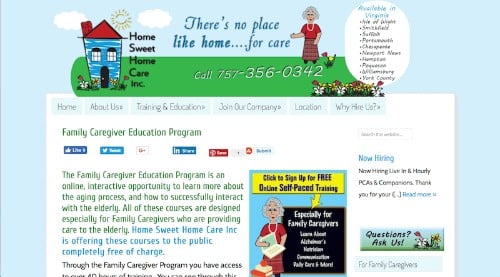 This online, interactive caregiver education program was designed specifically for family caregivers offering elder care. The program is designed by Home Sweet Home Care Inc. and offers more than 40 hours of training, and covers an incredible range of subjects, from Alzheimer's memory loss and aging and common chronic diseases, to handling difficult situations & behaviors, and promoting a family member's independence. Key Features:
Free community outreach through Home Sweet Home Inc.
No set course: take the classes and hours that suit your situation
Designed especially for family caregivers
Price: Free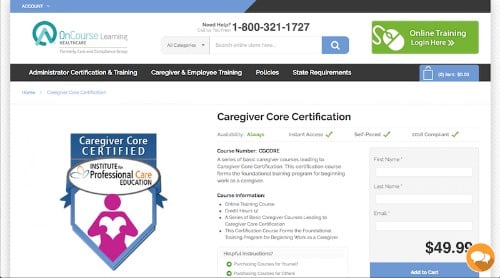 It's not hard to guess the goal of The Institute for Professional Care Education: educate caregivers in professional, effective methods of care. With this in mind, the institute offers up its Caregiver Core Certification program, which covers a series of basic caregiver courses – about 12 hours, give or take a learning curve – that for the foundation of its full caregiver training program. Key Features:
Foundational training program – springboard to starting work as a caregiver
Earn 12 credit hours
Fully online training
Price: $50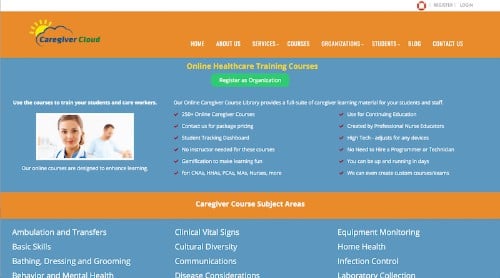 If you're looking for a course that will take you from total newbie to knowledgeable caregiver, then give Caregiver Cloud a try. More than 250+ online caregiver courses comprise their list, which can be used for CNAs, HHAs, PCAs, MAs, nurses, and more, including for continuing education purposes. It covers almost every conceivable topic, including behavior and mental health, ambulation and transfers, cultural diversity, home health, infection control, legal and ethical issues, observational skills, workplace hazards, and much more. Key Features:
Dozens of courses available, including: Bathing and Dressing and Grooming, Oral Care for Unconscious Elders, Diet for Clients with Arthritis, and Transferring a Patient from Walker to Wheelchair
Created by Professional Nurse Educators
Package pricing available
Price: Varies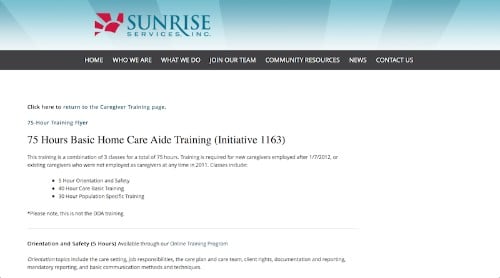 If you're looking for a comprehensive and well-rounded training in basic home caregiving and health aide services, then this offering from Sunrise Services could be your answer. Designed for new and experienced caregivers alike, this course provides knowledge and teaches skills related to safety and legal concerns (emergency preparedness, client rights, mandatory reporting, etc.), general caregiving, and also population-specific training (mental health, dementia, heart disease, and more). Key Features:
Specialties: Mental Health Care, Dementia Care, Traumatic Brain Injury, Diabetes, and Heart Disease
Combination of 3 classes for a total of 75 hours
5-hour Orientation and Safety, 40-hour Core Basic Training, and 30-hour Population Specific Training
Price: $240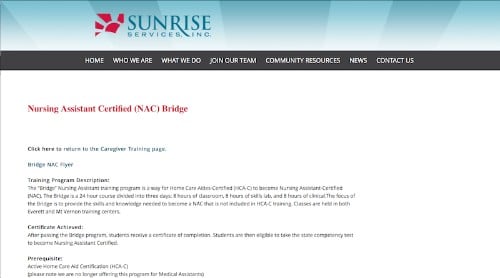 For those looking to bridge the gap between a home care aide to nursing assistant, Sunrise Services offers certification to become Nursing Assistant-Certified (NAC). Over 24 class hours, you'll focus on the skills required to work in residential care facilities, halfway houses, homes for the elderly or disabled, or in private care. An active Home Care Aid Certification (HCA-C) is required. Key Features:
24 total hours: 8 hours of classroom, 8 hours of skills lab, and 8 hours of clinical
Become eligible to take the state competency test to become Nursing Assistant Certified
Classes held only at SS Everett and Mt Vernon training centers
Price: $400 + materials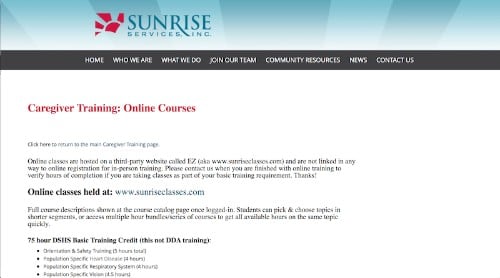 If you're looking for the online option from Sunrise Services, it's right here: 30 hours of population-specific training, all rolled into one course. You'll receive 4-6 hours each per population, including TBI, diabetes, dementia care, the respiratory system, heart disease, and caring for the visually impaired, as well as a course on viewing the world through the eyes of a caregiver. Key Features:
Entirely online
30 course hours, with 4-6 hours of training per population
Discounted rate for all 30 hours
Price: $240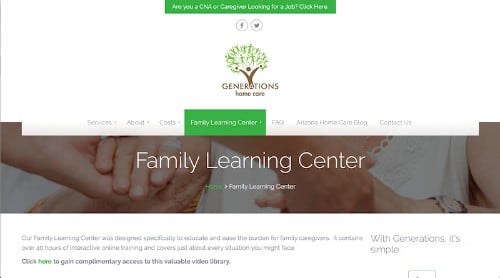 This for-the-community training is not only comprehensive; it's free! And wonderful. With more than 40 hours of training, including 25 hours dedicated to Alzheimer's and dementia care, this online course covers almost every topic relevant to family caregivers. You'll cover topics like signs and symptoms, skin care, elimination and toileting, emergency first aid, challenging behaviors, care planning, and even end-of-life care. Key Features:
40+ hours of training
25 hours dedicated to Alzheimer and dementia care
Specifically designed for family caregivers
Price: Free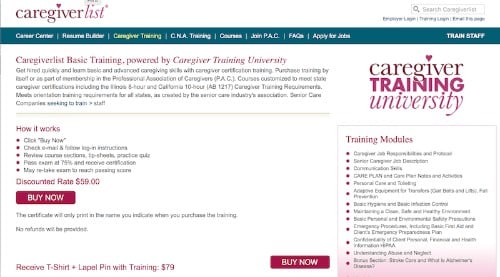 Whether you're looking to get hired quickly or snag a great promotion, Caregiverlist's basic caregiver training arms you with the skills and knowledge necessary to advance your career. The course starts with standard caregiver responsibilities and protocol, and then moves on to communication skills, personal care and toileting, confidentiality, understanding abuse and neglect, basic hygiene, infection control, and other relevant topics. Key Features:
Purchase standalone training or as part of membership in the Professional Association of Caregivers (P.A.C.)
Meets state caregiver certifications, including the Illinois 8-hour and California 10-hour (AB 1217) Caregiver Training Requirements
Meets orientation training requirements for all states
Price: $59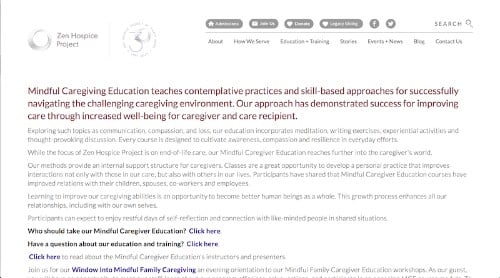 The Zen Hospice Project presents something totally different – and very helpful – to caring caregivers: Mindful Caregiving Education. Hospice and end-of-life care can be difficult for everyone, from your patients and their families, right on down to you. This course is designed to help you successfully navigate that challenging environment, through the exploration of related topics (loss, compassion, and communication), as well as writing exercises, thoughtful discussion, and experiential activities. Key Features:
The Zen Hospice Project focuses on end-of-life care
The course is designed to cultivate awareness, compassion and resilience in your everyday caregiving
Enjoy restful days of self-reflection and connection
Price: Contact for pricing information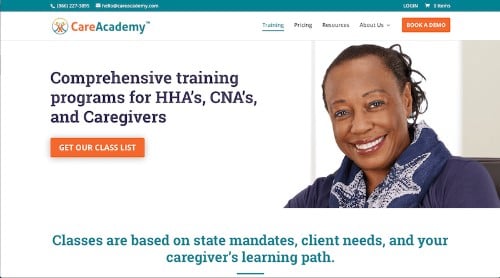 Care Academy is dedicated to high-quality education to fuel high-quality caregiving: caregiver support through unrivaled professional development classes, to ensure excellent care through that same training. The academy's initial suggested training – the course can be customized, if you so desire – includes topics like client rights & HIPPA, communicating with older adults, infection control, and assistance with living independently. Key Features:
Suggested initial training: 16.5 hours
Variety of available classes on specific topics (e.g. depression care)
Customize your training to your specific needs and situation
Price: Varies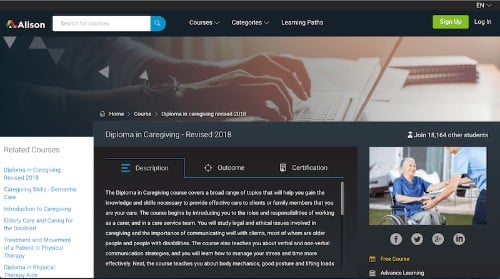 Alison's courses offer an excellent introduction to almost any topics, including that of caregiving. This course is excellent for beginners, offering a broad range of topics including the signs and symptoms of illness (both physical and mental), body mechanics, the health effects of aging, cultural issues (ex. gender, diet and religion), and all the physical systems, from the respiratory system to memory. Key Features:
Total time investment: 6-10 hours
Designed for beginners to the caregiving profession
Teaches verbal and non-verbal communication strategies
Price: Free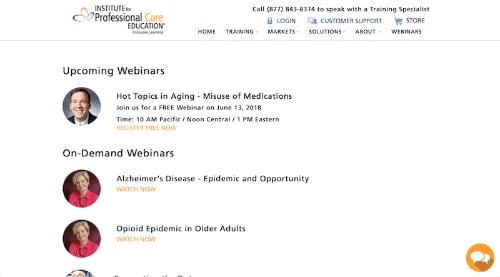 The Institute for Professional Care has developed an entire webinar series to educate and empower caregivers, whether you're taking care of a loved one or have dedicated your entire career to caring for others. There are dozens of options available related to aging, care, and quality of life, including: Talking with Family Caregivers, Hot Topics in Aging – Depression, Hot Topics in Aging – Misuse of Medications, Opioid Epidemic in Older Adults, Family Caregivers: Things Every Provider Needs to Know, and Managing Caregiver Grief. Key Features:
Dozens of available courses
Check in for upcoming webinars
Past webinars available 24/7, on-demand
Price: Free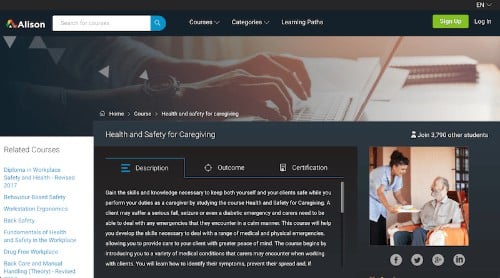 If you're up for more specified training, check out Alison's course on Health and Safety for Caregiving. It goes beyond the basics to help train you for any emergencies you might encounter while caregiving, as well as on how to deal with the variety of medical conditions and patient needs that all caregivers will experience. Other topics include food safety, physical emergencies (a fall, for example), and other health-related issues. Key Features:
Time investment: 1-2 hours
Maintain your calm in the event of emergency
Reassure your patients and their families that you are prepared for any eventuality
Price: Free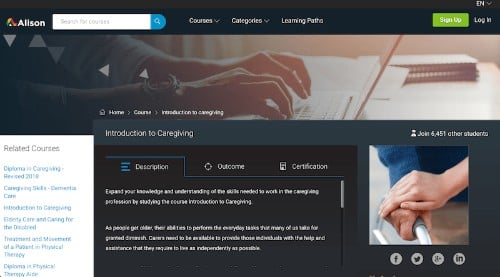 Learn about the fundamentals of caregiving in this course from Alison. Not only will you develop a better understanding of the importance of care and confidentiality, but you'll also acquire the skills necessary to communicate with all members of the care service team, from your coworkers to patient families, as well as how to attend to clients who are wheelchair bound, mentally impaired, or visually impaired. Key Features:
Time investment: 1-2 hours
Designed for caregivers already working in the field
Also suited to beginners building qualifications to break into a caregiving career
Price: Free
Caregiver Training for Special Populations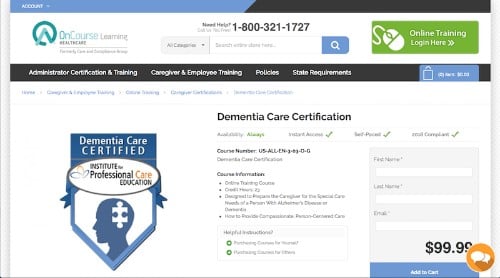 If you care for (or are interested in caring for) dementia and Alzheimer's patients, you know that there are unique requirements to the job. Enter this training, again from the Institute for Professional Care Education, which offers a more robust look at caregiving, specifically as it pertains to persons with Alzheimer's disease or dementia. The focus: how to provide effective and compassionate, person-centered care. Key Features:
Next-level training for experienced caregivers
Earn 23 credit hours
Fully online training
Price: $100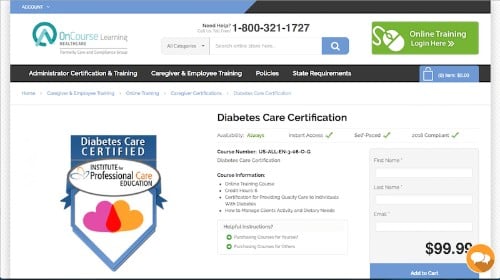 Caregivers know: Diabetes care is its own field entirely. You have very specific responsibilities and challenges, and this training course aims to educate and empower you to do your job more efficiently and more effectively, while also getting more enjoyment from it. Over six class hours, you'll learn about providing quality care to patients with diabetes, including how to manage their dietary needs, daily activity, and other topics. Key Features:
Hone your caregiver focus with condition-specific training
Earn 6 credit hours
Fully online training
Price: $100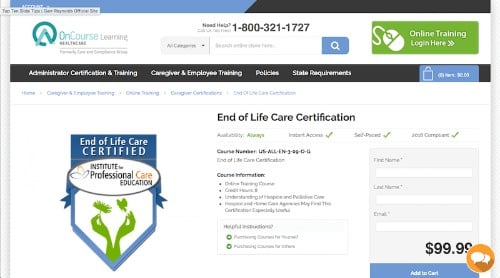 Another top offering from the Institute for Professional Care Education, this certification prepares you for the physical, emotional, and professional requirements of hospice care and end-of-life home care. The course covers all manner of hospice and palliative care topics, both as they relate to your patients and your families. Key Features:
Hone your caregiver focus with situation-specific training
Earn 8 credit hours
Fully online training
Price: $100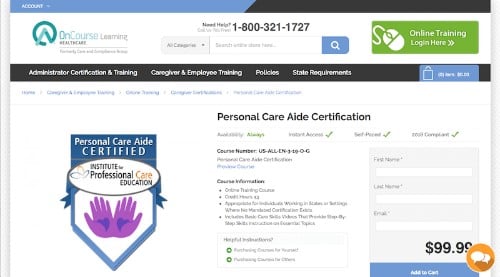 If you're working as a personal care aide in a state where no mandated certification exists, then this training from the Institute for Personal Care Education could be just the ticket. The in-depth course offers 40+ hours step-by-step skills, knowledge of essential caregiver topics, and training in everything from daily care skills and providing skin care, to caregiver first aid and HIPAA & client rights. Key Features:
Hone your caregiver focus with position-specific training
Earn 43 credit hours
Fully online training
Price: $100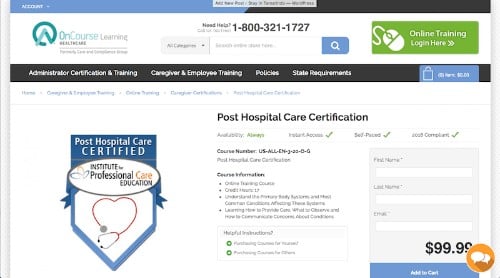 The final offering on our list from the Institute for Professional Care Educate, this post-hospital care certification teaches student how to provide post-hospital care, what to observe, and how to communicate concerns about a patient's condition. You'll also receive training in primary body systems and the most common conditions to affect those systems, so you can best fulfill your duties, protect your patient, and preserve quality of life. Key Features:
Hone your caregiver focus with situation-specific training
Earn 23 credit hours
Fully online training
Price: $100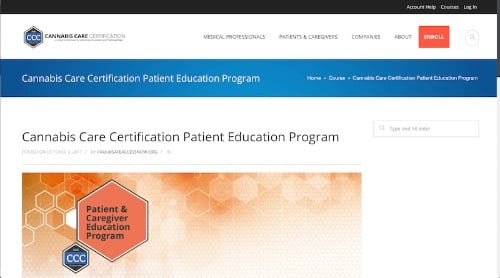 We know – this course won't be for everyone. But, if you live in a state that has legalized medical marijuana, then you may want to take this course in Cannabis Care Certification: Designed for patients but well suited to caregivers, the program explains how cannabis interacts with the human body, and how it can help with chronic pain, and its use with other conditions related to illness and aging. Key Features:
Study the full range and availability of marijuana-based medicines
Learn how to properly store, prepare, and dispense medication to your patients or loved ones
Inform yourself on local law, where medical marijuana is dispensed in your state, and how you can help your care recipients who have a prescription
Price: Free
Not much free time but a will to learn? Then, you'll love these caregiving webinars from the Family Caregiver Alliance. Designed for home caregivers, these courses recognize how easily (and quickly) caregiving can creep up on you: you drop in on Mom to help make a meal or take Dad to his eye doctor. Slowly, you're doing more and more and finally, you realize that you need to know more about caregiving. This is your place. Key Features:
Webinars explore topics in planning for care and, eventually, daily caregiving
Focus on your own self-care, as well
Learn how to recognize warning signs of aging-related illnesses
Price: Free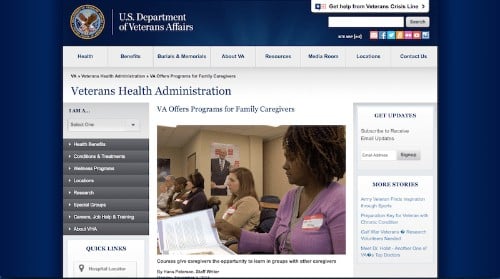 The VA's wonderful Caregiver Support Program has helped develop a series of educational programs to assist caregivers, specifically those who are caring for a loved one. Two courses are currently available: Building Better Caregivers™ (BBC) course is designed to support caregivers and their families through online workshops and training, with a focus on stress-management, using technology in your caregiving, and taking care of yourself, as well. Key Features:
Sign up for 1 class (or all 4); total run: 6 weeks
Each class runs about 3 hours
Receive a workbook + CD to refer back to, when needed
Price: Free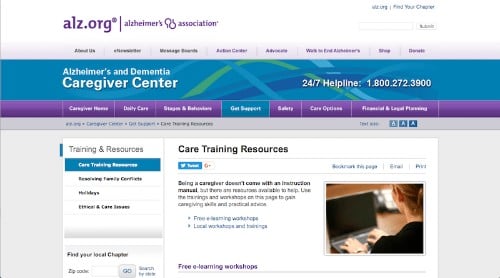 We've said it before but we'll say it again: Alzheimer's and dementia care requires a very unique skillset. Enter the online workshops from the Alzheimer's Association: Designed to educate caregivers on all topics related to dementia care – from the 10 early warning signs, to living with Alzheimer's through its late stages – this course will prepare you for one of the field's toughest and most rewarding jobs. Key Features:
Improve your résumé with condition-specific skills
Understand how to respond to dementia-related behavior
Discover how to best communicate with families affected by dementia
Price: Free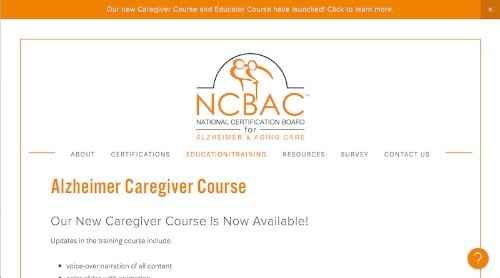 From the National Certification Board for Alzheimer & Aging Care, this is an exceptional educational tool to helping in training caregivers in better, more effective Alzheimer and dementia care. This is a robust, stand-alone training program that provides a full and comprehensive look at dementia care, including updated content on medications, caregiver responsibilities, and current legal and ethical issues. Key Features:
10 modules with practice quiz questions at the end of each module
Self-paced course
You will have 90 days of access to the course, or until the exam is taken (whichever comes first)
Price: $99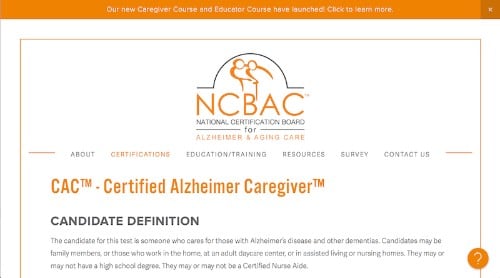 If you're serious about furthering your career, then this offering from the NCBAC is for you: Certification is available to candidates may be family members, private home caregivers, or employees at larger facilities. You must pass a rigorous test to demonstrate your knowledge and understanding of the special needs of patients with Alzheimer's disease or dementia, as well as the needs of their families. Key Features:
Test required to pass the course
No high school degree required
Certification demonstrates a knowledge and understanding of Alzheimer's and dementia care
Price: $99 (course fee) + $165 (CAC™ exam)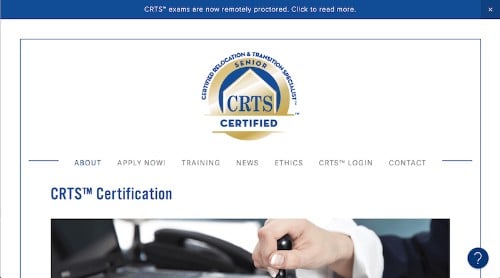 A different kind of caregiver training, the Certified Relocation & Transition Specialist (CRTS)™ designation is the only of its kind: take this course, and you'll be uniquely qualified to help seniors and their families with senior home transition, senior relocation, and senior moves, for example to an assisted living or nursing facility – anything and everything related to organizing, downsizing, and moving of the aging population. Key Features:
In an unregulated field, CRTS™ Certification makes you stand out
CRTS™ is the most recognized symbol of professionalism and standards in senior relocation, move management, and senior transition services
Keep current with emerging and evolving industry standards
Price: $999 (course + exam)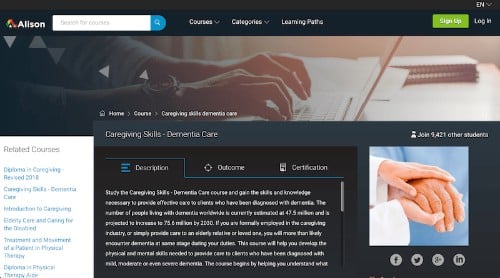 If you encounter dementia patients in your caregiving role, then this Dementia Care certification from Alison is the perfect complement. By the end of the course, you will be able to differentiate between several forms of dementia, assess the impact they may have on your patient, communicate both verbally and non-verbally with dementia sufferers, and learn how to best communicate with their families. Key Features:
Time investment: 1-2 hours
Workplace – Job Role Training – Level 1
Optional: Purchase an official Alison Diploma, Certificate or PDF
Price: Free
If you're looking to brush up on current methods of care, as well as gain new skills and knowledge, this course may be just the ticket. It begins with an introduction to how aging affects the body, and then transitions to how you can help identify deteriorations, how these changes will affect a client's lifestyle, and then how you can best help people maintain their highest possible quality of life. Key Features:
Time investment: 1-2 hours
Designed for caregivers already working in the field
Also suited to beginners building qualifications to break into a caregiving career
Price: Free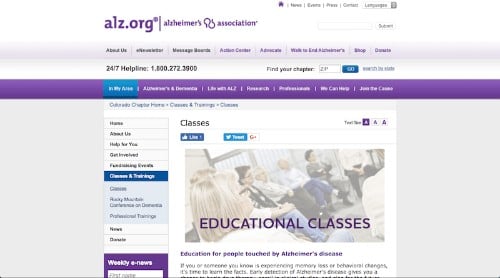 If someone you know and love is experiencing memory loss, disorientation, behavioral challenges, or other telltale signs of Alzheimer's, then you know it's time to prepare yourself with the related knowledge and skills. Beyond early detection, this course will help you develop effective communication strategies, put in place legal and financial plans, and get a handle on the basics of memory loss and the everyday challenges associated with Alzheimer's and dementia. Key Features:
Discover the latest research into and advances in Alzheimer's disease
Understand how to respond to dementia-related behavior
Learn how to live with Alzheimer's from young-onset to late-stage
Price: Free
For home and community-based care organizations seeking to adopt the Eden Alternative Philosophy and join the Eden Registry, this training serves as an important first step. Among other skills, participants will learn how to inspire others to help prevent loneliness, seek interests, and support independence in in clients, and how to help their care team reduce the stress and burnout so often associated with caregiving. Key Features:
3-day training
Infuse person-centered policies and practices into your daily operations
Dementia-specific version of the curriculum is available as a for-purchase training kit
Price: Contact for pricing information
Advanced Caregiver Training & Continuing Education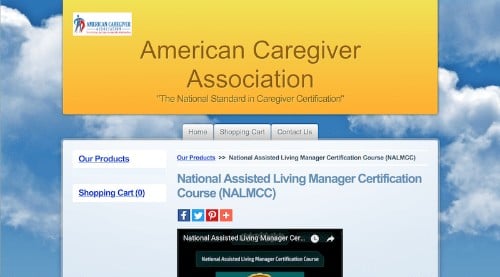 If you want to go beyond the ACA's National Caregiver Certification course, then the association presents this offering: the training you need to become certified as a national assisted living manager. The course covers all core areas of Assisted Living Management (ALM), including requirements for caregivers, current employment laws, delegation of authority, and implementing policies and procedures. Key Features:
80 hours of ACA in-class credit for this course
Designed for experienced caregivers already in the field
Available to ACA Members only (membership: $25)
Price: $79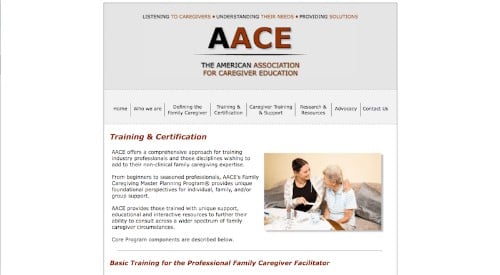 The American Association for Caregiver Education (AACE) steps up with this basic caregiver training course, offering 40 hours of class time for both beginners and seasoned professionals. Throughout the course, you'll cover the basics of non-clinical family caregiving throughout a lifetime – over the full spectrum of needs, ages, roles and circumstances that require professional caregiving – as well as legal, financial, and other related issues. Key Features:
40-hour basic program
Builds a unique foundational perspective for individual, family, and/or group support
Provides a synergistic overview of legal, financial, and social issues
Price: Contact for pricing information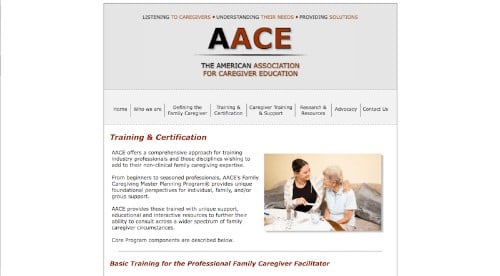 The AACE returns with this intensive, 80-hour class in Family Caregiver Master Training for the Professional: an in-depth course that covers a nearly exhaustive spectrum of caregiver issues: role play and case study, eldercare mediation, and intensive caregiver support group facilitation, and more. While the course is aimed at experienced professionals, it is also available to beginner professionals who have never had formal training in non-clinical family caregiving. Key Features:
80-hour intensive mastery program
Built on the proprietary AACE Collaborative Narrative Process®
Includes AACE's newly published Family Caregiving Master Planning Workbook for the Professional and for advanced study AACE's Mastering Effective Family Caregiver Support – A Train The Trainer Program
Price: Contact for pricing information
For caregiver professionals in need of continuing education credits, this option from EasyCEU covers a wide range of topics, including Conduct & Ethics, Dining & Nutrition, Emotional & Mental Well-Being, Hospice & Palliative Care, Management Training, Memory Care & Dementia, Resident Care & Services, and Stress Management, with in-depth training and further exploration into each. Key Features:
Approved for a total of 10-24 clock hours
Course educational offerings have been reviewed by the National Continuing Education Review Service (NCERS) of the National Association of Long Term Care Administrator Boards (NAB)
CE Broker Approved for Florida Long Term Care Administrators, Nurses, and Certified Nurse Aides as well as District of Columbia Certified Nurse Aides and Home Health Aides; Kansas Department of Health and Environment: Approval #: LTS -A1138
Price: $140 (10 credit-hours) to $200 (24 credit-hours)
Demonstrate your commitment to nursing and the aging community with one of the profession's most respected certifications: the American Nurses Credentialing Center (ANCC) Certification Program. For work in gerontology and caretaking, several courses are available, including Adult-Gerontology Acute Care Nurse Practitioner, Adult-Gerontology Clinical Nurse Specialist, Ambulatory Care Nursing, and Pain Management Nursing. Key Features:
To be eligible, you must pass the NCC Adult-Gerontology Acute Care Nurse Practitioner board certification examination is a competency based entry-level examination
Full application required
Credential Awarded: AGACNP-BC (valid for 5 years)
Price: $30-$150+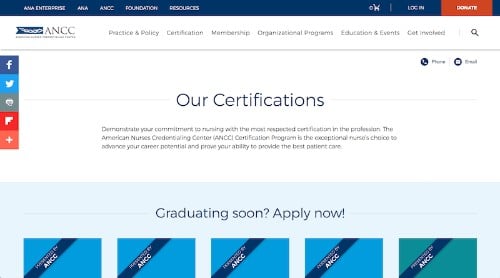 For a serious – and seriously credentialed – training into the challenges of home health employers and training schools, this program delivers behind-the-scenes support from the Institute for Professional Care Education. The course covers a very comprehensive range of topics, including fall prevention, personal care, vital science, elder abuse, HIPAA, emergency preparedness, essential bedrest skills, and all stages of Alzheimer's disease. Key Features:
75 credit hours
Includes training materials and DVDs
Compliant with U.S. federal requirements for 75 Hours of Initial HHA Training
Price: $4,000
---
More insights like this:
Caregiver Nation: A Pivotal Moment for Family Caregiving in the U.S.

This year's National Family Caregivers Month signifies a crucial turning point in the history of family caregiving policies and awareness. From advancements at the state level to federal initiatives, there's a growing commitment to addressing the needs of our nation's 53 million family caregivers. This positive shift is long overdue. The demands placed…

Read more

: Caregiver Nation: A Pivotal Moment for Family Caregiving in the U.S.

A Thank You Letter to Family Caregivers

In celebration of National Family Caregivers Month (NFCM), Careforth President and CEO Matt Marek shared his appreciation for family caregivers across the nation in a letter. The letter from Matt appeared in the Boston Globe, Hartford Courant, Atlanta Journal-Constitution, and the Indianapolis Star. Matt welcomes you to join Careforth in supporting the 53 million family…

Read more

: A Thank You Letter to Family Caregivers

The Caregiver Journey: Connections with Careforth's Care Team

This November's National Family Caregivers Month (NFCM) is centered around connectedness. Our Careforth team is committed to connecting with you and surrounding you with the support you need to feel confident in your care. One way we support caregivers is through the lived experiences of our care managers and caregiver support team, as…

Read more

: The Caregiver Journey: Connections with Careforth's Care Team