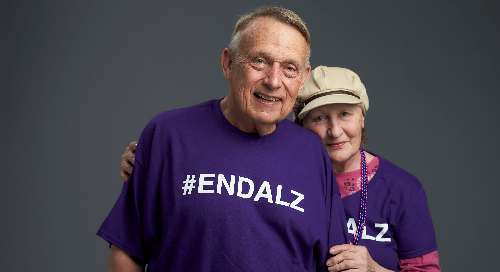 'My Two Elaines:' How I cared for my wife with Alzheimer's
The state of Indiana's Structured Family Caregiving program is available to spouses. We applaud the state of Indiana for their support of the husbands and wives who are navigating the care of their spouse. If you are caring for your spouse at home in Indiana, find out if you qualify for this caregiver support program. Our first encounter with Alzheimer's disease came innocently enough. It started as many things do in life – in the kitchen.
My wife Elaine was a wonderful cook. A beautiful and gracious host who at one time, was the wonderful First Lady of the state of Wisconsin. In years after we left the capitol, Elaine loved to host dinner parties. It was during one of those that we saw the first signs that something was off with her memory. She had prepared one of her favorite German dishes – one she'd made dozens of times. However, as familiar as she was with the recipe, she got mixed up. She left out ingredients and served what came out of the oven. It was inedible. Elaine was embarrassed, sad and confused. That was 2005. Elaine was officially diagnosed with Alzheimer's disease in 2007, but we knew. My "first" Elaine was a perfect wife, mother, grandmother and teacher. My "second" Elaine's world is small. She doesn't know my name or our history, but she's still gentle and sweet. I'm grateful that she still responds when I hold her hand or tell her how beautiful she is, although she speaks little, if at all. I was Elaine's primary caregiver until four years ago when our four children intervened and told me I could no longer care for her myself. As the man of the house and because I was stubborn (something I woke up to and wow – did I frighten myself in the mirror) I thought and lived like it was my job alone to care for and protect Elaine. However, as I began to fight one illness after another, I was corrected. Several doctors and dozens of medical tests later, I learned that the stress of being an Alzheimer's caregiver was likely giving way to my own health issues. I was told quite bluntly that I had to start to care for myself or I would die before Elaine. At that point I was closer to accepting the help that for years, I denied that I needed. But, I thought, what good would more time to exercise and socialize be if I had to take so much guilt with me? You can't exercise that away. That nagging guilt would grow as I faced the most difficult decision of my life. I confided in my local Alzheimer's Association counselor, how could I put Elaine in a home? That counselor, whom I credit for saving my life said, "you're not putting Elaine anyplace – her illness is causing her to have more needs than one person can handle … You will give her an opportunity to live in the best place she could be for who she is now." My second Elaine – and I – would be better if she moved her to memory care. The day we closed the door to our home before we left for Elaine's new residence would close the door to what we knew as our life together. Like I said, it was the most difficult day of my life even though I knew it was the best for both of us. I've spoken to more than a few people that went through the same cadre of emotions. Leading to Elaine's move, I knew in the back of my mind I might be spreading myself too thin, but I truly thought I could handle it. I owned a business, was involved in community activities and enjoyed time with friends, all which I thought I could balance while caring for my wife. Well, something had to give. All the credit goes to my business partners. They were the patient ones. They were understanding and flexible and shoot – the firm did better and grew without me. I continue to value their support and friendship. I have learned things I never imagined by caring for Elaine and speaking with other caregivers with my book, My Two Elaines: Learning, Coping, and Surviving as an Alzheimer's Caregiver as a guide, This experience has opened my eyes to good things and some that could certainly be better. • If there's one thing worse than Alzheimer's, it's ignorance of the disease. There's a lot of that ignorance thing going around, and disappointingly, much within a group we least expect and typically, most trust. Many see healthcare providers as the smart ones – we look to them for answers – darn it, for miracles. Apathy for how the "second patient" or loved one fits into a life with Alzheimer's taught me to question doctors about anything and everything, even if they looked at me sideways. Those doctors may have degrees, but I majored in Elaine. • Men of a certain age – The saying goes that men don't ask for directions, they just "go." Lesson learned — we have to ditch our egos when it comes to taking care of our families. There's an old-fashioned belief that men have the answer to everything, but when bad things happen, we're supposed to be stoic and move on. It is absolutely the opposite – asking for help and showing emotion makes us human. It makes us stronger, not weaker. • Ask for help — When we give in to outside help, we become better caregivers, spouses, parents and grandparents. • It's the little things — Being an Alzheimer's caregiver showed me that little things can mean the world. Elaine and I loved to travel and experience new adventures, but with my "second Elaine", the person who could no longer do those things physically or remember how to do them, I learned to appreciate things like a flower's beauty, a crystal blue sky or the vibrance of spring. • Listen then speak – If we truly listen, we can learn from others who have walked similar paths. I tell Alzheimer's caregivers who like me, navigated without a map, to learn as much about the disease as is available. Talk to other caregivers, join support groups even if you're not a "support group kind of person" and listen. You will learn to better cope when your loved one forgets your name, asks for a coat when it's 90 degrees outside or for a glass of wine at 9 in the morning. You may learn the value of "therapeutic fibbing" when she asks difficult questions or diversion when the truth may hurt more than another topic. • You'll be ok — Know that with persistence and patience, you, as an Alzheimer's caregiver, will survive. You might even thrive because you're better educated, compassionate and patient. You may not have all of the answers but know in your heart that you're doing your best. Former Governor of Wisconsin Martin J. Schreiber is the author of My Two Elaines: Learning, Coping, and Surviving as an Alzheimer's Caregiver, and an advocate for dementia and Alzheimer's disease. Net proceeds from the sales of My Two Elaines are used to promote Alzheimer's caregiver support programs.
---
More insights like this:
Richard & Gloria's Story

It's my mom. It's only one mom you have in this world. My mom had a couple strokes, pretty much paralyzed her right side. And from that point, they told me that she had the Alzheimer's dementia, and that's where my journey started. And I said, it's better if she is at home…

Read more

: Richard & Gloria's Story

Alice & Edra's Story

You want them to try to be themselves as much as they can and be able to do things for themselves as much as they can. Edra: My name is Edra, and I am 86 years old. Alice: Well, she has a little bit of dementia. She's a little bit unsteady at times,…

Read more

: Alice & Edra's Story

Katiria and Maria's Story

I've been a caregiver for Grandma for about seven years, and the experience has been quite amazing. Grandma has diabetes and high blood pressure. We try to set our goals for the day—motivation, determination, doctor's appointments. I make sure there's an activity to get done, whether it's just a ride—just to get Grandma's spirit…

Read more

: Katiria and Maria's Story