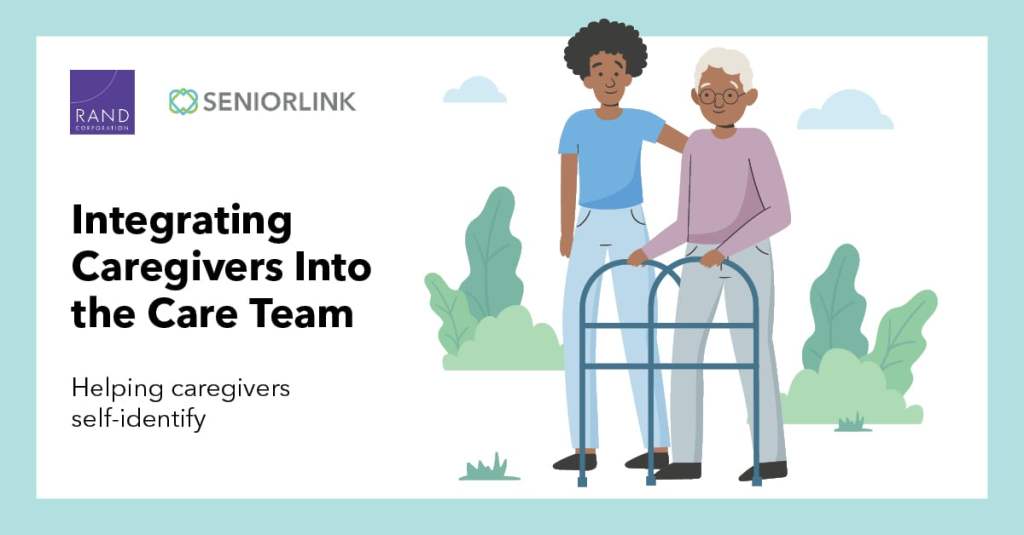 Encouraging Family Caregivers to Self-Identify as Caregivers
There is clear evidence of the value that family caregivers can bring to achieving improved health outcomes for their loved ones when family members are integrated with professional care teams. (For more on this,
read the first post in our series
.) Nonetheless, many healthcare providers and organizations face challenges in achieving this goal and would benefit from a roadmap to support their efforts. Seniorlink recently partnered with the RAND Corporation on a
report
titled
A Framework for Integrating Family Caregivers into the Health Care Team
. Throughout National Family Caregivers Month, we're highlighting key findings from the report, including the barriers that prevent collaboration between family caregivers and professional care teams and recommendations for policy solutions to surmount those challenges.
Read the full RAND Corporation report.
In this fourth post in our series, we discuss a primary barrier to the inclusion of family caregivers ― the need for caregivers to see themselves as caregivers and for health care organizations to adapt their assessments and inquiry accordingly.
The First Step in Family Caregiver Integration: Identifying and Recording Information on Family Caregivers
As we discussed in
this post
, it's not always easy for healthcare providers and organizations to identify and recognize family caregivers, in part because neither those receiving care nor their family members may identify family as "caregivers." We are, after all, first and foremost, family who see ourselves as daughters and sons, caring for the person who cared for us. For health care professionals, it may also not yet be routine to ask a patient if there is someone who helps with their daily care. The passage of the
CARE Act
(Caregiver Advise, Record, Enable) Act in 40 states has helped propel discussions, as hospitals and other organizations in these states are now asking questions to help
identify family caregivers
and ensure their inclusion in the appropriate health care records
. Best practices include making the following activities part of routine interactions with patients and their families:
Asking patients for permission to talk to family members to learn about caregiving needs and routine.
Incorporating a caregiver assessment to ensure providers understand what a family caregiver is able and willing to do.
Asking which family members should be involved in advanced care planning conversations.
Identifying family caregivers is an essential first step in effectively integrating family caregivers with health care teams, but it is just a first step. The RAND Corporation's research explores additional policy solutions to enhance family caregiver-care team collaboration.
---
More insights like this:
3 Ways to Strengthen Caregiver Mental Health

Being a caregiver often comes with many anxieties and challenges that one must navigate. Sometimes these outcomes can affect a caregiver's mental health. Caregiving often results in chronic stress, which negatively impacts a caregiver's physical and mental health. Moreover, nearly 33% of unpaid caregivers reported experiencing mental or behavioral health symptoms such as…

Read more

: 3 Ways to Strengthen Caregiver Mental Health

Caregiver Nation: A Pivotal Moment for Family Caregiving in the U.S.

This year's National Family Caregivers Month signifies a crucial turning point in the history of family caregiving policies and awareness. From advancements at the state level to federal initiatives, there's a growing commitment to addressing the needs of our nation's 53 million family caregivers. This positive shift is long overdue. The demands placed…

Read more

: Caregiver Nation: A Pivotal Moment for Family Caregiving in the U.S.

A Thank You Letter to Family Caregivers

In celebration of National Family Caregivers Month (NFCM), Careforth President and CEO Matt Marek shared his appreciation for family caregivers across the nation in a letter. The letter from Matt appeared in the Boston Globe, Hartford Courant, Atlanta Journal-Constitution, and the Indianapolis Star. Matt welcomes you to join Careforth in supporting the 53 million family…

Read more

: A Thank You Letter to Family Caregivers