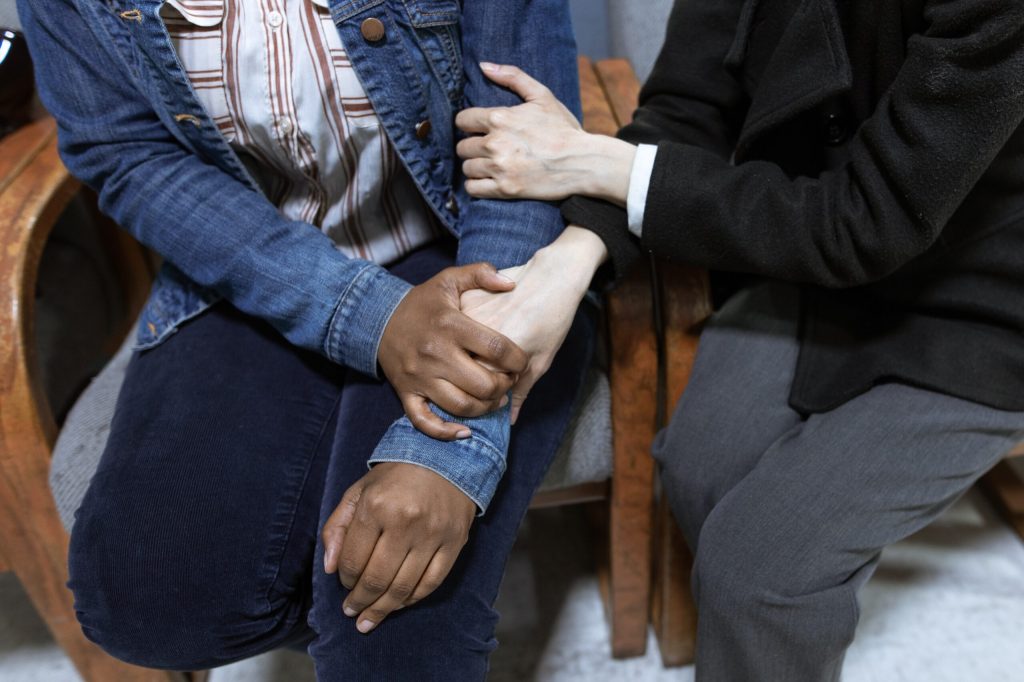 End-of-Life Caregiver Support: Five Tips for Prioritizing the Caregiver
During end-of-life palliative care and hospice care, it's typical for much of the focus to be on your loved one. However, anxiety, guilt, anger, and burnout are very common experiences for all caregivers. It's important that coping with these emotions is made a focus as well, so that your well-being and the care you provide can stay a priority.
Palliative and hospice care can feel like an added push for urgency in the caregiving journey – after all, the thinking often goes, my loved one may only have a limited amount of time remaining. However, it's vital that caregivers prioritize caring for themselves to continue to provide high-quality care for their loved ones.
Five tips for supporting the caregiver during trying times:
Caregiving as a team
Whenever possible, try to make caregiving a team effort. Caregiving, particularly after a serious diagnosis, is a heavy lift for just one person. Communicate your needs to others, engage your Caregiving Support Team and lean on palliative and hospice care teams for assistance.
Take breaks
Guilt often looms heavily with caregivers. After all, why should a caregiver get a break if the loved one with a serious condition or illness never gets a break? This is a very common thought process. Acknowledge that you're feeling guilty, get support and assistance where you can and utilize the opportunity to take breaks. Focusing exclusively on caregiving is typically not a realistic goal and attempting to do so can result in mental and physical burnout for caregivers.
Connect with others
When caring for a loved one during their final days, it may feel like no one is saying, "What kind of support can be offered to the caregiver?" or "How can we offer more support to caregivers?" But that support does exist.
Stay connected with your trusted networks, including friends and family members. Participate in end-of-life caregiving support groups (in-person or virtually) to find community and reinforce the fact that you're not going through this time alone.
Maintain healthy habits
If a caregiver isn't caring for themselves, they'll be less able to care for their loved one. This includes eating nourishing foods, staying hydrated, getting enough sleep, and getting exercise and fresh air.
Use the caregiving tools and resources available to you
Numerous resources and tools for caregivers are available online and in-person. When a loved one enters palliative or hospice care, inquire with their care teams about support available to caregivers – they're there to assist the people caring for the loved one too. Services such as Careforth can also help with specific caregiving needs, as well as provide comprehensive support when and where it's needed.
"Through it all, caring for a loved one is priceless. Don't lose yourself in the process. Providing care for the weakest among us is the highest honor. It's okay to take a moment to recharge and ask for help."
Emeline Bajon, RN Care Manager, Boston
The journey through palliative and end-of-life hospice care can be difficult and overwhelming for a loved one, but also for their caregivers. Stress, exhaustion, grief, feeling overwhelmed and more can make each day feel like a new challenge.
With end-of-life caregiving support and planning, good communication, and a network of support to lean into, caregivers can continue to help their loved one improve their quality of life, regardless of which stage they're in. Careforth programs offer expert guidance on caring for your loved one throughout your caregiving journey, from beginning to end. Learn more at Careforth.com, so you can feel supported at every turn. Contact us today.
---
More insights like this:
3 Ways to Strengthen Caregiver Mental Health

Being a caregiver often comes with many anxieties and challenges that one must navigate. Sometimes these outcomes can affect a caregiver's mental health. Caregiving often results in chronic stress, which negatively impacts a caregiver's physical and mental health. Moreover, nearly 33% of unpaid caregivers reported experiencing mental or behavioral health symptoms such as…

Read more

: 3 Ways to Strengthen Caregiver Mental Health

Caregiver Nation: A Pivotal Moment for Family Caregiving in the U.S.

This year's National Family Caregivers Month signifies a crucial turning point in the history of family caregiving policies and awareness. From advancements at the state level to federal initiatives, there's a growing commitment to addressing the needs of our nation's 53 million family caregivers. This positive shift is long overdue. The demands placed…

Read more

: Caregiver Nation: A Pivotal Moment for Family Caregiving in the U.S.

A Thank You Letter to Family Caregivers

In celebration of National Family Caregivers Month (NFCM), Careforth President and CEO Matt Marek shared his appreciation for family caregivers across the nation in a letter. The letter from Matt appeared in the Boston Globe, Hartford Courant, Atlanta Journal-Constitution, and the Indianapolis Star. Matt welcomes you to join Careforth in supporting the 53 million family…

Read more

: A Thank You Letter to Family Caregivers