By Rob Kinslow on Nov 11, 2022 8:01:18 AM
Only now does Deborah Fisher realize she's always been a caregiver at heart. She adopted and raised seven children. She gave birth to a daughter prematurely who needed care growing up. She raised a foster son. Soon she will help to care for her daughter's premature twins. And, supported by her caregiver team from Seniorlink & Caregiver Homes, Deborah also cares for her friend, Freddie, who is partially paralyzed from a stroke.
Yet Deborah never thought of herself as a caregiver—not until she enrolled in Seniorlink's Structured Family Caregiver program to get help caring for Freddie. Now she considers being a caregiver a blessing.
"Caregivers are important people," Deborah says. "They may not see it like that because they feel they're just doing what they're supposed to be doing, like I did. But now I see it differently."
A stroke and a debt repaid
It took a close friend's medical crisis to cause that change. Deborah and Freddie met in high school, and then reconnected later in life after both had been married and divorced. "Freddie helped me move to Indianapolis from Toledo and helped when my kids were pre-teens and teens," Deborah says. "He was the 'teenager dad!'" she laughs.
Then Freddie had a stroke in 2015 and became paralyzed on his left side. Deborah decided it was her turn to help him and started caring for him at home. However, despite all her experience caring for others, this time felt more challenging.
"It had been a while since I had to take care of somebody, and I just wanted to do everything right for him," said Deborah, who had been a nurse's aide early in her career. "Plus, it's different taking care of someone at home versus in a facility."
There were other challenges, including that Freddie had difficulty walking and often didn't feel like eating. "I needed to find the right kind of transportation to get him to and from dialysis three times a week and wasn't having much luck," Deborah says. "I also worried that he wasn't eating enough but didn't know what to do about it."
With those and other issues to face, things were harder than she had expected. When the pandemic hit and sheltering in place made being sole caregiver feel even lonelier, Deborah reached out to several programs for help. "Seniorlink was the only one that responded right away," she recalls.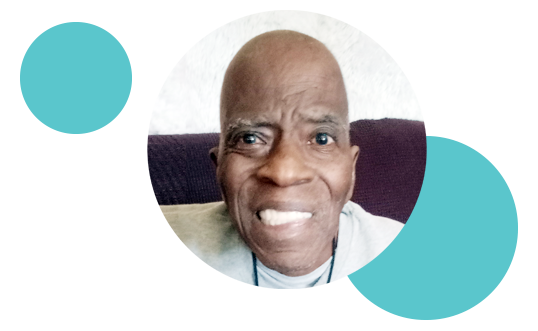 "I'm a caregiver!"
Deborah's Seniorlink caregiver team, including Alissa, a registered nurse, and Lisa, her care manager, made a difference right away. "They helped me find transportation," she says. "And when I told them my concerns about Freddie's eating, suddenly I had articles through Vela, Seniorlink's caregiver app, telling me how to get him to eat more."
In fact, as time passed and she shared daily reports with her team, Deborah kept receiving educational articles and videos through Vela that seemed custom-made for her and Freddie. One day, Freddie fell, and the next day Deborah had information about what to do after a fall. When tragedy struck and Deborah lost a son, her team helped her process as she was grieving. "The program is highly individualized," Deborah said. "I raise an issue and right away the team offers specific ways to address it. I often feel like they're reading my mind." Nowadays when her team sends articles or videos, she and Freddie view them together.
Something else happened as Deborah reviewed the materials she was receiving. "I never thought of myself as a caregiver," she says. "But when I read the education pieces, it finally clicked with me: I'm a caregiver!"
It's a full-time job that is in addition to her part-time work as a researcher for an Indiana University program seeking to reduce the state's maternal and infant mortality rate. "To me, being a caregiver means that you are mostly responsible for someone's life," Deborah says. "You're able to advocate for that person when they can't advocate for themselves. The best part about Seniorlink is that they provide tips and guidelines and resources to help you do that." In Indiana, where Deborah lives, caregivers may qualify for a daily stipend, which Deborah also receives.
The upside of caregiving
All of this has helped Deborah take time out to relax—often with Freddie. "We watch old detective series, the shows I never got to watch when I was raising kids," Deborah says. Sometimes they dance, which is something Freddie can do despite limited mobility. "Freddie was a great dancer back in the day," Deborah says. "I was a slow dancer."
Of her other dance—caregiving—Deborah smiles. "It's rewarding. It's loving. It takes a lot of love to take care of someone." It can also make a person angry, she adds. "Trying to maneuver through the system, it's like you're fighting a battle every day," says Deborah. "The system is so complicated.
"But having Seniorlink with me means that I'm not alone. They help me figure it out, so that I can get Freddie what he needs." She has more confidence, too. "At the beginning I was a little shaky and terrified," Deborah admits. "But now I feel strong."
She knows there are many more people out there caring for a loved one who don't realize they're a caregiver—and may not know where to turn. "I want them to know: You are not in this alone," Deborah insists. "Sometimes you need guidance and a shoulder to cry on. But please know there is help and there are people standing behind you."
Get the help you need
Are you or someone you know a caregiver like Deborah? Find out if Seniorlink & Caregiver Homes offers programs in your state. Get the support you need to help with the one you love.