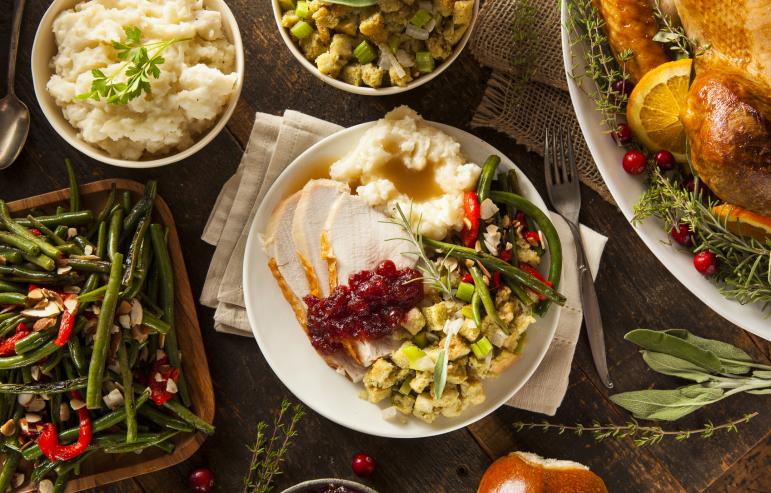 5 Great Holiday Nutritional Tips for Loved Ones with Complicated Medical Conditions
For many of us, the holiday season is a time of celebration, reconnecting with friends and family, and eating lots of delicious food. But for people with medical conditions that place restrictions on what they're able to eat, the holidays can be a difficult time to stay on track.
At Caregiver Homes, teams of nurses and social workers provide around-the-clock coaching and support for families who are looking after ill or disabled loved ones at home. These Care Teams collaborate with family caregivers to create realistic plans for healthy eating.
Yvonne is a medically complex individual whose son, her full-time caregiver, is enrolled in Caregiver Homes' program. For two years, she struggled to manage her weight while being at high-risk for cardiac arrest and other conditions. Yvonne and her son met with a nutritionist to learn about the risks of not adopting a healthier lifestyle, and together, they began working as a team to make healthy choices. She has since seen health improvements and weight loss. Yvonne's son makes her meals and helps her to practice portion control. The holidays can still pose temptations for her, so it's important for both of them to plan ahead.
Here are some tips for family caregivers to help their loved ones make good nutritional choices over the holidays:
Empower loved ones to feel comfortable declining certain foods. Sometimes it can feel rude to turn down a beautiful meal or dessert. Let your the person you care for know it's okay to politely say, "No thank you. I'm trying to eat healthy." Remind loved ones to look beyond momentary gratification of high-sugar or high-fat foods that might make them feel sick later.
Give the host a heads up about nutritional considerations. A good host will appreciate you letting them know if your loved one has any diet restrictions.
Consider bringing your own food. If you're going to a party or a family gathering, consider bringing healthy food. Be sure not to isolate the person you're caring for, and encourage everyone to share the healthy options you've brought.
Encourage portion control. If their diet permits, it may be okay for medically complex loved ones to have a few bites of their favorite dessert. The key is to know your limits, listen to your body, and stop eating when you are full.
Lean on your support system. For people with chronic condition or disabilities, it's easier to follow through on new habits when there is a care team and caregiver who understand their goals and want to see them succeed. Yvonne really benefits from having her son support her efforts to eat better.
There are many strategies that allow people to enjoy the holidays while maintaining good nutrition. By setting goals, staying motivated, and planning ahead, you can ensure your loved ones maintain healthy eating habits this season.
Need help caring for a loved one with a chronic condition or a disability? Learn more about Seniorlink's support program for caregivers of Medicaid-eligible friends and family members.
---
More insights like this:
Understanding Atrial Fibrillation: Symptoms, Triggers, and the Link with Sleep Apnea

Atrial fibrillation (AFib), also called an irregular heartbeat or arrythmia, is a condition in which the upper chambers of the heart (atria) flutter due to irregular electrical stimulus. This creates chaotic, frantic heartbeats that lead to shortness of breath, fatigue, and other symptoms. In the United States alone, more than 2.7 million people experience irregular…

Read more

: Understanding Atrial Fibrillation: Symptoms, Triggers, and the Link with Sleep Apnea

Does Your Loved One Suffer from Gastroparesis? Here's What They Should be Eating

Gastroparesis, also known as "delayed gastric emptying," is a condition in which the contents of a person's stomach empty too slowly, resulting in bloating, pressure, and other symptoms that make it difficult to eat. Gastroparesis may also prevent the body from absorbing enough vitamins and nutrients. There are many medical conditions that may…

Read more

: Does Your Loved One Suffer from Gastroparesis? Here's What They Should be Eating