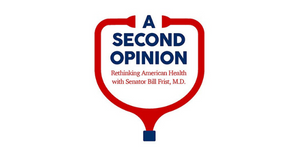 Seniorlink's CEO Tom Riley and President Matt Marek Discuss Caregiving in America with Senator Bill Frist on 'A Second Opinion' Podcast
November, 2021 – This National Family Caregivers Month, CEO Tom Riley and President Matt Marek discussed Seniorlink's innovative caregiving solutions on the podcast "A Second Opinion" with Senator Bill Frist.
Over the course of the hour-long segment, Riley and Marek explained how Seniorlink coaches and supports family caregivers to keep care in the home while cutting costs for payer organizations. Seniorlink's remote care capabilities and rapid growth during the pandemic were major topics of interest, as was their vision for the future of the company.
"Health Plans are starting to tune into the reality that there are 53 million deputies out there if they can figure out a way to access them," said Riley. "We believe we're the organization to help them do that."
Marek elaborated further on the future of the home-based care landscape, providing an overview of how Seniorlink aims to expand to support thousands more families in need.
"For Seniorlink, it'll be a continued path of growth and innovation," said Marek. "We'll continue to expand our services, we'll partner with health plans to serve members in new and innovative ways, we'll leverage our technology ultimately to be the leading caregiving company. We're excited about the future, and I'm thankful to Tom and the team for everything they've done to set us on this path."
Watch the full interview on YouTube
Listen to the podcast on Spotify
See the official press release
---
More insights like this:
Careforth Named a 2023 WWCMA WorkWell Massachusetts Awards Winner for Exemplary Worksite Health Promotion

Careforth recognized for successful corporate health improvement and wellness program Careforth, an innovative caregiving company that empowers thousands of family caregivers across America to confidently care for their loved ones at home, is proud to have been named a 2023 WorkWell Massachusetts Awards program Award Winner for exemplary worksite health promotion in the…

Read more

: Careforth Named a 2023 WWCMA WorkWell Massachusetts Awards Winner for Exemplary Worksite Health Promotion

What happens when you put quality at the heart of what you do?

Careforth celebrates achieving NCQA accreditation for its Caregiver Homes Network again We are happy to announce that Careforth's Caregiver Homes Network Structured Family Caregiving service has again received a three-year Accreditation for Case Management with Long Term Services and Supports (LTSS) Distinction from the National Committee for Quality Assurance (NCQA). This marks the…

Read more

: What happens when you put quality at the heart of what you do?

Careforth Offers New Caregiving Coaching and Behavior Management Service for Family Caregivers in Indiana

The new service provides coaching and emotional support to family caregivers in Indiana. Careforth, a leading provider of Structured Family Caregiving and caregiver supports, is expanding to offer Caregiver Coaching and Behavior Management, a new service that provides family caregivers in Indiana coaching and emotional support to help them care for their loved…

Read more

: Careforth Offers New Caregiving Coaching and Behavior Management Service for Family Caregivers in Indiana