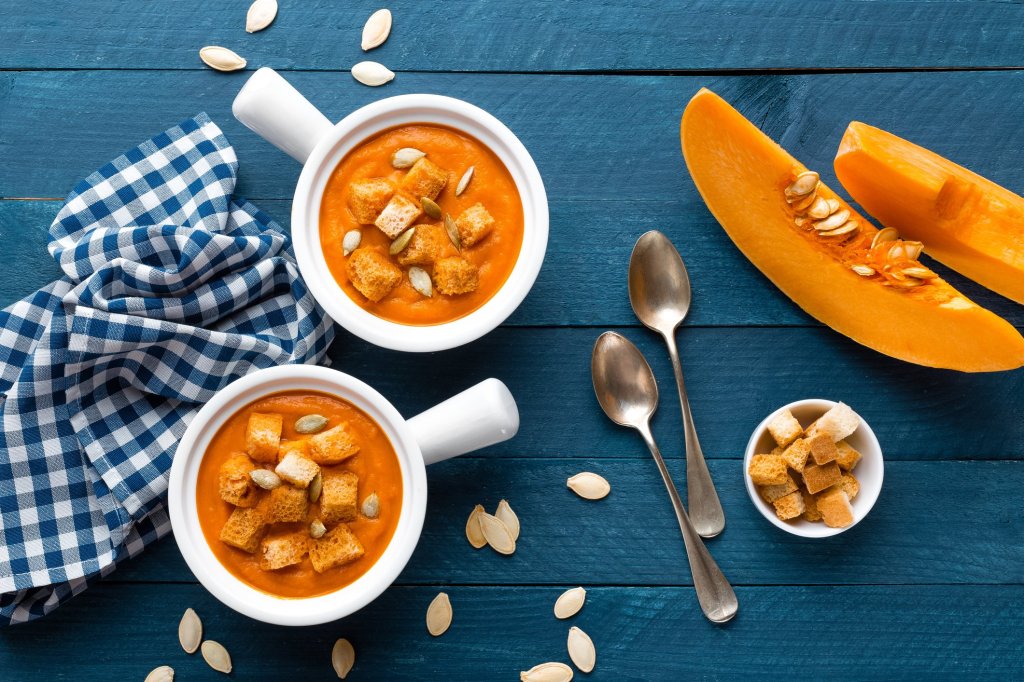 8 Pureed Food Recipes To Try At Home
While you may not like to think about it, there might come a time when an elderly loved one requires pureed food as their main diet. Fortunately, pureeing food doesn't have to be tricky – or icky – and can actually be quite simple and tasty if you know the right recipes.
Here we're going to give you some tasty pureed food recipes as well as general tips for pureeing meals. For more resources for seniors and caregivers, click here.
Pureed Food for Adults
It might not sound very scrumptious, but pureed meals don't have to be gross. In fact, the overall taste is largely dependent on the texture of the meal. If you're going to have to eat pureed meals, you'd better know how to make it delicious, and that includes creating the right texture.
Your ingredients should be smooth, not chunky. All chunky ingredients can really throw the texture of the puree out of wack, causing it to be quite repulsive. Instead, opt for smooth apple sauces and creamy soups.
Another thing you can't go without is a proper food processor. You can also use a blender to puree your food, but we find that food processors are better at creating the ideal texture and consistency. Also, a large food processor can help you make bulk meals to store for later, which is another bonus.
There are also molds you can purchase to shape your puree into solid-looking meals. Hospitals tend to use molds to make the pureed meals look more appetizing. It's really mind over matter, so give molds a shot if your loved one is having difficulty with their meals.
8 Delicious Recipes to Try
Mac & Cheese
Everyone loves macaroni and cheese. Thankfully, it's quite an easy meal to puree, and your loved one will enjoy it. To start, prepare the meal as if you were making it for yourself. Add your mac and cheese to a food processor or blender alongside one cup of warm milk and blend. That's it! Consider serving with some applesauce or pudding as a dessert.
Pureed Cauliflower
It's quite easy to get your veggies into a delicious pureed form, and cauliflower is no exception. Start by boiling your cauliflower until it's tender. Drain, saving half a cup of the liquid. Transfer the cauliflower into a blender and toss in a bit of salt, pepper, garlic powder, butter, and that liquid you saved. Process until the texture is smooth.
Avocado, Chicken, and Potato
A healthy dinner that covers all of your bases, avocado, chicken, and potato blend well together. Dice one cooked potato; one small, boneless chicken breast; and half of an avocado. Place your ingredients in the food processor alongside salt, pepper, and two teaspoons of milk. Process until the meal is smooth and creamy – there should be no chunks.
Mango Banana Smoothie
A healthy dessert beverage, this mango banana smoothie recipe is delicious for everyone. Blend a frozen and sliced banana with a frozen and diced mango alongside a cup of plain Greek yogurt, a bit of honey, and two teaspoons of almond milk. Process until the smoothie is smooth with no fruit chunks.
Pumpkin Soup
This seasonal delight is an easy yet delicious pureed meal. You'll need 5 cups of pumpkin puree, 3 cups of vegetable stock, a teaspoon of ginger, half a cup of heavy cream, 1 cup of onion, 1 clove of garlic, half a teaspoon of nutmeg, and salt and pepper to taste.
Add all of the ingredients to a pot, leaving out the heavy cream, and bring to a boil. Reduce heat and let it simmer for 30 minutes. Afterward, puree the meal in a processor until the consistency is desirable. Return the puree to a pan, bringing it to a boil and reducing to a simmer. Stir in the heavy cream after about 20 minutes of simmering and serve.
Creamy Broccoli Cheese Soup
To start, you'll need to create a white sauce to serve as the base. Mix two tablespoons of oil and butter with three tablespoons of flour. Put the mixture over the heat, and once it starts to bubble, add one cup of skim milk. Let the sauce simmer until thick.
Next, add the sauce into a food processor alongside your broccoli, processing until smooth. Add the mixture into a pan with a quarter cup of shredded cheese, allowing the cheese to melt. Serve and enjoy!
Beef Stew
While this particular recipe is for beef stew, the formula works for any meat and vegetable.
To start, put 4 ounces of beef (or another boneless meat) into a food processor alongside a half cup of liquid – we recommend broth or gravy. Add in whatever vegetables you like – peas, celery, and carrots all work well. Add some salt and pepper to taste. If you need to thicken the stew, add potato flakes.
Spaghetti and Meatballs
Combine half a cup of cooked spaghetti noodles and two pre-cooked meatballs to a processor. Next, add a half cup of spaghetti sauce and three-quarters cup of hot water. If you'd like, sprinkle in some parmesan. Process until the texture is smooth and there are no chunks.
Pureed Food For Adults
The idea of pureed foods isn't appealing to most people, but knowing a few tricks of the trade (and some great recipes) can help you prepare pureed meals that are impossible to resist. While your elderly loved one may not be able to enjoy meals in the same way that they used to, pureed meals are an effective way to ensure that they're getting nutritious meals that taste good, too. Learn more about the importance of vitamins and minerals to improve wellbeing.
---
More insights like this:
5 Great Holiday Nutritional Tips for Loved Ones with Complicated Medical Conditions

For many of us, the holiday season is a time of celebration, reconnecting with friends and family, and eating lots of delicious food. But for people with medical conditions that place restrictions on what they're able to eat, the holidays can be a difficult time to stay on track.

Read more

: 5 Great Holiday Nutritional Tips for Loved Ones with Complicated Medical Conditions

Understanding Atrial Fibrillation: Symptoms, Triggers, and the Link with Sleep Apnea

Atrial fibrillation (AFib), also called an irregular heartbeat or arrythmia, is a condition in which the upper chambers of the heart (atria) flutter due to irregular electrical stimulus. This creates chaotic, frantic heartbeats that lead to shortness of breath, fatigue, and other symptoms. In the United States alone, more than 2.7 million people experience irregular…

Read more

: Understanding Atrial Fibrillation: Symptoms, Triggers, and the Link with Sleep Apnea