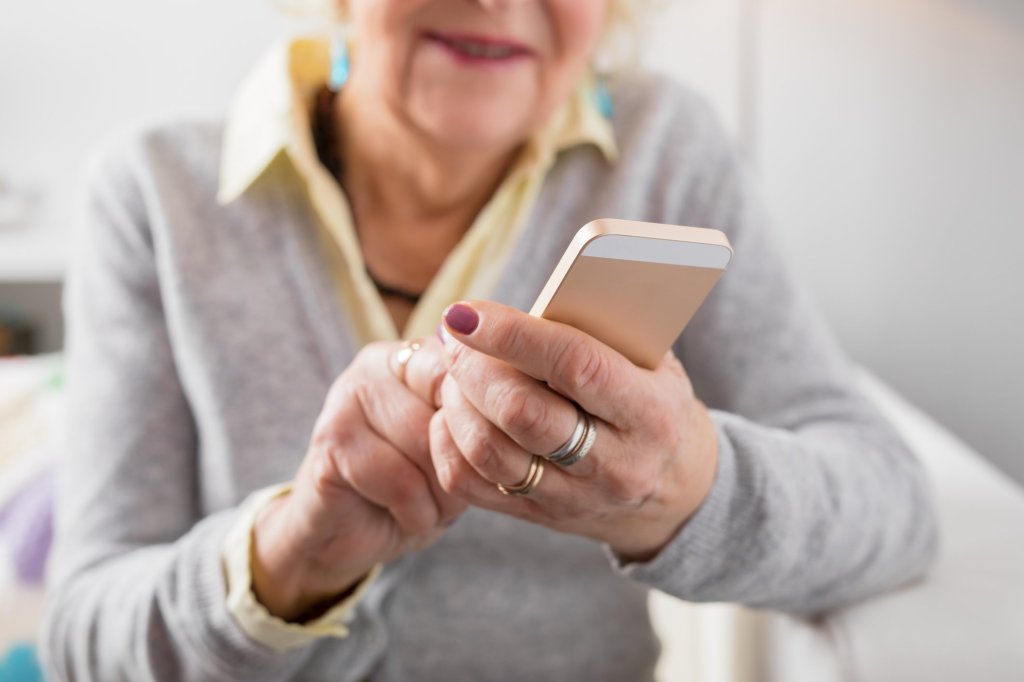 Technology enhances senior lifestyles. Here's how.
Technology is evolving and becoming easier to access and use for people of all ages – including seniors. One
recent report
from PEW Research Centers indicated that nearly 4 in 10 seniors today own a smartphone, more than double the number in 2013. Of those who use smartphones, approximately 91% use it daily to access the Internet. As technology continues to simplify our lives, it also offers a wide array of benefits for seniors.
Socializing and Connecting with Others
Anyone who has a smartphone or other connected device knows how easy it can be to get in touch with friends and loved ones from almost anywhere. Advances in streaming technology now make video calls almost as routine as voice calls, and seniors can use it to connect with loved ones who may not be able to visit as often. The ability to connect with and see family, friends, and acquaintances anywhere in the world is provides a valuable sense of social connectedness for older adults. Seniors with smartphones can also use text messaging to keep in touch with others. Youth, especially, are heavy text messaging users. Being able to quickly send messages is another easy way stay in contact and maintain a connection. Apart from direct messaging, calls, and video chats, social media offers an opportunity for seniors to connect with loved ones across the miles. Facebook and Twitter, for instance, are two popular apps among seniors already. These and other social media platforms allow you see photos, traveling adventures, and updates about your friends' and loved ones' families all in one place.
Personal Safety and Health
New technology designed for health and safety is perhaps the most obvious benefit of tech for seniors, and there are some great options to consider. Having a Personal Emergency Response System (PERS) can become a real necessity for some older adults, and it can truly be a lifesaver in the event of a fall or other emergency. These technology tools are a great solution for those looking for more independence while also having the ability to get immediate help when needed. There are also various GPS tracking devices and apps that may be useful to keep loved ones updated on an older adult's location. There are also many smartphone apps and devices made for health tracking, with features for managing medications, health stats, and even important measurements like blood pressure and blood sugar levels. Of course, there are also traditional devices like hearing aids that have gotten tremendous upgrades in recent years and are now more discrete and higher quality. Smart home technology is another tech innovation that can enhance seniors' personal safety. There are smart doorbells with camera features for viewing visitors, alarm systems you can manage from your smartphone, and integrated hardware like Amazon Alexa which you can control with voice commands. You can also connect these home systems to smart plugs which allow you to turn lights on and off by voice – a tremendous benefit for seniors facing mobility challenges.
Staying Sharp and Having Fun
With so many music and video streaming options today, seniors have access to an almost endless supply of entertainment. It's now easy to watch what you want, when you want, without having to worry about recording or dealing with a number of different menus and remotes. Video games are sometimes thought of as only for kids and young adults, but many of today's games can certainly be enjoyed by seniors. The Nintendo Wii is widely used in senior centers, with games that require you to get up and move using its interactive remote controls. A lot of recent apps are also designed as "brain games" that take you through a series of puzzles or word problems that can be a nice way to have some fun while keeping your mind engaged.
Everyday Convenience
So much technology in our digital world is about convenience, and it is becoming easier than ever to do things remotely and with ease. Seniors or their caregivers benefit from online ordering with delivery for their favorite items and groceries without having to make a trek to the store. Non-emergency transportation via ride-sharing apps like Uber and Lyft make it easier than ever to get around town for those that may no longer have a vehicle or are unable to drive due to medication or physical condition. Technology also provides tools for managing certain medical information, communication with medical facilities, and prescriptions. One other important benefit of technology for seniors comes through financial protection, which can sometimes be overlooked. There are a number of useful apps that provide account protection, credit and financial monitoring, and the ability to know that your assets are protected. Seniors and their caregivers have access to many wonderful technologies that can make life more convenient and enjoyable. While technology can seem overwhelming to some, it just might be the right time to try something new and see if it can make a true difference in your life.
---
More insights like this:
End-of-Life Caregiver Support: Five Tips for Prioritizing the Caregiver

During end-of-life palliative care and hospice care, it's typical for much of the focus to be on your loved one. However, anxiety, guilt, anger, and burnout are very common experiences for all caregivers. It's important that coping with these emotions is made a focus as well, so that your well-being and the care…

Read more

: End-of-Life Caregiver Support: Five Tips for Prioritizing the Caregiver

End-of-Life Decisions: The Difference Between Hospice and Palliative Care

It's never easy to consider hospice or palliative care for a loved one, and it's common for caregivers to experience stress and grief during this immensely challenging time. "When a loved one receives a serious diagnosis and members of the care team mention palliative or hospice care, it can be alarming, overwhelming and…

Read more

: End-of-Life Decisions: The Difference Between Hospice and Palliative Care

The Caregiver's Role in Creating An Effective End-of-Life Care Plan

End-of-life planning is a part of an estate plan that caregivers are often in the position to help establish for their loved ones. It formalizes the wishes of the person you care for, documenting their desires for what they'd like to happen at the end of their life. In short, an end-of-life care…

Read more

: The Caregiver's Role in Creating An Effective End-of-Life Care Plan