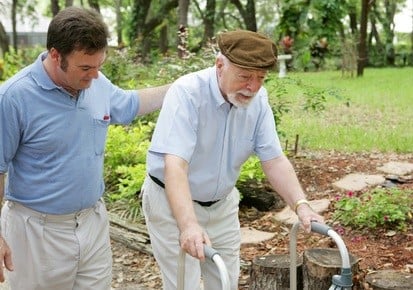 What is Adult Foster Care?
A Definition of Adult Foster Care
Adult foster care is essentially any care that's provided in a home-based environment to an adult. Adult foster care is typically thought of in terms of adults with intellectual or developmental disabilities that affect their ability to live on their own, however, there is a growing niche of adult foster care devoted to the aging population. Especially as the "baby boomers" generation comes into their golden years, the need for quality adult foster care services will be great. Typically, adult foster care encompasses providing assistance with the activities of daily living, including but not limited to:
Meal preparation and assistance with eating
Cleaning tasks, including laundry
Bathing and personal grooming
Dressing
Walking and climbing stairs
Shopping and running errands
Travelling to and from appointment
Managing medications
Adult foster care might also be referred to domiciliary care, small group assisted living, elderly foster care, or adult family care. It's typically provided in homes with 6 or less residents, whereas assisted living homes provide care to larger populations. Adult foster care can also help to ensure personal safety by preventing wandering and self-harm behaviors.
How Adult Foster Care Works
Adult foster care offers varying levels of care depending on residents' needs, from around-the-clock care for those with substantial medical or other needs, to daily drop-ins for assistance with specific tasks. Residents will typically have their own living quarters in a small building, with access to assistance should they require it. The biggest difference between adult foster care and nursing homes or assisted living facilities is the availability of staff. Whereas staff are available and awake 24 hours per day, 7 days a week in both nursing home and assisted living facilities, adult foster care homes will have staff available, though not necessarily awake. This is because the needs of adult foster care residents are typically less complex than those in assisted living facilities or nursing homes. The majority of states require the signing of a resident agreement before moving into an adult foster care home. Like a standard lease or rental agreement, this will cover issues such as costs, rights and responsibilities of all parties, and termination of agreement provisions. It will also provide for care aspects including what's included in the fees and what is additional.
Adult Foster Care at Home
Relatives in certain states can also provide foster care services to loved ones while receiving government compensation. These programs are sometimes, but not always, referred to by state governments as Adult Foster Care, but it's important to note that they differ from the types of care described above in that the primary caregiver will be a close friend or family member rather than a professional. This is the case for the Caregiver Homes model. There are many complex rules regarding these situations, so it's best to speak with an expert to ensure all local laws and regulations are being followed. States offering these types of services include:
Connecticut
Louisiana
Indiana
Massachusetts
Ohio
Oregon
Rhode Island
Texas
Washington
Cost of Adult Foster Care
As with all aspects of elder care, the cost of adult foster care will vary depending on where you live and the level of care desired or needed. Adult foster care is generally slightly less expensive than assisted living and significantly less expensive than nursing home care, as residents typically require a lower level of care compared to those residing in assisted living communities or nursing homes. Genworth's 2016 Cost of Care Survey estimates the monthly cost of assisted living at $3,628. While Genworth's survey doesn't include cost data specifically for adult foster care, you can expect the average rate for foster care services to be fall under $3,600 per month in most cases. Expect somewhere in the range of $1,500-$3,500 per month depending on location. Your state may have Medicaid or Medicare options that may help to defer some of the costs associated with adult foster care. Contact a local representative, such as a caseworker at your local Office of Aging or a geriatric care specialist with knowledge of the laws, regulations, and options in your state, for assistance in navigating which options may be available to you. Some states also offer non-Medicaid-based assistance programs ranging from $200-$1,200 per month. A comprehensive list can be found here. You can find assistance for determining your care needs and costs through the U.S. Administration on Aging's Eldercare Locator.
Benefits of Adult Foster Care
The pros of adult foster care include allowing for as much independence as possible on behalf of the resident, without sacrificing quality of care or safety. Because adult foster homes are smaller in size than most assisted living communities, they allow for a more personal level of care. This can be especially beneficial for those with evolving health conditions such as diabetes or Alzheimer's disease. Adult foster care is also typically less expensive than nursing home or assisted living facilities, and is often also less costly than in-home personal care services.
Does Your Loved One Need Adult Foster Care?
It might be worth considering adult foster care services if your loved one requires more assistance with their activities of daily living than can be met at home, but doesn't require the more-intensive services of a nursing home or assisted living facility. If your loved one is no longer able to live independently in their own home and requires some assistance with activities like cleaning, meal preparation, and running errands, but does not need nursing or medical care, adult foster care can serve as a middle-ground solution that enables your loved one to maintain their independent lifestyle while receiving affordable help with daily tasks and activities. Having the discussion early can help ensure your loved one's wishes are respected and that long-term financial considerations are accounted for. It can also help your loved one lead an independent lifestyle as long as possible, without compromising their safety and well-being.
---
More insights like this:
3 Ways to Strengthen Caregiver Mental Health

Being a caregiver often comes with many anxieties and challenges that one must navigate. Sometimes these outcomes can affect a caregiver's mental health. Caregiving often results in chronic stress, which negatively impacts a caregiver's physical and mental health. Moreover, nearly 33% of unpaid caregivers reported experiencing mental or behavioral health symptoms such as…

Read more

: 3 Ways to Strengthen Caregiver Mental Health

Caregiver Nation: A Pivotal Moment for Family Caregiving in the U.S.

This year's National Family Caregivers Month signifies a crucial turning point in the history of family caregiving policies and awareness. From advancements at the state level to federal initiatives, there's a growing commitment to addressing the needs of our nation's 53 million family caregivers. This positive shift is long overdue. The demands placed…

Read more

: Caregiver Nation: A Pivotal Moment for Family Caregiving in the U.S.

A Thank You Letter to Family Caregivers

In celebration of National Family Caregivers Month (NFCM), Careforth President and CEO Matt Marek shared his appreciation for family caregivers across the nation in a letter. The letter from Matt appeared in the Boston Globe, Hartford Courant, Atlanta Journal-Constitution, and the Indianapolis Star. Matt welcomes you to join Careforth in supporting the 53 million family…

Read more

: A Thank You Letter to Family Caregivers