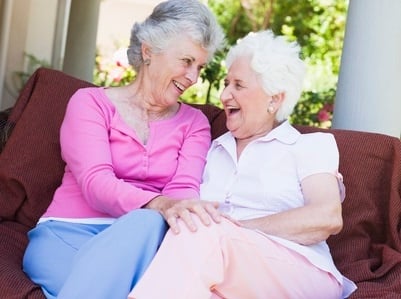 What is Companion Care? Here are the Costs, Duties and More
A Definition of Companion Care
Companion care is a form of home care offering non-medical services to older adults or people with disabilities. Companion care differs from
personal care
in that personal care aides (also known as home health aides) may provide the same services as companion care but also help with tasks such as bathing, dressing, and medication management, depending on specific state regulations. The goal of companion care is primarily emotional support and socialization, although companions may help older adults with a variety of tasks including:
Light housekeeping
Other household chores such as washing clothing and dishes
Running errands such as grocery shopping
Planning and scheduling appointments and social activities
Transportation to appointments and other activities
Preparing meals
Socialization and entertainment
Communicating with family members and other care team professionals
And more
How Companion Care Works
Companion care may be provided on a formal or informal basis. Some older adults have friends who stop by periodically for a friendly visit and help them manage household tasks. Other companion services are available on a formal, paid basis, offered through a variety of local organizations or
independent contractors
. The local
Area Agency on Aging
is a good place to start if you're looking for companion care services for yourself or an aging loved one. If you're already receiving services from a home care agency or hospice, inquire about companion care services. Some organizations offer companions as part of the overall care plan, while others can connect you with other local agencies that provide companion services. Companions typically make regular visits, which may vary in frequency depending on the care recipient's unique needs. Usually, companions visit at least weekly, while some may visit two to three times per week or even daily to help older adults prepare meals, take care of laundry, and other tasks. Schedules may also vary depending on appointments. If an older adult has an appointment scheduled outside of typical visit hours, companions will often adjust their schedules to accommodate these needs or make arrangements for other transportation.
Cost of Companion Care
According to the
2016 Genworth Cost of Care Study
, the average national median cost for companion care (classified as homemaker services) is $125 per day or $3,813 per month. Average costs vary from
state to state
, ranging from a median average of $96 per day (Louisiana, with
monthly median average
costs at $2,908) to a median average of $175 per day (North Dakota, with monthly median average costs at $5,331). The cost of homemaker services or companion care services may be less than these average median figures depending on where you live and the number of hours you need a companion each day. The national median hourly rate for homemaker services is $20 per hour, marking a
2.56% increase
in average median costs from 2015. Genworth calculates average median rates based on 44 hours per week. If your loved one only requires the help of a companion for a few hours per day or week, your costs may be significantly lower than these estimates. Some older adults may reside with other family members and require the aid of a companion only when another family member is unable to be present, for instance, while others are mostly independent but need the help of a companion for physically challenging household tasks such as housekeeping. For a clearer picture of your potential costs,
determine your loved one's needs
and contact your local Area Agency on Aging to inquire about companion care providers and average costs in your area.
Benefits of Companion Care
Companions provide a variety of
beneficial services
that make life more manageable for older adults, but companionship itself is perhaps the most important, particularly for seniors who live alone and find it difficult to get out of the house. Older adults living independently often experience loneliness and isolation, and companions engage in conversation, take walks with their care recipients, and play games like card games or board games, and simply provide a listening ear and someone to talk to. Likewise, by transporting older adults to the local senior center for activities, to healthcare and therapy appointments, and other activities, companions help older adults remain active and engaged and also ensure that they're able to receive vital healthcare services. Older adults and people with disabilities may also struggle with mobility and other challenges that make carrying out everyday tasks like washing dishes and laundry difficult. By taking care of tasks like light housekeeping, companions alleviate a tremendous burden from their care recipients, resulting in greater quality of life.
Does Your Loved One Need A Care Companion?
Older adults who reside independently in their own homes may eventually have difficulty managing everyday household tasks. Whether they experience a loss of mobility with aging or cognitive decline from the onset of Alzheimer's disease or dementia, companion care is often the first way families seek help to enable their aging loved ones to remain in their own homes. If other family members work full-time or have other obligations, it can be difficult to ensure that a family member is always available to transport a senior loved one to regular doctor appointments and help with other errands like grocery shopping. These seniors, particularly if they no longer drive and lack access to convenient transportation, can benefit from companion care. Additionally, older adults who live alone and don't have many friends or family members who make regular visits can benefit greatly from the
socialization
offered by a companion. Companion care is a valuable benefit for older adults who face challenges in keeping up with daily household chores, are at risk of isolation, or need transportation to appointments and other locations. If your aging loved one wants to age-in-place, companion care is one of the most helpful services to enable them to remain independent, in their own home.
Learn more about
how Careforth can help
. 
---
More insights like this:
3 Ways to Strengthen Caregiver Mental Health

Being a caregiver often comes with many anxieties and challenges that one must navigate. Sometimes these outcomes can affect a caregiver's mental health. Caregiving often results in chronic stress, which negatively impacts a caregiver's physical and mental health. Moreover, nearly 33% of unpaid caregivers reported experiencing mental or behavioral health symptoms such as…

Read more

: 3 Ways to Strengthen Caregiver Mental Health

Caregiver Nation: A Pivotal Moment for Family Caregiving in the U.S.

This year's National Family Caregivers Month signifies a crucial turning point in the history of family caregiving policies and awareness. From advancements at the state level to federal initiatives, there's a growing commitment to addressing the needs of our nation's 53 million family caregivers. This positive shift is long overdue. The demands placed…

Read more

: Caregiver Nation: A Pivotal Moment for Family Caregiving in the U.S.

A Thank You Letter to Family Caregivers

In celebration of National Family Caregivers Month (NFCM), Careforth President and CEO Matt Marek shared his appreciation for family caregivers across the nation in a letter. The letter from Matt appeared in the Boston Globe, Hartford Courant, Atlanta Journal-Constitution, and the Indianapolis Star. Matt welcomes you to join Careforth in supporting the 53 million family…

Read more

: A Thank You Letter to Family Caregivers