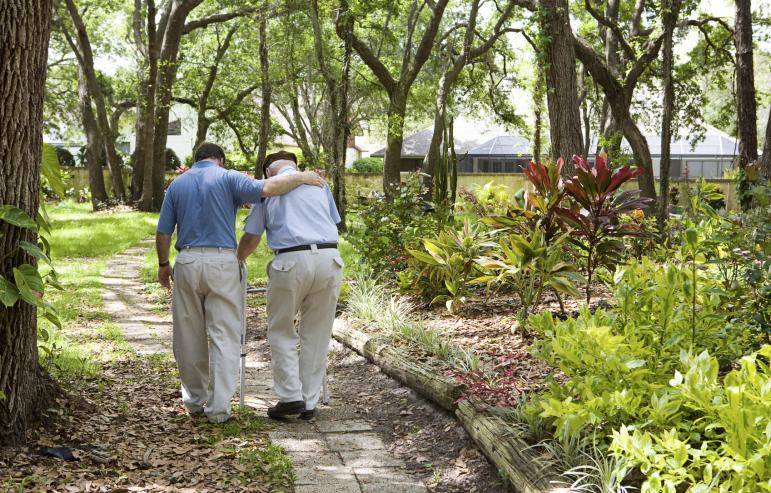 WHEN THE ROLES ARE REVERSED: CARING FOR YOUR PARENTS
Brian McKaig is the Caregiver Homes State Director for Rhode Island.
I was settling in for a lazy Saturday. The kids had slept in late. Breakfast had been a breeze. The snow was finally melted, and the kids were excited to go into the backyard to play. I had a new mug from Starbucks that I was eyeing, ready to christen it with the coffee that had just finished brewing. The couch and my favorite blanket were beckoning me as the warming sun shone through freshly cleaned windows. Yes, life was good! And then my dad called and broke my much desired silence.
"There's a flood in the basement, and the tub is completely backed up. Oh, and as the snow melted from the roof, water leaked in overnight and puddled on my bureau and has ruined the finish."
What was so peculiar about the call was that my dad wrote the book on being "Mr. Fix It". Plumbing, electrical, carpentry, flooring, roofing and everything in between was a breeze to him. Well, used to be a breeze. The dementia diagnosis was over a year old, and I guess I was still coming to terms with a formerly invincible man being unable to do what he had always done.
"I'll be right there…" I moaned, as I thought about the impending disaster that would await me. Dad would follow me around, telling me what to do—only none of it was going to make sense and he was just going to be in the way. And after all, didn't he realize that the tool belt had been passed?
In the majority of cases, our parents will live long enough to begin to need our support. It will at some point fall to us to hear, see, decide, and advise things that honestly don't feel natural to us. Being in that seat is not a comfortable place and can be confounding, frustrating and emotional. So here are some helpful tips on accepting and thriving in this new role of caring for your parents.
Practice the Personal Approach
My dad is still "Mr. Fix It". He is not dementia, or congestive heart failure. He is not diabetes, nor is he any other disease. He is dad. He still loves to work with his hands, feel needed, and wants to offer an opinion. He still wants to put the worm on his hook, though he's forgotten how to cast out his bait.
The natural propensity of children is to take full control of the situation. It's easier for me to rush through it all and get the job done than to support my dad in doing what he had done for years. So I found the plunger, and let him plunge. I set up the wet/dry vacuum and pointed out the areas that were still puddled. I asked him to hold the ladder while I went into the attic to check for a leak, and I asked his opinion on what he would do based on what I saw up there. We sanded the bureau together and reapplied the finish. I let him be dad, and I let myself be son. In fact, it was one of the most powerful father/son moments we have ever enjoyed.
Purpose to be Patient
Before we get too far into this, I'm talking about 360 degree patience! I know that the previous example makes me sound like the most amazing son. I'm not. I live a lot more moments being aggravated, concerned, frustrated – than I do in the moments where everything is going perfect. Extend patience to yourself! There will be plenty of opportunities to do better and breathe deeper. Don't despair and disappear from involving yourself because you feel as though you don't have what it takes. Engage deeper, offer more, try harder, give and receive understanding and support for things that need to be done better. Extend patience to your family members and siblings as they stumble through this. Have open and honest discussions about what you each struggle with and support one another as you set out to support aging parents. Most of all, maintain a sense of humor and be able to laugh at yourself!
Perfect the Priority
Perfecting the priority is really about bearing in mind what the most important things are to your parents. Honor wishes. Respect choices. Value independence. Realize that you will never be perfect at this, but you can strive to keep the minor things minor so you can focus on making the major goals the priority. The time that you have with your parents is finite. You will never regret honoring their values and their wishes as they age and need your help. In fact, it will be the anchor that holds you steady, knowing that you did right by them.
Oh, and by the way. The phone just rang. I'm off to pull a hearing aide out of the sink drain.
---
More insights like this:
3 Ways to Strengthen Caregiver Mental Health

Being a caregiver often comes with many anxieties and challenges that one must navigate. Sometimes these outcomes can affect a caregiver's mental health. Caregiving often results in chronic stress, which negatively impacts a caregiver's physical and mental health. Moreover, nearly 33% of unpaid caregivers reported experiencing mental or behavioral health symptoms such as…

Read more

: 3 Ways to Strengthen Caregiver Mental Health

Caregiver Nation: A Pivotal Moment for Family Caregiving in the U.S.

This year's National Family Caregivers Month signifies a crucial turning point in the history of family caregiving policies and awareness. From advancements at the state level to federal initiatives, there's a growing commitment to addressing the needs of our nation's 53 million family caregivers. This positive shift is long overdue. The demands placed…

Read more

: Caregiver Nation: A Pivotal Moment for Family Caregiving in the U.S.

A Thank You Letter to Family Caregivers

In celebration of National Family Caregivers Month (NFCM), Careforth President and CEO Matt Marek shared his appreciation for family caregivers across the nation in a letter. The letter from Matt appeared in the Boston Globe, Hartford Courant, Atlanta Journal-Constitution, and the Indianapolis Star. Matt welcomes you to join Careforth in supporting the 53 million family…

Read more

: A Thank You Letter to Family Caregivers