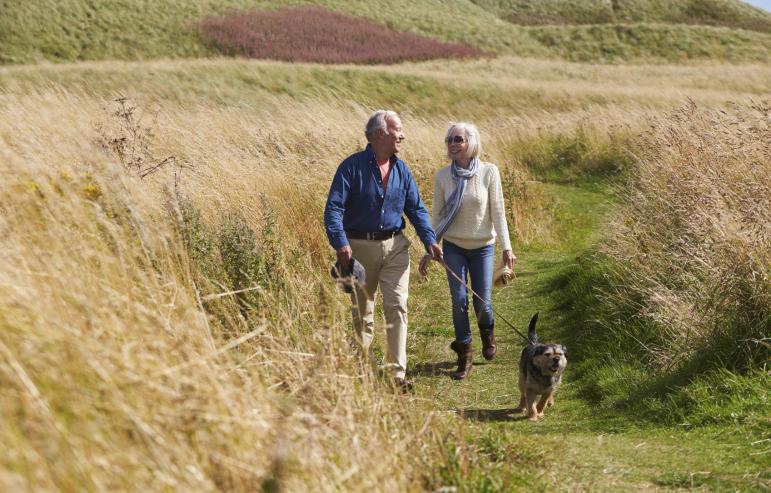 10 Ways Elders Can Get Active This Spring
This article was written by Deb Dorsey, a Registered Nurse for Caregiver Homes. She is also a 5-time marathon runner, most recently completing the 2014 Boston Marathon.
Exercise is good for us. We hear this all the time. But how can you effectively exercise as you get older? Is it safe? The truth is, it is never too late to start exercising, and the benefits will help you in every way possible as you age. Exercise has been shown to help maintain bone mass, reduce blood pressure, alleviate symptoms of arthritis and improve immune and digestive functioning. People who are active may also have improved posture, balance and flexibility. Increased activity levels during the day can help people fall asleep faster and more deeply. As though these benefits were not enough, endorphins produced when exercising can also reduce feelings of sadness or depression. So how can you get started? First, be sure to get medical clearance from your doctor if you have any preexisting conditions. Once you have the go-ahead from your physician, start slow, set realistic goals and exercise safely. Use common sense – know your capabilities as well as your limitations. Finally, make exercise fun. Find ways to incorporate exercise into daily life and into hobbies and habits that you enjoy doing. Here are 10 ideas to help you get started and stay committed to a healthier, more active lifestyle this spring:
Go for a walk. Call a friend and find days and times you are both available to walk together. For me, this is the best way to stay committed. Once you have agreed on a day and time, you are far more likely to keep that commitment when getting your exercise routine started than if you are going it alone.
Go to the mall. Still too cold to walk outside? Go to the mall and window shop while you walk.
Explore your area. Once the weather gets warm enough, explore your local paved trails, river walks and parks. Listen to music while you walk, take pictures as you go, and see how many bird species you spot during your walks.
Get your calendar out. Jot down 3-5 days with times that you feel you are most likely to exercise. Be realistic. If you are not an early bird, commit to times that work for your lifestyle.
Call or drop by your local Senior Center or YMCA. Most offer daily exercise classes such as Chair Yoga, Zumba, Water Aerobics, Muscle Conditioning, Line Dancing, Tai Chi and Meditation. Group exercise classes are also a great way to meet new friends.
Go to the library. If you would rather exercise at home on your own time, visit your local library for exercise videos. Many libraries have large selections. If you have cable television, many on-demand features offer a variety of exercise shows.
Spend time with your grandkids. Kids know electronics. Many game systems (like the Nintendo Wii, Xbox and PS3) have activity-based video games that simulate golf, fishing, bowling, tennis and countless others. Most of these can be safely done in a wheelchair and will elevate your heart rate and burn calories. Most of all, they're fun to do and they are a perfect way to connect with grandkids.
Work it into any day, any time. Strength training exercises can be done any time. Use canned goods or bottles of water as weights and do some repetitions while you watch your favorite TV show or movie.
Make it work for you. Despite injury or limitation, you still have options. Chair-bound exercises are ideal for people with lower body injuries or disabilities, those with weight problems or diabetes, and elders looking to reduce their risk of falling. Cardiovascular and flexibility chair exercises can help improve posture and reduce back pain, while any chair exercise can help alleviate body sores caused by sitting in the same position for long periods of time.
Maintain the momentum. Don't keep it to yourself – talk to your friends, family and caregivers. Not only will having these conversations increase commitment, but they will surely start conversations that introduce you to new ideas, places, topics and hobbies that you may never have considered and find you really enjoy! Ask your care team to help you find local resources and discuss exercise ideas with them. Go online and search for safe and appropriate exercises for you.
---
More insights like this:
End-of-Life Caregiver Support: Five Tips for Prioritizing the Caregiver

During end-of-life palliative care and hospice care, it's typical for much of the focus to be on your loved one. However, anxiety, guilt, anger, and burnout are very common experiences for all caregivers. It's important that coping with these emotions is made a focus as well, so that your well-being and the care…

Read more

: End-of-Life Caregiver Support: Five Tips for Prioritizing the Caregiver

End-of-Life Decisions: The Difference Between Hospice and Palliative Care

It's never easy to consider hospice or palliative care for a loved one, and it's common for caregivers to experience stress and grief during this immensely challenging time. "When a loved one receives a serious diagnosis and members of the care team mention palliative or hospice care, it can be alarming, overwhelming and…

Read more

: End-of-Life Decisions: The Difference Between Hospice and Palliative Care

The Caregiver's Role in Creating An Effective End-of-Life Care Plan

End-of-life planning is a part of an estate plan that caregivers are often in the position to help establish for their loved ones. It formalizes the wishes of the person you care for, documenting their desires for what they'd like to happen at the end of their life. In short, an end-of-life care…

Read more

: The Caregiver's Role in Creating An Effective End-of-Life Care Plan