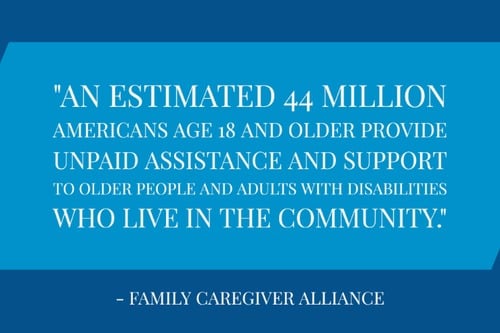 Caregiver Burden Tips: Expert Advice for Recognizing & Combating Caregiver Stress
Caring for an elder or a loved one with disabilities is a position many caregivers simply "find themselves" in. Often they have not made a formal decision to become a caregiver – in fact, some family caregivers may not even realize that they're filling that role. No matter how you find yourself in the role of caregiver, it's a commitment that impacts everyone psychologically – at times in positive ways, and at times in negative ways. It's the negative effects, though, that tend to take the biggest impact on a caregiver's health and well-being. Not uncommon are feelings of guilt, financial stress, and exhaustion from lost sleep or from balancing a full-time career with caregiving duties. Some caregivers cope with the many changes and demands of caregiving with relative ease, while others are at risk of developing depression and anxiety, as well as the physical manifestations of chronic stress, such as risk of heart attack and stroke. As a caregiver, it's vitally important that you take care of yourself first and foremost. After all, you can't offer your best to your loved one if chronic stress and worry has taken a toll on your physical and emotional health. April is Stress Awareness Month. In its honor, we've put together this comprehensive guide from expert sources around the web to help you better understand caregiving and its effects on health and well-being. From important statistics and facts about the impact caregiving has on well-being to the leading contributors to caregiver stress, from effective ways to prevent burnout to coping strategies you can put to use when you begin to feel the toll of caregiving, we've rounded up 50 helpful tips and facts to cover every angle.
What You'll Find in This Guide:
Caregiving Facts: You're Not Alone
Contributors to Caregiver Stress and Burnout
Recognizing the Signs of Caregiver Stress and Burnout
Avoiding Burnout
Coping Strategies for Caregivers
Caregiving Facts: You're Not Alone
Caring for an aging or disabled loved one is an isolating experience for some people. They may spend less time socializing with friends and family than they once did, consumed by the duties of caregiving and wanting to be there to take care of their loved one's every need. It's easy for caregivers to feel as though they're going it alone, or that the stress and other psychological impacts they experience are unusual. Here are a few important statistics to help you understand that you're not in this alone, and your feelings and experiences are shared by many caregivers.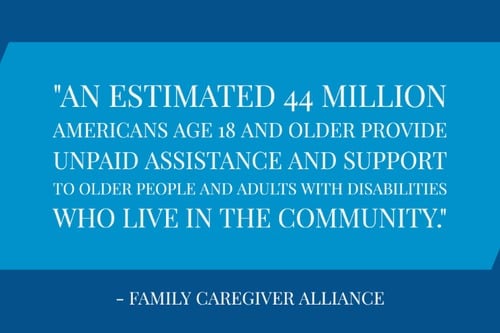 More than 44 million Americans provide unpaid care to an aging or disabled loved one. "An estimated 44 million Americans age 18 and older provide unpaid assistance and support to older people and adults with disabilities who live in the community. The value of this unpaid labor force is estimated to be at least $306 billion annually, nearly double the combined costs of home health care ($43 billion) and nursing home care ($115 billion)."Evidence shows that most caregivers are ill-prepared for their role and provide care with little or no support, yet more than one-third of caregivers continue to provide intense care to others while suffering from poor health themselves. Studies have shown that an influential factor in a caregiver's decision to place an impaired relative in a long-term care facility is the family caregiver's own physical health." – Reviewed by Moira Fordyce, MD, MB, ChB, Adjunct Clinical Professor, Stanford University School of Medicine, President, California Geriatrics Society, and fellow of the American Geriatrics Society, Caregiver Health: A Population at Risk, Family Caregiver Alliance; Twitter: @CaregiverAlly
Most caregivers experience some form of caregiver stress. "Clinical observation and early empirical research showed that assuming a caregiving role can be stressful and burdensome. Caregiving has all the features of a chronic stress experience: It creates physical and psychological strain over extended periods of time, is accompanied by high levels of unpredictability and uncontrollability, has the capacity to create secondary stress in multiple life domains such as work and family relationships, and frequently requires high levels of vigilance. Caregiving fits the formula for chronic stress so well that it is used as a model for studying the health effects of chronic stress." – Richard Schulz, PhD and Paula R. Sherwood, PhD, RN, CNRN, Physical and Mental Health Effects of Family Caregiving, U.S. National Library of Medicine; Twitter: @NCBI
While it's normal to experience psychological impacts from caregiving, not all of these effects are negative. "Multiple population-based studies indicate that many family caregivers report little strain associated with providing caregiving assistance. Schulz and Beach (1999) found that 44 percent of the spouse caregivers in their sample reported 'no strain' in association with caregiving tasks. Using similar questions for both spouse and non-spouse caregivers, Roth and colleagues (2009) found that 33 percent of caregivers reported 'no strain' and 50 percent reported 'some strain,' while only 17 percent reported 'a lot of strain.' A recent survey by the National Opinion Research Center (2014) found that 83 percent of caregivers viewed it as being a positive experience. Many caregivers experience both positive experiences and some strain simultaneously (Beach et al., 2000; Harmell et al., 2012). Lawton and colleagues' (1991) two-factor model suggests that caregivers may experience both emotional distress and psychological satisfaction and growth, effects that are not incompatible." – Mental and Physical Health Effects of Family Caregiving, American Psychological Association; Twitter: @APA
Men and women may experience stress differently in different caregiving situations. "Our analyses revealed that for women, caring for a spouse or children was more stressful and detrimental to mental health than caring for parents or others. Similarly, for men, caring for a spouse and for children was more stressful than caring for others but did not adversely affect overall mental health."The findings suggest that spousal and child caregiving tend to be more rather than less stressful and detrimental to middle-aged and older caregivers' mental health than is caregiving to most others but that gender differences need to be considered." – Margaret J. Penning, PhD and Zheng Wu, PhD, Caregiver Stress and Mental Health: Impact of Caregiving Relationship and Gender, The Gerontologist; Twitter: @geronsociety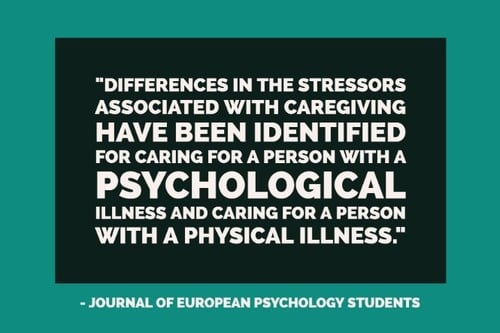 The psychological impact of caregiving may also differ based on the care recipient's mental and physical health concerns. "Differences in the stressors associated with caregiving have been identified for caring for a person with a psychological illness and caring for a person with a physical illness. Research conducted by Teri et al. (1992) demonstrated that the care of an older relative with both dementia and depression was associated with higher levels of burden compared to caregivers of a relative with a physical illness such as heart disease. A survey conducted by the National Association for Caregiving and the American Association of Retired Persons (AARP, 2004) with a large sample of over 1500 caregiving families found that when compared with caregivers of physically disabled older adults, caregivers of relatives with dementia provided more assistance and reported that providing care was more stressful, impacted more on time spent with their other family members, and had a higher rate of work related difficulties." – Eve Jane Markey, The Impact of Caregiving on the Development of Major Depressive Disorder and Generalized Anxiety Disorder, Journal of European Psychology Students (EFPSA); Twitter: @EFPSA
Contributors to Caregiver Stress and Burnout
What contributes to stress and burnout for caregivers? Here's a look at the most common contributing factors that can lead to feelings of stress, burnout, depression, anxiety, fatigue, and other detrimental psychological impacts.
Recognizing the Signs of Caregiver Stress and Burnout
Caregivers can practice good self-care by learning the signs and symptoms of anxiety, depression, and burnout, and taking action to alleviate stressors when you notice possible indicators of caregiver burnout. Here are some common warning signs that may indicate caregiver burnout.
A perceived lack of empathy and understanding from friends and family members. "Research conducted at Northwestern University revealed that 'a lack of understanding and help from friends and relatives causes the most stress and the greatest threat to a caregiver's own health and well-being.' They're on the outside looking in, and it can be hard for them to fully understand or appreciate your situation." – MJ Plaster, Tips for Managing Caregiver Stress, Philips Lifeline; Twitter: @Philips
Avoiding Burnout
They say that prevention is the best medicine, and that's true caregivers, as well. The best way to reduce the psychological impacts of caregiving is to learn to identify stress triggers, practice positive self-care, and be proactive about giving yourself a break and taking other measures to minimize stress and other symptoms when you begin to feel the weight of caregiving. Here are some valuable tips and insights to help you avoid burnout and the other negative psychological impacts of caregiving.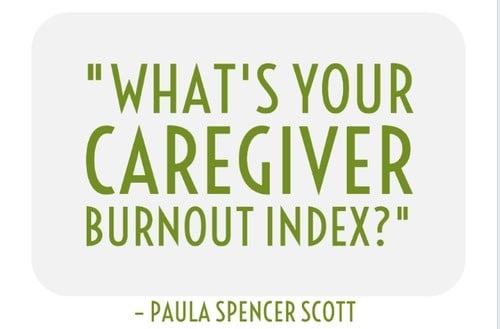 Determine your "caregiver burnout index." This quiz from Caring.com is a helpful way to determine whether you're at risk of developing caregiver burnout (or if you're already experiencing it). "What's your caregiver burnout index? Answer [these] 12 questions, add up your score (A = 4 points, B = 3 points, C = 2 points, D = 1 point), and learn lifesaving strategies for managing the unique stress of caregiving." – Paula Spencer Scott, Are You Heading for Caregiver Burnout?, Caring.com; Twitter: @Caring
Identify what you need to thrive. "Start by asking yourself the following question: 'What do I need to thrive?' or 'What do I need for better health or well being?' You might be thinking:
A better diet
More exercise
Spiritual renewal
Time to pursue intellectual or social activities
Time with family
Time alone
Short term respite
Reduced hours as a caregiver?
"Or any number of other things. Name at least one thing that you need for your health to thrive. Then write it down."
– Kathleen Allen, LCSW, C-ASWCM,
Dementia and Alzheimer's Caregivers—Three Steps to Maintaining Good Health
, BrightFocus.org; Twitter:
@_BrightFocus
Learn to accept help from others. "Be prepared with a list of ways that others can help you, and let the helper choose what he or she would like to do. For instance, one person might be willing to take the person you care for on a walk a couple of times a week. Someone else might offer to pick up groceries or cook for you." – Mayo Clinic Staff, Caregiver stress: Tips for taking care of yourself, Mayo Clinic; Twitter: @MayoClinic
Prioritize self-care. "Eat nutritious meals. Don't give in to stress-driven urges for sweets or overindulge in alcohol. Get enough shut-eye; if you have trouble sleeping at night, try napping during the day. Schedule regular medical checkups. Find time to exercise, even if it means you have to ask someone else to provide care while you work out. If you experience symptoms of depression — extreme sadness, trouble concentrating, apathy, hopelessness, thoughts about death — talk to a medical professional." – 10 Ways to Deal With Caregiver Stress, AARP; Twitter: @AARP
Recognize the positive psychological impacts of caregiving. "It is important to note that caring for another person can also create positive emotional change. Aside from feeling stress, many caregivers say their role has had many positive effects on their lives. For example, caregivers report that caregiving has given them a sense of purpose. They say that their role makes them feel useful, capable and that they are making a difference in the life of a loved one." – Caregiving, MedicineNet; Twitter: @MedicineNet
Get enough sleep. "While sleep needs vary, most people need eight hours a day. Loss of sleep as a result of caring for a loved one can lead to serious depression. The important thing to remember is that even though you may not be able to get your loved one to rest throughout the night, you can arrange to get much needed sleep. Hiring a respite worker or engaging a friend to be with your loved one while you take a nap, finding a day care center, or scheduling a stay over with another family member for a few nights are a few ways to keep your caregiving commitment while getting the sleep you need." – Depression and Caregiving, Family Caregiver Alliance; Twitter: @CaregiverAlly
Establish routines for better time management. "Establish routines. Have grocery lists and lists of tasks to complete. Keep often-used items in designated places. Plan activities for the week. Make sure to schedule 'down time,' too." – Coping Strategies for the Family Caregiver, My Doctor Online, The Permanente Medical Group; Twitter: @KPShare
Keep important health information organized and accessible. Having a complete and organized record will help you better communicate with healthcare providers, provide relevant information pertinent to their care, and keep other caregivers and family members in the loop. "The single most important thing you can do to function effectively as a caregiver is to create and maintain a comprehensive file of information about the person you are caring for. There is a variety of ways to create and maintain a patient file. Some people prefer paper, some electronic, some a combination of both. You can keep this information in any form that works best for you, although most people simply put it in a binder or folder. It doesn't have to be pretty, it just has to work for you." – Patient File Checklist, Caregiver Action Network; Twitter: @CaregiverAction
Eat a healthy, balanced diet and exercise regularly. "Yes, we've all heard it before, but the evidence is overwhelming: regular exercise and a good, nutritious diet do wonders for your overall health. No matter how busy you feel, you need to make time for these things and incorporate them into your daily routine. If you can leave the house, take a daily walk or go to a gym. If you can't leave your house, consider an exercise video appropriate for your fitness level. Programs that emphasize stretching, muscle toning, and relaxation are generally good for all levels of fitness. As for a healthy diet, consult with your physician or nurse practitioner for what is best for you." – Senior Caregiver Coping Strategies, Care.com; Twitter: @CareDotCom
Keep a journal. "Keep a journal. Talk or write about your feelings, whether they are good or bad. A regular record of events and emotions will help you recognize stress before it becomes a problem." – Dealing with Caregiver Stress, Hospice and Palliative Care of Greensboro; Twitter: @HospiceGSO
Get in touch with your feelings about self-care. "Many times, attitudes and beliefs form personal barriers that stand in the way of caring for yourself. Not taking care of yourself may be a lifelong pattern, with taking care of others an easier option. However, as a family caregiver you must ask yourself, 'What good will I be to the person I care for if I become ill? If I die?' Breaking old patterns and overcoming obstacles is not an easy proposition, but it can be done—regardless of your age or situation. The first task in removing personal barriers to self-care is to identify what is in your way. For example:
Do you think you are being selfish if you put your needs first?
Is it frightening to think of your own needs? What is the fear about?
Do you have trouble asking for what you need? Do you feel inadequate if you ask for help?
Do you feel you have to prove that you are worthy of the care recipient's affection? Do you do too much as a result?" – Taking Care of YOU: Self-Care for Family Caregivers, Family Caregiver Alliance; Twitter: @CaregiverAlly
Continue to engage in activities you enjoy. "To maintain balance, it's important to stay active with your own interests, hobbies and social groups. Don't skip the fun events or forgo your normal faith and community activities." – Janet Kuebler, Four Tips to Managing Caregiver Stress, Answers for Elders; Twitter: @AnswersforElder
Stay connected with friends and family. "Try to keep yourself from being isolated from family and friends. It can be easy to completely absorb yourself into your role as caregiver increasing your stress level. Make time for social gatherings – dinner with friends, attending family events and holiday celebrations, etc." – Carrie Soares, 8 Tips for Managing Caregiver Stress, MedicAlert Foundation; Twitter: @MedicAlert
Seek out caregiving resources. "Caregiver services that provide detection, screening, education and referrals are very important for early intervention. They introduce caregivers to community services and resources, provide support, can help caregivers organize constantly changing priorities, remind caregivers to ask for help, and at times add a touch of humor to difficult times." – Dave Nassaney, Managing Caregiver Stress Syndrome, Dave, The Caregiver's Caregiver; Twitter: @DaveCaregiver
Stay hydrated. "While it might seem extremely crude, drinking 3 liters of water every day goes a long way in infusing the agility and activeness we otherwise feel devoid of. Water is by its core nature a stress releasing and freshness infusing liquid so there's no point of losing your mind just because you were actually thirsty.
"In case you are a sucker for incentives, it is also your license to eat more and yet stay fitter."
– Angelina Jessica,
Tips for Managing Caregiver Stress and Burnout
, SheKnows; Twitter:
@SheKnows
Coping Strategies for Caregivers
Despite your best efforts, avoiding stress entirely as a family caregiver isn't possible for most people. While you can certainly eliminate a great deal of potential psychological impacts by being proactive about self-care, there will almost certainly be times when your stress simply gets the best of you. Here are some tips for coping effectively when you're experiencing acute stress or symptoms of burnout.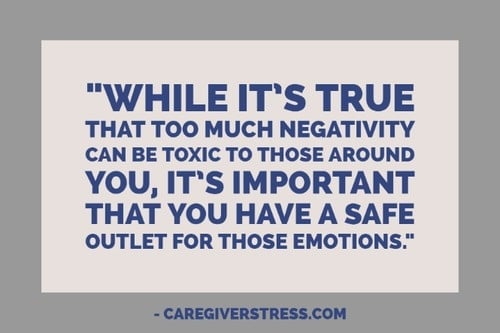 ---
More insights like this:
3 Ways to Strengthen Caregiver Mental Health

Being a caregiver often comes with many anxieties and challenges that one must navigate. Sometimes these outcomes can affect a caregiver's mental health. Caregiving often results in chronic stress, which negatively impacts a caregiver's physical and mental health. Moreover, nearly 33% of unpaid caregivers reported experiencing mental or behavioral health symptoms such as…

Read more

: 3 Ways to Strengthen Caregiver Mental Health

Caregiver Nation: A Pivotal Moment for Family Caregiving in the U.S.

This year's National Family Caregivers Month signifies a crucial turning point in the history of family caregiving policies and awareness. From advancements at the state level to federal initiatives, there's a growing commitment to addressing the needs of our nation's 53 million family caregivers. This positive shift is long overdue. The demands placed…

Read more

: Caregiver Nation: A Pivotal Moment for Family Caregiving in the U.S.

A Thank You Letter to Family Caregivers

In celebration of National Family Caregivers Month (NFCM), Careforth President and CEO Matt Marek shared his appreciation for family caregivers across the nation in a letter. The letter from Matt appeared in the Boston Globe, Hartford Courant, Atlanta Journal-Constitution, and the Indianapolis Star. Matt welcomes you to join Careforth in supporting the 53 million family…

Read more

: A Thank You Letter to Family Caregivers