Dementia Care Costs by State: An Overview of Costs, Types of Dementia Care, and the Cost of Dementia Care by State
Year after year, lists of the leading causes of death in America include chronic diseases like heart disease, cancer, diabetes and dementia. Each condition requires ongoing skilled care, with some involving hospitalizations, courses of treatment that may include pricey drug therapies, and other types of interventions. Among these common conditions, though, one is set apart from the rest. Dementia is unique in that it has no known cure, nor any treatments proven to significantly slow the degenerative march of the disease. In fact, Alzheimer's dementia is the
only top-10 cause of death
in the U.S. that cannot be prevented, cured or slowed. Despite the fact that treatment of the disease itself is off the table,
dementia care in the U.S. is more expensive, in terms of both direct medical costs over a 5 year span studied in and out-of-pocket costs for families, than that of heart disease or cancer
. What's more, the number of deaths attributed to Alzheimer's disease continues to rise, while the number of deaths associated with other leading causes, such as heart disease, certain types of cancers, and stroke, have declined. So the cost of dementia care on a national scale is growing.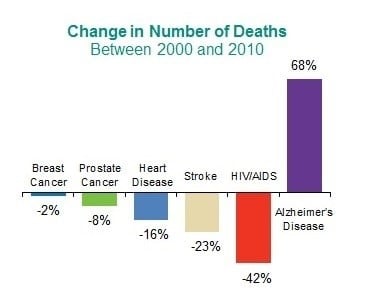 An Overview of Dementia Care Costs
As of 2018, an
estimated 5.7 million Americans
live with Alzheimer's, dementia, and other memory disorders, and
1 in 10 seniors age 65+ has Alzheimer's dementia
. Depending on how advanced the disease, your loved one may require anything from Post-it note reminders on the walls, to regular in-home care, to 24-hour supervision, to skilled care at a nursing home.

an estimated $277 billion
– more than the
entire economy
of Finland
. According to a
2015 study
, the average cost of dementia care (over a five-year period) was
$287,038
, compared to
$175,136
(heart disease) and
$173,383
(cancer). And in 2018, the Alzheimer's Association estimates the
lifetime cost
of Alzheimer's and dementia care at a staggering $341,840.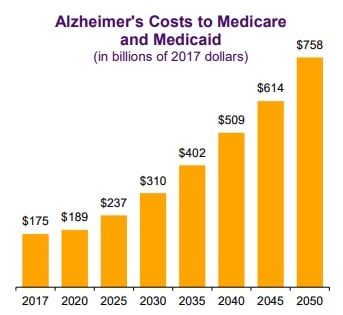 Dementia Care Levels & Their Associated Costs
Certain dementia costs are fixed, no matter where you live and what level of care your loved one requires. For example, a Consumer Reports study found that dementia and Alzheimer's medications cost an average
$177 to $400+ per month
, while the Alzheimer's Association places the average around
$3,000 per year
(about $250 per month).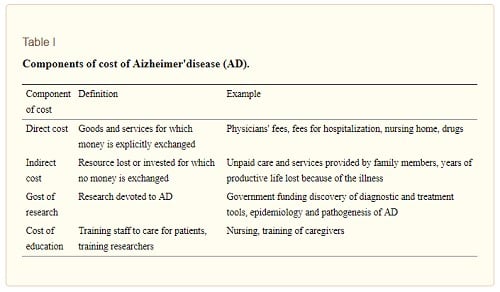 stage and progression
of your loved one's dementia, as well as on the
patient's wishes
(are they adamant about remaining at home?) and
your family's financial, emotional, and time resources
.
Associated costs
include both direct and indirect costs, as well as the cost of research and education – costs which impact not only families, but providers, researchers, federal and state agencies, and more. Bottom line: Dementia care costs can run from as little as $25 per day to as much as $24,000 per month, depending on where you live and what your loved one requires. With that in mind, to
reduce the costs of dementia care
, it is in your family's best interests to choose the lowest level of required care, for as long as it fulfills your loved one's needs. Once your loved one has progressed beyond minor forgetfulness – the Post-it note level, so to speak – it's time to move on to more in-depth care. The following is a basic breakdown of the most common levels of dementia care:
At-Home Dementia Care
Many families choose to care personally for loved ones with dementia, insofar as their time and emotional resources permit. That said, dementia caregiving takes its own
toll on caregivers and family members
.
There is no shame in admitting that you need or would like help
. And that's where in-home healthcare providers and caretakers come into the picture. Caregivers will help your loved one with anything ranging from personal hygiene and mealtime, to preventing wandering while you're away from home. Typically, in-home caregivers do not charge a premium for dementia patients; you're likely to pay a flat rate for home care and home health care (more highly skilled), usually in the range of
$95-$175 per day
. (We know – it's a big spread! For more information, please see our dementia
care costs comparison chart
, below.)
Adult Day Health Care
Whether you're a full-time or part-time caregiver, adult day centers can provide a
much-needed break from stress and routine
. And, for your loved one, adult day health care not only provides a chance to be social, but also offers
therapy and health care
, counseling,
behavior management
, personal care, and
daily activities
, like music and exercise programs, among other offerings. Available services vary by adult day center, so if your loved one has special needs – for example, if she requires a mid-day insulin shot or has severe food allergies – be sure to verify these requirements before committing to a specific health care center. Note that most adult day health centers are
not equipped to handle the needs of dementia patients in the later stages of the disease
.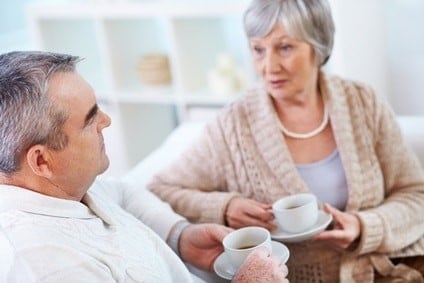 The cost of adult day health care varies by state, center, and your loved one's requirements, but you can expect to pay an average
$26-$80 per day
.
Assisted Living Facilities
The 
Assisted Living Federation of America
, defines assisted living as "a long-term care option that
combines housing, support services and health care
, as needed." In other words, if your loved one's dementia is not advanced, and s/he prefers a residential living situation, and s/he needs help with everyday tasks, then assisted living can be an excellent option. Additionally, if a loved one's memory issues have begun to worsen, some assisted living facilities provide memory care services, usually in a d
edicated memory care or dementia special care unit (SCU)
. (These facilities are often called Memory Care Residences.) While these services do add to the overall cost of care – typically, in the extra 20-30% range – they are indispensable, when necessary, as memory care staff are specially trained in issues related to dementia and impaired cognition. The cost of assisted living varies greatly by state and available services, but average costs come in at
$2,700-$6,000 per month
, depending on your state.
Nursing Homes
Most, if not all nursing home and/or skilled nursing facilities are
fully equipped to help dementia patients
. What's more, the cost of dementia care is not considered a premium service, since most patients do not require a level of care above and beyond that of other nursing home residents. Most families turn to nursing homes only in the later stages of dementia, as this is the
most expensive form of dementia care
. That said, nursing homes and skilled nursing facilities are an incredible and much-needed resource, especially for dementia patients who exhibit paranoia, aggression, and other difficult-to-handle manifestations of the disease. At most nursing home facilities, both shared and private rooms are available. Typically,
a shared room costs approximately 80-90% that of a private room
. Note, however, that shared rooms are not always an option, especially for patients with more aggressive forms of the disease. The cost of nursing homes varies greatly by state, from the least expensive (Oregon) averaging
$4,471 (shared)
and
$5,293 (private)
, per month, to the most expensive (Alaska), which comes in at a shocking
$24,333 per month
.
Dementia Care Costs by State
It's no secret that certain states (and, even more so, cities) are more expensive than others: the cost of a 1-bedroom apartment in Manhattan can easily outstrip that of a 5-bedroom home in rural Virginia. So, it comes as no surprise that
the cost of dementia care varies greatly by state
. Speaking in very general terms, you'll find the
least expensive dementia care in the South
, followed closely by the Midwest. In fact, the least expensive options for all five types of dementia care in our chart were each located in the South: Alabama (adult day health care), Louisiana (in-home health aide), Missouri (assisted living facility), and Oklahoma (nursing home care, both shared and private rooms). Conversely, the most expensive care states were also mostly unsurprising: Alaska, California, and the Northeastern U.S., with a bit of pinch-hitting from North Dakota. (Okay, that one was a bit of a surprise!) And now, for the official numbers, which we've collated from the
2017 Genworth Cost of Care Survey
, which was conducted by Carescout® and is based on more than
15,000 surveys covering 440 regions throughout the United States
. Below are the findings. In each category, we've highlighted the least-expensive states in green, and the most-expensive states in red.
State
Home Health Aide (per month)
Adult Day Health Care (per month)
Assisted Living (per month)
Nursing Home: Semi-Private (per month)
Nursing Home: Private (per month)
Alaska
$5,291
$3,642
$6,000
$24,333
$24,333
Alabama
$3,213
$563
$3,057
$6,083
$6,464
Arkansas
$3,432
$1,733
$3,013
$5,171
$5,779
Arizona
$4,290
$1,766
$3,500
$6,388
$7,604
California
$4,767
$1,668
$4,275
$8,114
$9,703
Colorado
$4,576
$1,495
$3,850
$7,663
$8,547
Connecticut
$4,385
$1,733
$4,600
$12,516
$13,505
Dist. of Col.
$3,813
N/A
N/A
$9,870
$10,570
Delaware
$4,242
$1,571
$6,015
$10,646
$10,996
Florida
$3,813
$1,408
$3,100
$7,908
$8,882
Georgia
$3,623
$1,300
$2,800
$6,222
$6,707
Hawaii
$4,957
$1,517
$4,250
$11,437
$13,216
Iowa
$4,576
$1,364
$3,736
$5,741
$6,235
Idaho
$4,099
$2,185
$3,150
$7,391
$7,910
Illinois
$4,290
$1,563
$3,720
$5,688
$6,524
Indiana
$3,996
$1,842
$4,025
$6,692
$7,817
Kansas
$4,004
$1,625
$4,250
$5,551
$6,167
Kentucky
$3,718
$1,472
$3,445
$6,728
$7,346
Louisiana
$2,908
$1,354
$3,293
$5,171
$5,475
Massachusetts
$4,957
$1,408
$5,599
$11,710
$12,471
Maryland
$4,357
$1,679
$4,150
$9,125
$9,916
Maine
$4,481
$2,340
$4,890
$9,140
$9,764
Michigan
$4,099
$1,679
$3,500
$7,969
$8,608
Minnesota
$5,148
$1,788
$3,585
$8,174
$8,988
Missouri
$4,004
$1,733
$2,700
$4,912
$5,475
Mississippi
$3,432
$975
$3,332
$6,494
$6,646
Montana
$4,648
$2,582
$3,650
$7,209
$7,972
North Carolina
$3,527
$1,148
$3,250
$6,844
$7,604
North Dakota
$5,331
$2,123
$3,018
$10,636
$10,864
Nebraska
$4,576
$1,593
$3,785
$6,334
$6,768
New Hampshire
$5,030
$1,560
$4,855
$9,657
$10,570
New Jersey
$4,385
$1,950
$5,811
$10,038
$10,798
New Mexico
$3,956
$2,188
$4,000
$6,349
$7,406
Nevada
$4,195
$1,625
$3,400
$7,300
$8,289
New York
$4,528
$3,988
$3,988
$11,076
$11,701
Ohio
$4,040
$1,224
$4,178
$6,798
$7,604
Oklahoma
$4,004
$1,300
$3,033
$4,471
$5,293
Oregon
$4,671
$1,918
$4,070
$8,784
$9,262
Pennsylvania
$4,195
$1,343
$3,450
$9,277
$10,007
Rhode Island
$4,814
$1,625
$5,155
$8,486
$8,669
South Carolina
$3,804
$1,192
$2,865
$6,418
$6,844
South Dakota
$4,767
$1,473
$3,570
$6,300
$6,813
Tennessee
$3,575
$1,408
$3,595
$6,110
$6,600
Texas
$3,813
$758
$3,500
$4,563
$6,053
Utah
$4,290
$1,333
$3,150
$5,627
$6,965
Virginia
$3,953
$1,471
$4,508
$7,148
$7,908
Vermont
$4,767
$2,860
$4,127
$8,760
$9,292
Washington
$5,053
$1,408
$4,660
$8,578
$9,447
Wisconsin
$4,481
$1,413
$4,000
$7,908
$8,953
West Virginia
$3,337
$1,343
$3,750
$9,703
$10,235
Wyoming
$5,148
$1,842
$3,415
$7,078
$8,060
How to Pay for Dementia Care
With all these numbers – and often, unfathomable numbers – dancing around in your head, it's easy to panic. How will your loved one (and, most likely, your family) ever be able to afford dementia care over the next one, three, five or more years? You can breathe a sigh of relief because, thankfully, government assistance, private aid, and other help exists to help you pay for the skilled care your loved one needs. Here's a basic overview:
Medicare
Like most health insurance, Medicare makes no differentiation between dementia care and other diseases, such as cancer. What this means in practical terms is that, if your loved one qualifies for Medicare, then
Medicare will pay for dementia care within very firm limits
– and they're strict, often frustrating limits: 100% of nursing home care for 20 days, and 80% of nursing home care for up to an additional 80 days. That's just 100 days, or less than 3 months of nursing home care. Additionally,
Medicare will not cover custodial or personal care, in-home health aides, or even assisted living
for dementia patients. (One exception: Medicare does pay for personal assistance of patients determined medically to be within the last 6 months of their life.) For this reason, dementia patients almost always require secondary assistance, beyond the confines of Medicare. Which brings us to:
Medigap and Supplementary Insurance
Medigap care
does not specifically cover dementia care
, but it typically does pay the final 20% of nursing home care (for days 21-100) that Medicare does not cover.
Veteran Assistance
The VA may not operate dementia-specific programs, but it does offer assistance that may defray the costs of dementia care. One is the
Aid and Attendance
benefit (aka the Improved Pension), which can provide
up to $2,500 per month of financial assistance
to qualifying individuals. Additionally, look into the
VA Respite Care
service, which can
help pay for in-home care
.
Medicaid
For dementia patients who require highly skilled care, Medicaid is the
largest single payer of nursing home care
. That said,
qualifying for Medicaid
is not an easy task, especially if your loved one has assets. You will most likely require the assistance of a Medicaid specialist or elder care attorney, who can help redistribute and preserve assets, while simultaneously qualifying your loved one for Medicaid assistance to pay for nursing home care. Once qualified, Medicaid will pay
100% of nursing home costs at an approved facility
.
Other Assistance
Depending on your state and individual circumstances, dozens of other options are available to help defray dementia care costs. From
state-funded, non-Medicaid assistance programs
to reverse mortgages, long-term care insurance, annuities, and even relocation to lower-cost states, there are many ways to help pay for the ongoing costs of dementia care.
Bottom line
: Take heart (and a deep breath)! Millions of other Americans are in this with you. You are not alone. There is a lot of help out there, from state-assisted programs to unbiased third parties (like elder care attorneys). Do the research, plan well, and you will find the best and most affordable options to deliver high-quality dementia care to your cherished family members.
Additional Resources on Dementia Care Costs and Paying for Dementia Care
For more information on the rising cost of dementia care and strategies for getting help with dementia care costs, visit the following resources:
---
More insights like this:
15 Tips on Transitioning a Loved One to Memory, Dementia, or Alzheimer's Care 

As a part of your journey caring for someone with dementia or Alzheimer's, there may come a time when the effects of the disease become too much for a caregiver to handle, and one must seek alternative care options. When deciding the right time to transition your loved one to memory, dementia, or…

Read more

: 15 Tips on Transitioning a Loved One to Memory, Dementia, or Alzheimer's Care 

How Caregivers Can Help a Loved One Navigate Grief Following an Alzheimer's or Dementia Diagnosis

When a loved one is diagnosed with dementia or Alzheimer's disease, there is a wave of emotions they experience, but grief is often front and center. Grief for the life they may have lived without the disease, anticipatory grief, sadness, anxiety and much more. Regardless of your role in the caregiving journey, your…

Read more

: How Caregivers Can Help a Loved One Navigate Grief Following an Alzheimer's or Dementia Diagnosis

The Stages of Alzheimer's Disease: Pre-Diagnosis to Late-Stage Dementia

In This Article: Alzheimer's Disease: Prior to DiagnosisAlzheimer's Disease: Early-Stage DementiaAlzheimer's Disease: Mid-Stage DementiaAlzheimer's Disease: Late-Stage DementiaHow Do You Know What Stage of Alzheimer's Disease a Person Is In?A Roadmap for Care Moving Forward

Read more

: The Stages of Alzheimer's Disease: Pre-Diagnosis to Late-Stage Dementia