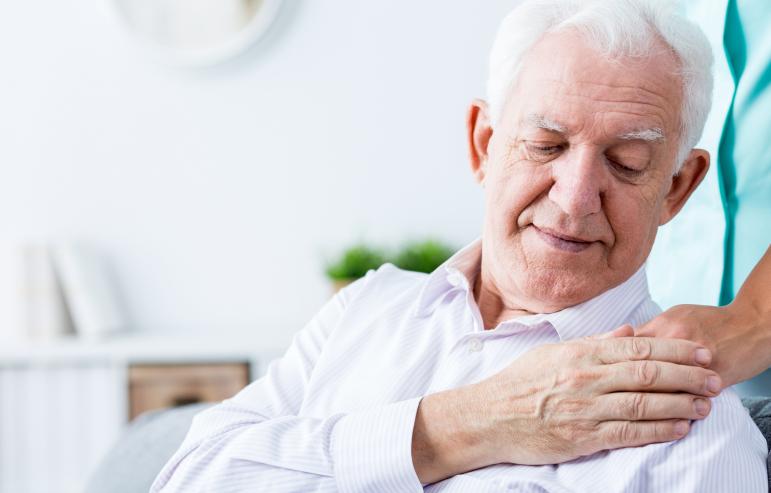 In-Home Alzheimer Care: Tips for Keeping Your Loved Ones Comfortable
By Saran Craig, a District Manager for Caregiver Homes.
Managing care of a loved one
at home with Alzheimer's Disease
can be simplified by making some minor environmental adjustments. These adjustments are intended to simplify the world around those with Alzheimer's, as well as accentuate their remaining strengths to help them overcome their acquired losses.
Keep your house well lit to avoid shadows, perceptual difficulties, and sun-downing.
Remove scatter and throw rugs which are fall hazards. Use solid colors on walls and floors, as patterns can be distracting and confusing.
Paint the wall behind the toilet a bold color so that the white toilet stands out.
Use a colored toilet seat cover so that they can see where to sit/aim.
Use signs with pictures to give directions to rooms, such as a toilet with an arrow to guide them to the bathroom.
Minimize clutter and noise, as they are both confusing and overwhelming.
Use visual markers as clues, such as a picture of socks on the sock drawer, pictures of soup on the soup cupboard.
Avoid labeling with words as language often diminishes very early in the disease process.
At mealtime use bold red plates and bowls to increase appetite and visual contrast.
Disguise Exit doors for wandering risks by wallpapering to match the walls, using window curtains to disguise as a window, or muraling to look like a bookcase or dresser.
If your loved one "sees people" who are not there, remove mirrors and pictures and see if the hallucinations subside.
Remember that a household product such as dish soap, shampoo or laundry detergent can be deadly if consumed, and your loved one no longer has the ability to protect themselves from harm. Lock away anything that may be harmful if ingested, as they may accidently mistake it for food or drink.
We all want to keep our loved ones at home for as long as we safely can. Using some of these tips and techniques may lengthen your loved one's stay at home, improve their quality of life, and decrease some of the caregiver stress of redirection by decreasing your loved one's confusion in the home.
---
More insights like this:
15 Tips on Transitioning a Loved One to Memory, Dementia, or Alzheimer's Care 

As a part of your journey caring for someone with dementia or Alzheimer's, there may come a time when the effects of the disease become too much for a caregiver to handle, and one must seek alternative care options. When deciding the right time to transition your loved one to memory, dementia, or…

Read more

: 15 Tips on Transitioning a Loved One to Memory, Dementia, or Alzheimer's Care 

How Caregivers Can Help a Loved One Navigate Grief Following an Alzheimer's or Dementia Diagnosis

When a loved one is diagnosed with dementia or Alzheimer's disease, there is a wave of emotions they experience, but grief is often front and center. Grief for the life they may have lived without the disease, anticipatory grief, sadness, anxiety and much more. Regardless of your role in the caregiving journey, your…

Read more

: How Caregivers Can Help a Loved One Navigate Grief Following an Alzheimer's or Dementia Diagnosis

The Stages of Alzheimer's Disease: Pre-Diagnosis to Late-Stage Dementia

In This Article: Alzheimer's Disease: Prior to DiagnosisAlzheimer's Disease: Early-Stage DementiaAlzheimer's Disease: Mid-Stage DementiaAlzheimer's Disease: Late-Stage DementiaHow Do You Know What Stage of Alzheimer's Disease a Person Is In?A Roadmap for Care Moving Forward

Read more

: The Stages of Alzheimer's Disease: Pre-Diagnosis to Late-Stage Dementia