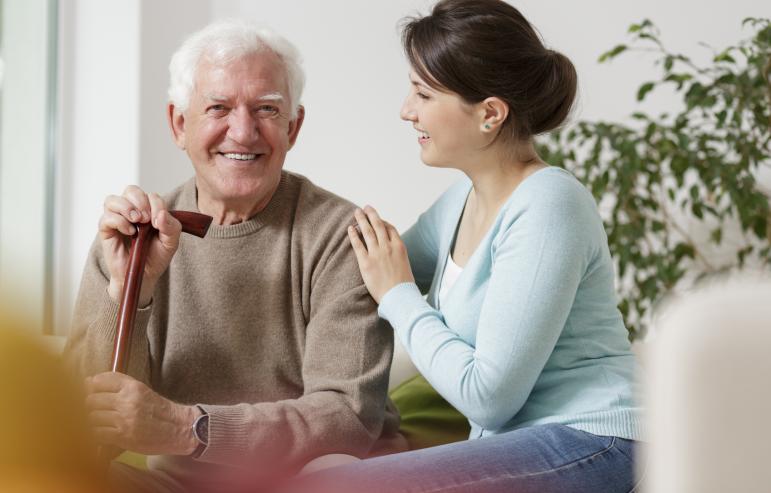 IN-HOME PATIENT CARE FOR HIP REPLACEMENT SURGERY
By Julian Hills, a staff writer for Drugwatch since 2013. Drugwatch.com is a comprehensive resource about side effects and complications from commonly prescribed drugs and oft-used medical devices.
Hip replacement is a procedure that is typically performed on elders in their 60s or older. People often undergo the procedure when their hip problems significantly interfere with normal activities. This is usually due to severe pain caused by arthritic conditions. This deterioration can get so bad that it affects a person's mobility. It can be difficult for people to feel or be independent at home when an individual is struggling with mobility issues and unable to complete everyday routines. When a person has hip replacement surgery, the home becomes an important part of returning to normal life after the hospital stay. Caregivers and care teams play a major role in the consumer's recovery after the surgery.
Caregivers and Care Teams Allow Consumers to Focus on Healing
When an elder has the
support of a caregiver
and care team, they can focus on their healing. Though hip replacement is major surgery, the consumer should be able to return to most of their activities in time. It is important for care team to help prepare the caregiver for all of the things to expect at home during the healing process. People who receive new hips should be focused on getting stronger, and that will include managing pain and participating in
regular but moderate exercise
until the muscles surrounding the hip get stronger. Consumers recovering from hip placement could experience post-surgical issues, including complications, infection or blood clots. Caregivers, consumers, and care teams need to be aware that some possible complications are specific to the type of implant used in the surgery. Caregivers should be prepared to help consumers with additional activities of daily living, as the hip has to completely heal before people can return to typical activities and routines.
Successful Recovery Begins at Home
Much of the healing process is done at home, in conjunction with regular doctor visits and rehab appointments.
Caregivers aiding elders
during this process should set up their homes before the consumer even goes into surgery. This includes creating an environment that is convenient and easy for the recovering person to maneuver through; making sure the consumer is comfortable and managing their pain; and setting up a network of people who can help the caregiver with their daily tasks. The consumer's doctor can provide an extensive list, but here are some common things that can be done in the home to prepare:
Have walking aids nearby, like a cane, walker or crutches. (Caregivers can consult with the doctor and see what she or he recommends).
Make sure there is nothing in the home that could cause the person to trip and fall (loose cords, slippery rugs or uneven flooring).
Place snacks, glasses, medications, books, remote controls and other commonly used items within a consumer's reach.
Consider having the consumer spend their recovery time on the ground floor of the home, so they can avoid stairs.
Avoid low chairs or chairs that recline. A person recovering from hip replacement surgery should sit in chairs with arms.
Consider providing other supplies, such as installing bench in the shower.
While hip replacement surgery and recovery can be a long process, with time, patience and preparation, a consumer should be able to resume their activities again and hopefully experience a better quality of life with the help of their caregiver and care team.
---
More insights like this:
End-of-Life Caregiver Support: Five Tips for Prioritizing the Caregiver

During end-of-life palliative care and hospice care, it's typical for much of the focus to be on your loved one. However, anxiety, guilt, anger, and burnout are very common experiences for all caregivers. It's important that coping with these emotions is made a focus as well, so that your well-being and the care…

Read more

: End-of-Life Caregiver Support: Five Tips for Prioritizing the Caregiver

End-of-Life Decisions: The Difference Between Hospice and Palliative Care

It's never easy to consider hospice or palliative care for a loved one, and it's common for caregivers to experience stress and grief during this immensely challenging time. "When a loved one receives a serious diagnosis and members of the care team mention palliative or hospice care, it can be alarming, overwhelming and…

Read more

: End-of-Life Decisions: The Difference Between Hospice and Palliative Care

The Caregiver's Role in Creating An Effective End-of-Life Care Plan

End-of-life planning is a part of an estate plan that caregivers are often in the position to help establish for their loved ones. It formalizes the wishes of the person you care for, documenting their desires for what they'd like to happen at the end of their life. In short, an end-of-life care…

Read more

: The Caregiver's Role in Creating An Effective End-of-Life Care Plan