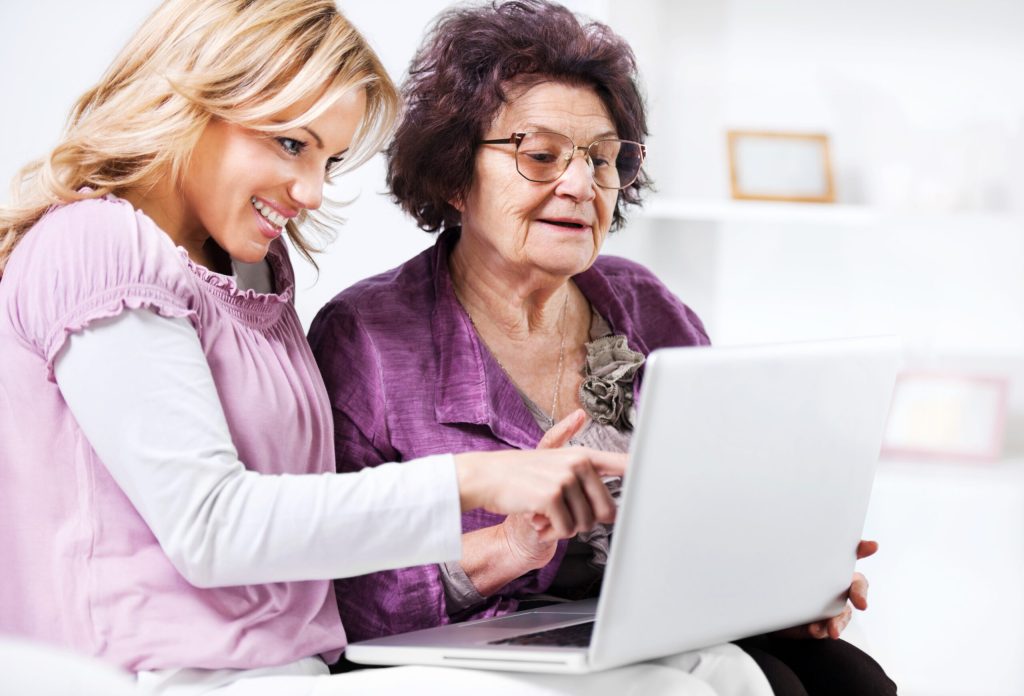 Top Tools for Caregivers: 43 Blogs, Tech Systems and Medication Management Tools to Simplify Your Life
Caregivers often are unpaid relatives or spouses of people who need assistance with activities of daily living and medical tasks. As more Americans choose to age at home, they require caregivers to make their choice possible. In most cases, caregivers organize medications and make sure their loved ones take them on time, assist them with getting dressed, bathing, and using the bathroom, schedule appointments with health care providers, provide transportation to appointments, make meals, and much more. Because caregivers spend the majority of their time caring for someone else, they benefit from tools that make the job more manageable. That's why we have rounded up 43 of the most helpful tools and blogs for caregivers. We have included smartphone apps for tracking medication, blogs for reading about how others cope with the demands of being a caregiver, and technology systems that monitor and track the care recipient and alert the caregiver of emergencies or potential health hazards. Please note, we have listed our top 43 tools for caregivers below
in no particular order.
Best Blogs for Caregivers
The Caregiver's Voice is designed to serve caregivers for people with dementia. Brenda Avadian, award-winning speaker, author of nine books, and U.S. News & World Report HEALTH writer, founded The Caregiver's Voice in 1998 while caring for her father with Alzheimer's. The blog covers topics pertinent to caregiving such as aging in place, dementia, elder care, independent living, and memory loss, among others.
Three key posts we like from The Caregiver's Voice: Caregiver Blog:
2. The Caregivers' Living Room: A Blog by Donna Thomson @Thomsod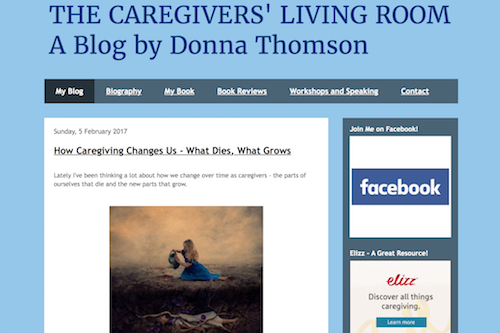 Author of The Four Walls of My Freedom: Lessons I've Learned from a Life of Caregiving, Donna Thomson also is a speaker, consultant, advocacy trainer, and blogger at The Caregivers' Living Room. Thomson's posts cover everything from quick and easy meal ideas and recipes to empathetic caregiving.
Three key posts we like from The Caregivers' Living Room: A Blog by Donna Thomson:
3. Daughterhood @Daughterhood
Written by Anne Tumlinson, Daughterhood features advice and tips about caregiving, benefits and wellbeing. Tumlinson has extensive experience in policy and research and is on a mission to share her knowledge and experience with everyday caregivers.
Three key posts we like from Daughterhood:
Aging In Place Technology Watch is under the helm of Laure Orlov, a tech industry veteran and elder care advocate. The blog features market research and thought leadership, analysis, and guidance about the technologies that make aging in place possible. Caregivers will gain insight into the tools that can assist you in caring for your loved ones.
Three key posts we like from Aging in Place Technology Watch:
5. The Caregiver Space @theCGspace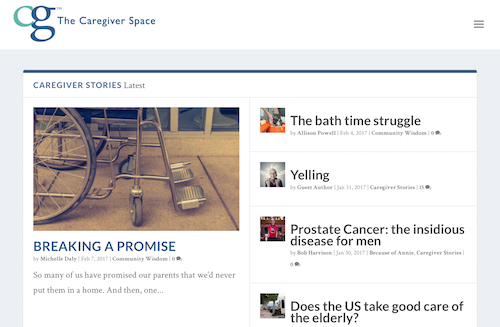 The Caregiver Space is a non-profit online community that includes the people and resources you need while you serve as a caregiver. Blog posts include caregiver stories, tips for caregivers, a section for family and friends of caregivers, and posts covering tools for caregivers.
Three key posts we like from The Caregiver Space:
6. Transition Aging Parents @daccarte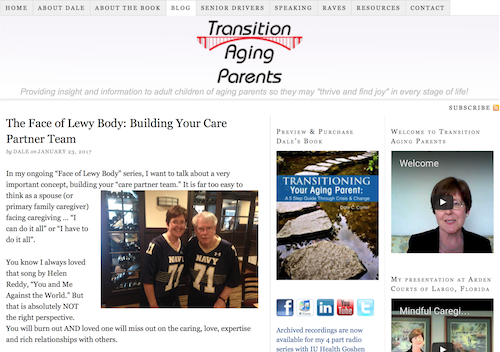 Dale Carter helps caregivers be proactive, learn to navigate a crisis or change, and be a parent's advocate. Her blog, Transition to Aging Parents, features posts covering categories such as health, housing, relationship building, safety, and enabling technologies. As someone who served as a long-distance caregiver for her mother and now as a caregiver for her husband, Carter has first-hand experience with handling the demands of caregiving.
Three key posts we like from Transition Aging Parents:
7. EldercareABC Blog @ECMatters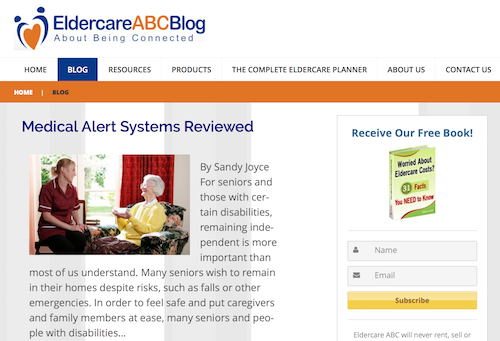 EldercareABC is an online community for caregivers of aging parents, designed by caregivers of aging parents. The blog is about being connected so that caregivers have access to a caring, supportive group of people dedicated to helping you.
Three key posts we like from EldercareABC:
8. eCareDiary Blogs @eCare_Diary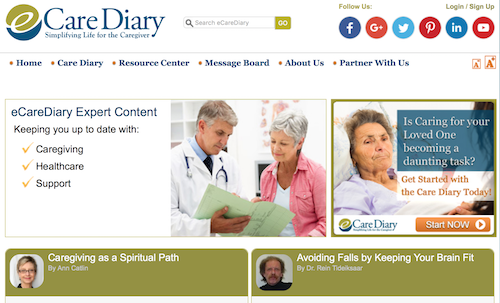 eCareDiary, a web community, is based on the founders' experiences as caregivers for their parents who lived with chronic illnesses such as Parkinson's, Type II diabetes, and dementia. eCareDiary also is a source of help for families offering online tools, expert content, and resources like their articles.
Three key posts we like from eCareDiary Blogs:
9. Caregiving.com @Caregiving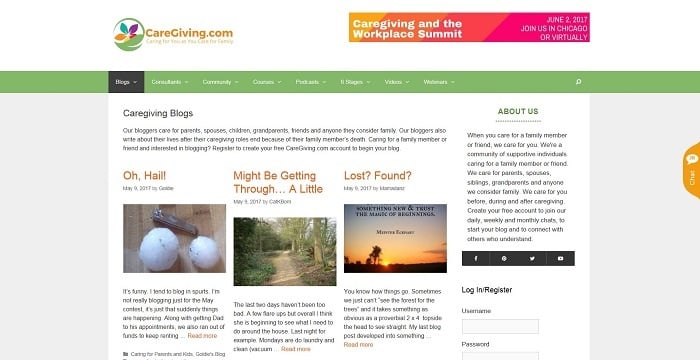 Caregiving.com is a web based community for caregivers to come together and support one another. Support comes through blogs, community posts, courses, podcasts and more.
Three key posts we like from Caregiving.com:
Technology Systems: Alerts, Alarms, Monitors, Sensors, and Trackers
10. Door Alarm Monitor with Remote @alzstore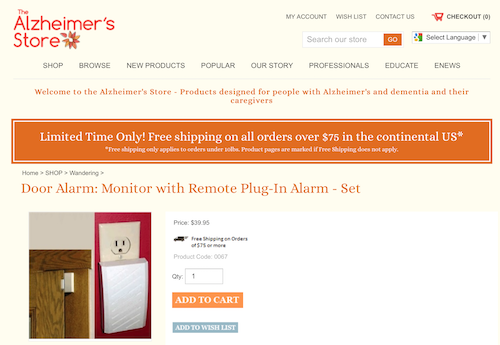 Caregivers know the challenges of caring for a dementia or Alzheimer's patient, and safety must come first. The Alzehimer's Store's door alarm monitor with remote helps caregivers keep on top of loved ones' movements by alerting you when the door opens. Key Features: Three alarm settings: chime, melody, and alarm May be used on room doors or cabinet doors Incudes a high-performance transmitter and receiver set that you customize to monitor a room or selected area Versatile, reliable, and convenient Cost: *Approx. $39.95 11. Touch 'N Talk @nofeemedalert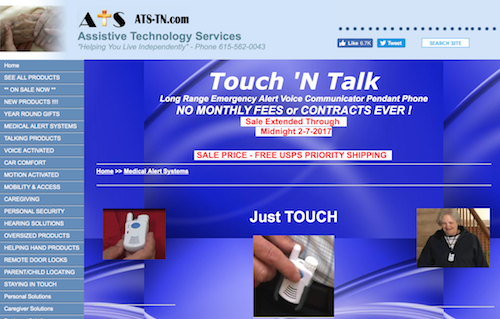 Assistive Technology Services specializes in medical alert systems without monthly fees. Their Touch 'N Talk system is a long-range emergency alert voice communicator pendant phone. The care recipient simply touches the button and talks when he needs assistance. Caregivers can rest a little easier knowing that your loved one can reach them more quickly and easily with the Touch 'N Talk. Key Features: Answer the phone or call for help with the portable long-range pendant communicator Calls four phone numbers Over 1,000,000 feet of total coverage area Use the emergency call button anywhere in your home or yard, including in the shower No monthly fees Directly dials rather than connecting to a call center first Cost: *Approx. $299.99 Additional Wall Communicator: $99.99 each Extra Pendant: $99.99 each 12. Motion Sensor and Pager @MaxiAids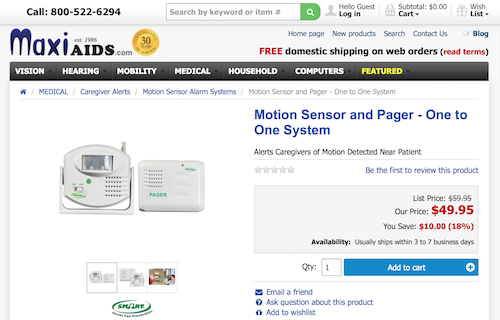 MaxiAids offers products for independent living to people with visual and/or hearing impairment. Their motion sensor and pager is a one-to-one system that alerts caregivers of motion detected near your loved ones and helps ensure that they are safe. Key Features: Motion sensor signals pager when it detects movement Ideal for bedside and doorway use Eliminate room alarm noise Convenient and easy to install wireless technology Includes one motion sensor and one pager Cost: *Approx. $49.95 13. Lively 24/7 Emergency Medical Alert System @mylively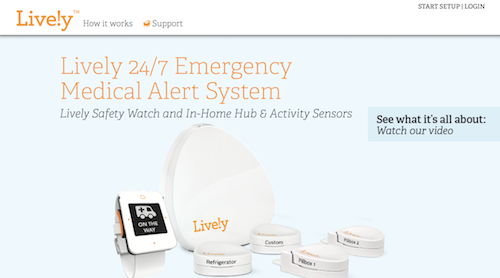 The Lively medical alert system provides round-the-clock emergency monitoring, missed medication reminders, and more with a stylish safety watch. Busy caregivers appreciate the ease of use the Lively 24/7 system delivers; simply plug the Lively hub into a power source, decide where to place the activity sensors around the home, activate the online account, and place the watch on the care recipient's wrist. Key Features: No home internet connection or phone line required Lively safety watch includes a comfortable band and may be replaced with any 20mm band Emergency monitoring services provided by a USA-based and CSAA Five Diamond 100% Operator Certified Central Station Lively pillbox activity sensors monitor daily medication activity and create an alert when medication is missed If medication schedule is not followed, family members receive notification Cost: Contact for a quote 14. Alarm.com Wellness @AlarmDotCom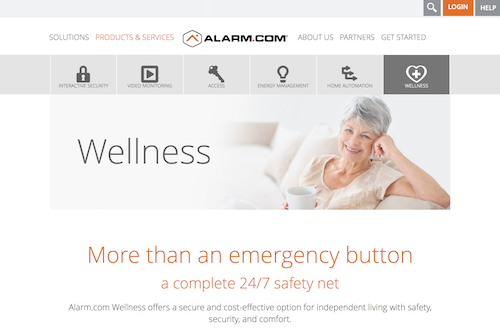 Alarm.com offers technology that powers the connected home and makes life smarter, safer, and more efficient. Caregivers choose Alarm.com Wellness because it is an affordable option for ensuring a care recipient's safety, security, and comfort. Key Features: Pair Wellness with a personal emergency response pendant Caregivers receive alerts if your loved one is wandering or leaving the house 24/7 emergency responses for intruders and fire and medical emergencies Monitor your loved one's activity and receive alerts if there is an activity that signals a problem Simplify routine tasks with automation across the home's systems; automate lights, thermostats, locks, and security with easy-to-use rules and schedules Cost: Contact for a quote 15. AliMed Nonslip Exit Alarm Mat @AliMedInc
AliMed manufactures and supplies products for healthcare professionals, patients, and caregivers. Their nonslip exit alarm mats are designed to be used with a wireless remote receiver and alarm unit to alert caregivers of the movements of your loved ones. Key Features: Durable rubber sensor mat Beveled edges and slip-resistant top and bottom to prevent slips and falls Mat dimensions: 23"W x 35"L; Active sensing area: 17"W x 29"L Available in maroon, green, blue, and black Mat sensors are compatible only with the IQ Contact Alarm Cost: *Approx. $113 16. Fall Prevention System by Smart Caregiver
Caregivers spend a great deal of time worrying about your loved ones, and falls are a serious concern. Smart Caregiver's fall prevention system features their patented Cordless Fall Monitor. Caregivers can mount the monitor where you need it, including out of reach of your loved one. Caregivers also may choose the components of the system that best suit your needs; options include cordless bed pads, cordless floor mats, and cordless chair pads. Key Features: Eliminate in-room alarm noise Easily mount the monitor on the wall beside the bed, shower, toilet, etc., up to 50 feet away Automatically alerts caregivers when the signal between the pad and the monitor is lost No cords between pads and monitors, which eliminates tripping hazards Monitor up to two components at one time Cost: Contact for a quote 17. Alert1 Home Fall Detection Medical Alert @Alert1MedAlert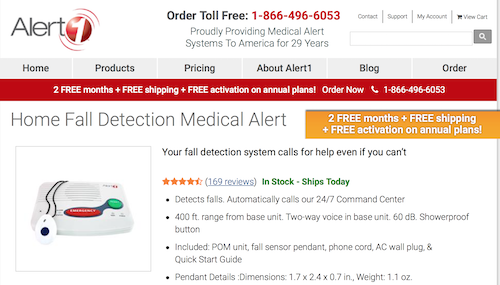 A medical alert system company developing and providing a range of products in three areas of senior care technology, Alert1 helps seniors stay safe and gives caregivers greater peace of mind. Their fall detection medical alert system calls for help even when your loved one can't by detecting falls and automatically calling the 24/7 command center. Key Features: 400-foot range from base unit Two-way voice in base unit Showerproof button Includes POM unit, fall sensor pendant, phone cord, AC wall plug, and Quick Start Guide Fall detection pendant may be used to answer incoming phone calls Cost: One UserAnnual Plan: $35.95/month – 2 free months of service, 2 free months of A1AP, free shipping, and free activation Monthly Plan: $45.95/month + one-time activation fee of $59.95 – 1 free month of A1AP Two Users – Up to 50% savings on second user 18. Bay Alarm In-Home Medical Alert System @BayAlarmMedical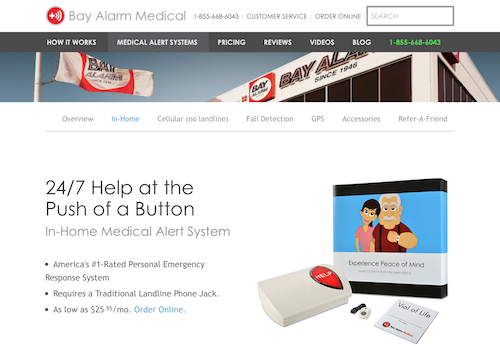 Bay Alarm Medical provides 24/7 medical alert systems for seniors. Their in-home medical alert system ensures care recipients receive help at the push of a button. The easy installation saves caregivers valuable time and gives them peace of mind thanks to the system's reliable, proven technology. Key Features: Clear two-way communication Easy installation; plug in phone line, plug in power adapter, push button to test system 32-hour battery backup Portable system enables care recipients to use it in any home with a standard landline Use the system to answer a phone call Ultralight emergency button is waterproof and comfortable to wear Help buttons have signal range of up to 1,000 feet Cost: Semi-Annual PricingIn-Home Landline: $25.95/month In-Home Cellular: $35.95/month GPS Mobile Help Button: $25.95/month In-Home Landline + GPS Bundle: $45.95/month In-Home Cellular + GPS Bundle: $55.95/month Quarterly PricingIn-Home Landline: $27.95/month In-Home Cellular: $37.95/month GPS Mobile Help Button: $27.95/month In-Home Landline + GPS Bundle: $47.95/month In-Home Cellular + GPS Bundle: $57.95/month Monthly PricingIn-Home Landline: $29.95/month In-Home Cellular: $39.95/month GPS Mobile Help Button: $29.95/month In-Home Landline + GPS Bundle: $49.95/month In-Home Cellular + GPS Bundle: $59.95/month 19. Medical Guardian Classic Guardian @MedicalGuardian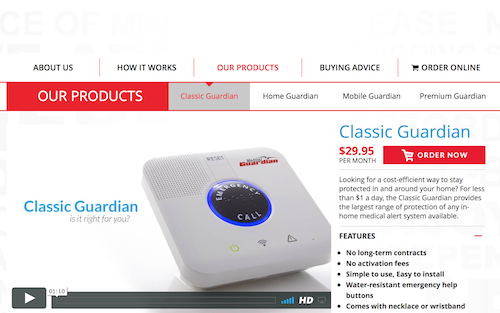 Medical Guardian, a leading nationwide provider of medical alert systems for seniors who wish to live independently at home, offers their Classic Guardian as a cost-effective way for caregivers to ensure the safety and welfare of your loved ones a little more easily. The Classic Guardian provides the largest range of protection of any available home medical alert system. Key Features: No long-term contracts or activation fees Simple to use Easy to install Water-resistant emergency help buttons Choose a necklace or wristband 24/7 monitoring using a landline 911-trained emergency operators 1,300-foot range in every direction Cost: *Approx. $29.95/month 20. LifeFone Caregiver Tools @LifeFone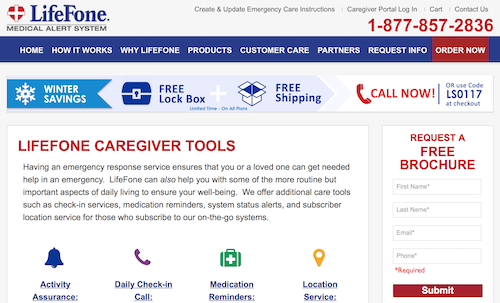 LifeFone offers top-rated medical alert devices that promote independence and security while ensuring a fast response at the press of a button. LifeFone also offers a line of tools that are designed for caregivers including medication reminders, system status alerts, and subscriber location service. Key Features: LifeFone Medication Reminders tell subscribers when to take a medication and are updated by caregivers Caregivers have access to the LifeFone Caregiver Portal to upload up to 4 reminders per day with up to 10 medications with each reminder Caregivers can see which reminders were accepted and which were ignored Cost: Contact for a quote 21. Medical Care Alert @MedicalCareAlrt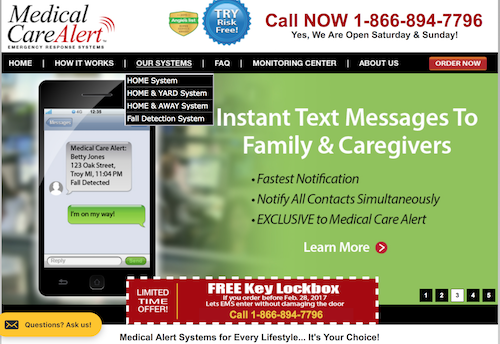 Medical Care Alert provides medical alert systems for seniors that are reliable and affordable. Caregivers gain peace of mind and know that your loved ones can be a little more independent thanks to their Medical Care Alert emergency response system. Key Features: Choose the system that is best suited to your lifestyle: home, home and yard, or home and away Satisfaction is guaranteed with the risk-free return policy Monitoring provided by EMT/EMD Certified Operators in award-winning monitoring centers SMS text message alerts to your emergency call list Price locked in and guaranteed for life Cost: Home Medical Alert System: Starts as low as $27.45/month Home & Yard Medical Alert System: Starts as low as $32.04/month Home & Away Medical Alert System: Starts as low as $36.62/month 22. LifeStation @LifeStation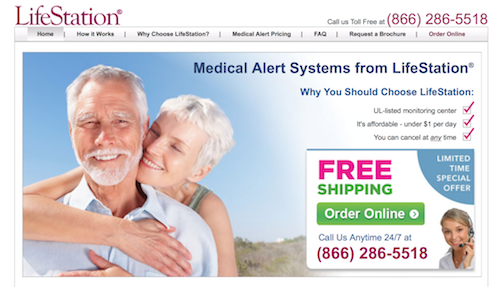 Caregivers rest a little more easily when they choose the LifeStation medical alert system because your loved ones get help with one push of a button from the monitoring center. Designed by industry veterans, LifeStation medial alarms link care recipients to care specialists who are CSSAA certified. Key Features: One low monthly price with no hidden charges or extra costs Medical alarm button is waterproof and may be worn as a pendant or wristband Includes an enhanced speaker and voice capabilities to help a care recipient communicate even if he has fallen Monitoring center immediately follows the personalized emergency action plan if the care recipient is unable to speak Caregivers receive automatic email notifications when a loved one has an emergency, tests the system, or has any issues with the system Cost: Paid Annually: $25.95/month Paid Quarterly: $27.95/month Paid Monthly: $29.95/month 23. Rescue Alert @RescueAlert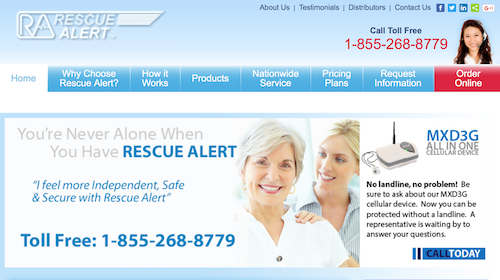 Rescue Alert aims to assist people at risk of losing their independent lifestyles. People aging in place feel more safe and secure with their Rescue Alert medical alert systems, and their caregivers sleep a little better knowing that your loved one has a reliable alert system available at the touch of a button Key Features: Panic Button is waterproof and can be worn as a necklace or bracelet Base Unit calls the Response Center immediately after a care recipient presses the button Response Center attendants alert you or emergency services Unique two-way speaker picks up sounds that other medical alert systems miss Cost: Annual Rental: $29.95/month ($359.40 paid yearly) Quarterly Rental: $29.95/month ($89.85 paid quarterly) Monthly Rental: $32.95/month 24. Silver Mother @sen_se
Silver Mother is a comprehensive monitoring system for caregivers and your senior loved ones. Featuring medication reminders, sleep tracking, daily activity monitoring, front door alerts, hydration measurement, and temperature monitoring, Silver Mother offers peace of mind for caregivers simply and affordably. Key Features: Sensors blend into the everyday activities of seniors and continuously monitor their safety and health Caregivers can remotely check on your loved ones and receive immediate alerts when something concerning is detected You select the programs that are most relevant to your loved one's needs and attach a tiny Silver Mother sensor to objects like pill containers, beds, walls, stairs, front doors, water bottles, etc. Caregivers access a secure dashboard online or on a mobile device to monitor behavior and detect any signs of concern Compatible with iOS or Android devices Cost: *Approx. $299 25. Wander Alarm with Motion Detection @LibertyHealthCo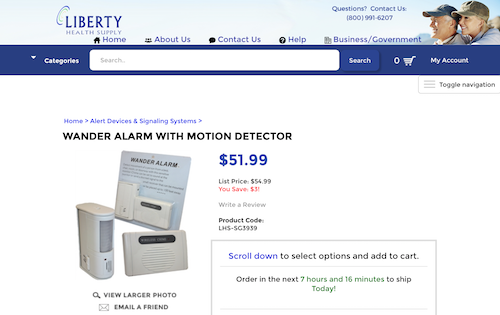 From Liberty Health Supply, the Wander Alarm with Motion Detection assists caregivers with keeping an eye on your loved one. The remote monitoring device may be mounted in nearly any convenient location and signals caregivers from up to 100 feet away. Key Features: Prevent a loved one from wandering away Detects the movement of a loved one in a bed, chair, room, or doorway Receiver gets alerts from up to 100 feet away Two alarm settings: chime for sound at the sensor or remote to receive a signal on the receiver Cost: *Approx. $51.99 26. SAMi-3 @samialert
SAMi, a sleep activity monitor, helps caregivers keep your loved ones safer at night. Now offering the third generation of SAMi, the SAMi-3, the alert company honored users' requests and suggestions and created an even more useful and convenient monitor than previous models. SAMi alerts caregivers to abnormal movements at night without sounding an alarm for normal tossing and turning. Key Features: Compatible with most iOS devices Up to 34 hours of on-camera recordings Passcode Live resolution: 768 x 432 Recorded resolution: 1280 x 720 Audio Noise Reduction Includes the SAMi-3 camera, camera bracket/stand with 3M strips for wall mounting, AC power adaptor, Ethernet cable, 32GB high reliability microSD card with SD card adaptor, accessory kit with wire clips, rubber feet, and wall anchors, and installation instructions Free shipping in the U.S. Cost: SAMi-3 Camera: $399 Standard SAMi-3 Kit: From $899 JB Edition SAMi-3 iPad Kit: From $1,399 27. GPS SmartSole @GTXCorp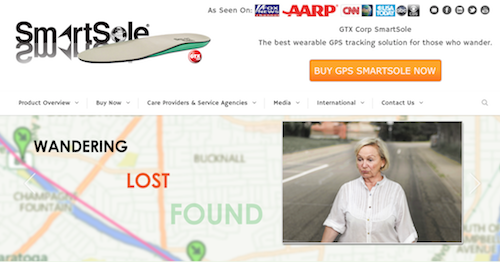 GTX Corp pioneers, creates, and delivers smart mobile and wearable technology like the GPS SmartSole. Caregivers rely on the GPS SmartSole to track their wandering loved ones. The wearable hidden tracking device uses GPS and cellular technology like a smartphone and charges like your phone. Key Features: Tracking device hidden and sealed in an insole so caregivers do not have to worry about your loved one forgetting to wear it or turn it on Discreet and non-invasive Automatically checks in with caregivers every 10 minutes Requires activation and a data service plan Cost: GPS SmartSole: $299 Activation: $35 Monitoring Service Plan: $34.95/month or $74.95/quarter 28. SafeLink GPS @SafeLinkGPS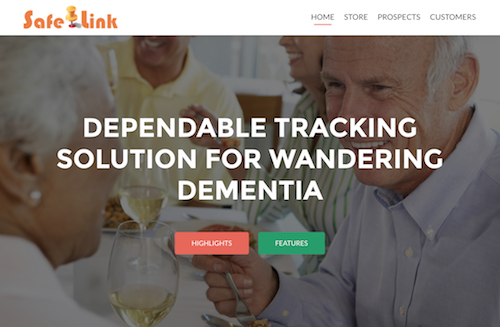 For caregivers of loved ones with dementia, wandering is a serious concern. SafeLink GPS is a solution for dependable tracking. Using a unique artificial intelligence position processing system with ultrasensitive trackers, SafeLink GPS is an accurate tracking tool for caregivers. Key Features: Durable trackers Cloud-based and provides 24/7 real-time tracking service Wear on belts, as a necklace, on key chains, on walkers, etc. Track your loved one from anywhere at any time Track using a computer or a mobile device Receive notifications on up to three smartphones Cost: $19.99 device purchase + $26.99/month tracking service 29. PocketFinder+ Personal Tracker @PocketFinderGPS
Caregivers avoid a great deal of stress when you know you can locate your loved one in a matter of seconds. PocketFinder+ Personal Tracker is a GPS locator that lets caregivers know where your loved one is and helps you keep him safe. Key Features: Uses three location technologies and transmits information via 2G and 3G GSM wireless networks globally Ideal for caregivers to track loved ones, especially those who tend to wander or who value their independence Alerts on smartphone or computer See tracker location, speed, direction, heading, and history on smartphone app Cost: *Approx. $159 30. Revolutionary Tracker @RevoTracker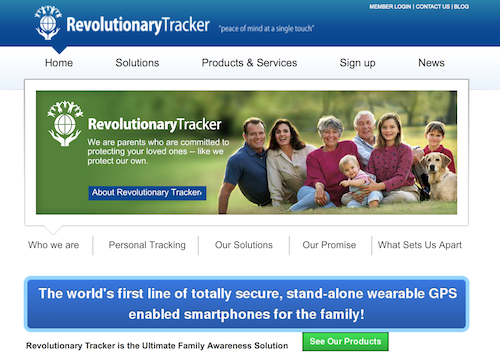 An ultimate family awareness and management solution for caregivers, Revolutionary Tracker is a completely secure, stand-alone wearable GPS enabled smartphone for your loved ones. Caregivers get real-time information on your loved one's location and status. Key Features: Wearable GPS smartphone supported by a powerful intuitive interface Enables caregivers to be in constant touch with loved ones Colorful watches, wearable necklaces, and snap-on solutions SOS command initiates instant two-way communication Belly Buster feature allows caregivers to listen in remotely to what is happening in your loved one's environment Track loved ones from computers, tablets, and smartphones Cost: Contact for a quote 31. BlueWater Elderly and Alzheimer's GPS Locator Watch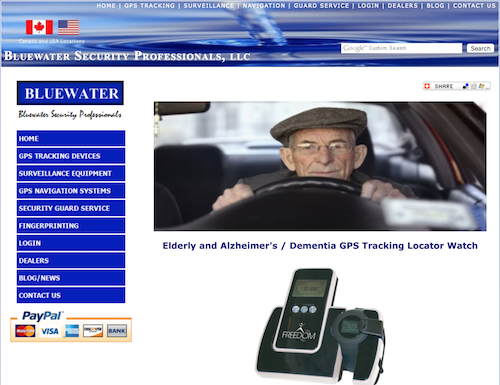 A GPS tracking locator specifically designed for the elderly and people with Alzheimer's or another form of dementia, the BlueWater Elderly and Alzheimer's GPS Locator Watch helps caregivers keep track of your loved ones. Better yet, the BlueWater GPS Locator Watch helps caregivers rest a little more easily. Key Features: Extended use of the dot matrix LCD for communication, messaging, and the panic button Gives caregivers peace of mind about wandering loved ones Loved ones know help is near at hand when they wear the BlueWater GPS Locator Watch Same size and appearance of a traditional wrist watch Works with mobile RF receiver Water resistant and splash proof Cost: *Approx. $599.99 + $10/month or $35/month airtime charge 32. iTraq @iTraqTag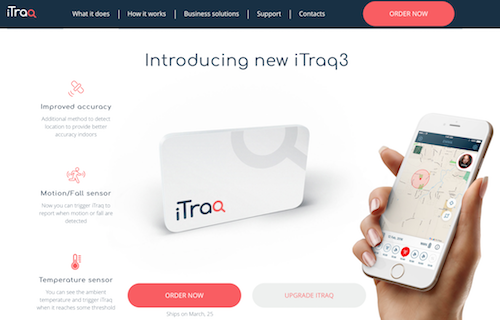 The iTraq is a rechargeable global tracking device that combines cellular and GPS tracking. Caregivers gain peace of mind while allowing their loved one with dementia or Alzheimer's to maintain a bit more independence. The new iTraq3 features improved accuracy and a motion or fall sensor. Caregivers enjoy the convenience of tracking loved ones and getting alerts on their iOS and Android devices. Key Features: Improved accuracy to detect location and provide more accuracy indoors Trigger iTraq to report when it detects motion or a fall Temperature sensor to trigger iTraq when it reaches a certain threshold Cost: New iTraq3 Device: $129 + Unlimited Reporting Plan for 1 Year: $59 33. Arlo by NETGEAR @ArloSmartHome @NETGEAR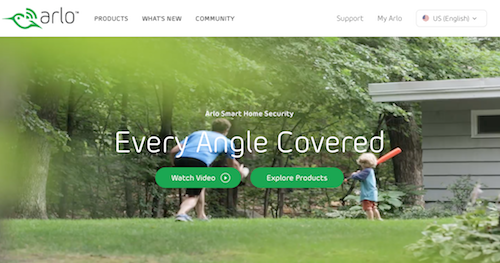 NETGEAR is a worldwide provider of innovative networking products that keep people connected. Caregivers use NETGEAR's Arlo smart home security as a video monitoring solution to watch over your elderly loved ones. As a remote video monitoring system, Arlo is an affordable and simple solution for remaining in visual contact with your loved one. Key Features: Know what is happening with your loved one even when you can't be there physically Unique and highly flexible system that enables caregivers to create your own video monitoring network and view it remotely on your computer, smartphone, or tablet Battery-powered wireless cameras that you can place nearly anywhere with simple peel-and-stick magnetic mounts Weatherproof so you can keep an eye on loved ones when they go outside 100% wire-free Free Arlo app is available for iOS and Android devices, Apple TV, and as a web browser Cost: Arlo Pro Smart Security System with 2 Cameras: $419.99 and up Arlo Pro Smart Security System with 3 Cameras: $579.99 and up Arlo Pro Smart Security System with 4 Cameras: $649.99 and up 34. Nest Cam Indoor @nest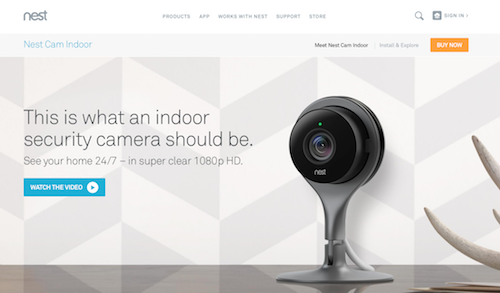 Nest focuses on making simple, human, delightful products that create a thoughtful home. Their indoor security camera allows caregivers to keep an eye on your loved ones 24/7 in crystal clear 1080p HD. Designed to help caregivers know what is happening at home even when you're not there, the Nest Cam Indoor features 24/7 live streaming and person alerts with Nest Aware. Key Features: Continuously records 24/7 and saves up to 30 days of footage securely in the cloud with a Nest Aware subscription Detects motion and listens for sounds to send a phone alert or email with a key image from the event See photos of activity from the last three hours free of charge in the Nest app Get special person alerts if the Nest Cam Indoor sees a person Built-in speaker and microphone so you can see what happens at home and talk to your loved one Cost: Single Nest Cam Indoor Security Camera: $199 3-Pack Nest Cam Indoor Security Cameras: $497 Nest Aware Subscription, 10-Day Video History: $100/year Nest Aware Subscription, 30-Day Video History: $300/year 35. Project Lifesaver's PAL Tracking System @ProjectLifesavr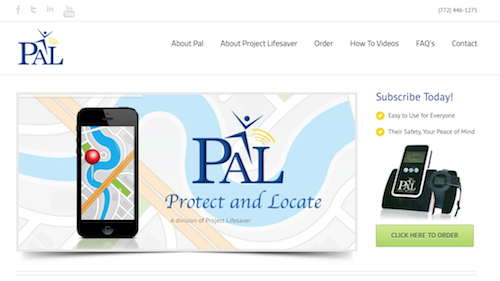 Project Lifesaver is a nonprofit organization that helps quickly locate people with cognitive conditions who wander. Their PAL (Protect and Locate) Tracking system is a tracking device and digital sports watch that protects and locates at-risk loved ones. Caregivers use a portable receiver to get notifications about wandering events through GSM and GPS technologies. Key Features: Loved ones wear PAL on the wrist like a regular wrist watch When your loved one breaches the PAL RF perimeter, the receiver sounds an alert and sends a text message with the date and location of the wandering event PAL includes an internet portal that is accessible from anywhere with a computer or smartphone for real-time tracking and regular location updates PAL watch features a locking band that only may be removed with a special tool PAL watch includes a panic button that sends the loved one's location to the caregiver PAL watch is waterproof and may be worn while swimming or bathing Cost: $549, includes shipping and one year of service 36. Mindme Locate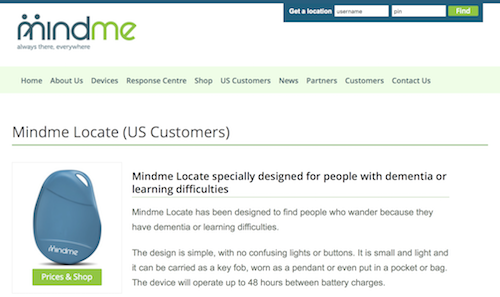 Mindme Locate is designed to find people who wander due to dementia or learning difficulties. Caregivers choose Mindme Locate because of its simple design and lack of confusing lights or buttons. Small and lightweight, Mindme Locate may be carried as a key fob, worn on a necklace, and placed in a pocket or bag. Key Features: Operates up to 48 hours between battery charges Caregivers can find the location of your loved one on the website at any time 28-day location history available online Caregivers gain peace of mind and loved ones gain more freedom Cost: Device and charger: $140 Monthly subscription: $20
Medication Management Tools
37. Medisafe Meds & Pill Reminder @MedisafeApp
The Medisafe team helps people and caregivers stay on top of health by ensuring they never forget medication times. Research shows that people who use the Medisafe app consistently take their medication more than those who do not use the app. Caregivers won't forget a dosage again when they download Medisafe for iOS or Android devices. Key Features: Top rated medication manager and pill reminder Visual and easy to use Track health measurements for blood glucose, blood pressure, weight, pulse, and temperature Choose your medication reminder sound Reminds you of medication time even if your device is asleep Refill reminder Download: iTunes – FREE, with in-app purchases available Google Play – FREE, with in-app purchases available 38. Medica Medication Reminder @irwaallc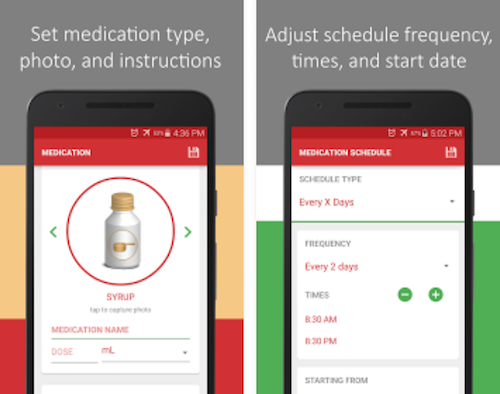 The medication reminder app from Medica, currently available for Android devices, helps caregivers organize your care recipient's medication list and remind them to take the correct medication at the appropriate time. Caregivers appreciate the flexible medication schedule options, pill and refill reminder, and easy medication log tracker offered by the Medica Medication Reminder. Key Features: Unlimited number of medications Supports 17 types of medications with high quality graphics Take photos of medication using your smartphone Flexible medication schedule options Protect your entries by setting a passcode Download: iTunes – Currently unavailable in the U.S. iTunes Store Google Play – FREE, with in-app purchases available 39. Ezy Dose AM/PM Push Button Pill Planner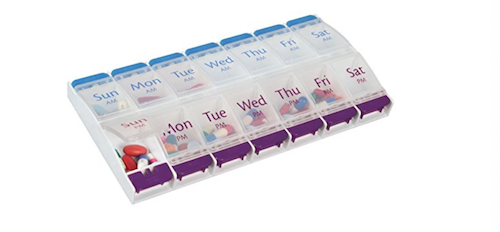 The #1 Best Seller in Pill Dispensers and Reminders on Amazon, the Ezy Dose AM/PM Push Button Pill Planner is a favorite among caregivers because of its ease-of-use design. Caregivers save time by easily pushing buttons to open the organizer to fill it or retrieve medication from inside. Color-coded compartments with large lettering helps both caregivers and their loved ones know which medications should be taken at which time. Key Features: Push buttons with rounded bottoms make it easy to open the planner AM and PM compartments to easily plan and distribute your loved one's doses Clear lids for high visibility of medication to prevent missed doses Large compartments with plenty of space for daily medications Cost: 1-Pack: *Approx. $8.72 2-Pack: *Approx. $19.16 3-Pack: *Approx. $22.99 40. Borin-Halbich's The 7Pack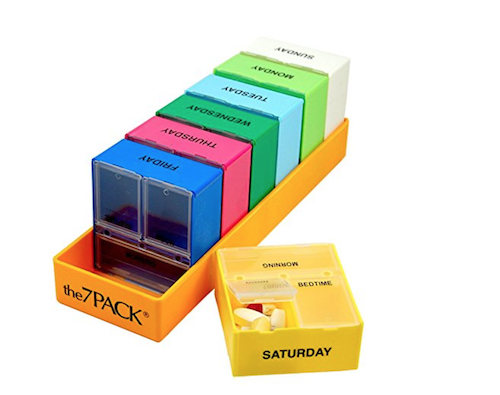 With a four-star review from more than 1,500 Amazon customers, Borin-Halbich's The 7Pack holds seven days' worth of medication. Each daily dosage box includes three compartments to make it easy to dispense medication in the morning, at noon, and at bedtime. Caregivers enjoy the convenience of the color-coded compartments and the highly organized manner of The 7Pack from Borin-Halbich. Key Features: Each compartment features a secure lid Large black contrasting lettering for simple daily identification Compartments are removable and may be taken anywhere Color-coded compartments for days of the week Cost: *Approx. $11.20 41. Apex 7-Day Mediplanner Pill Organizer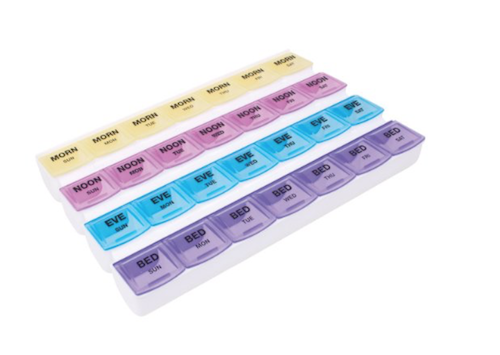 The Apex 7-Day Mediplanner Pill Organizer is Amazon's #1 Best Seller in pill cases. The weekly tray helps caregivers prepare medications once a week to save time. Caregivers also choose the Apex 7-Day Mediplanner Pill Organizer because it features four daily compartments to cover more dosage times than other medication organizers that only allow for three daily doses. Key Features: Contoured lid design allows for easy pill removal Easily view medication through the container lids Color-coded compartments for medication planning Lids latch and are secure, and lids are removable for cleaning Cost: *Approx. $4.24 42. Thassio 7-Day Pill Organizer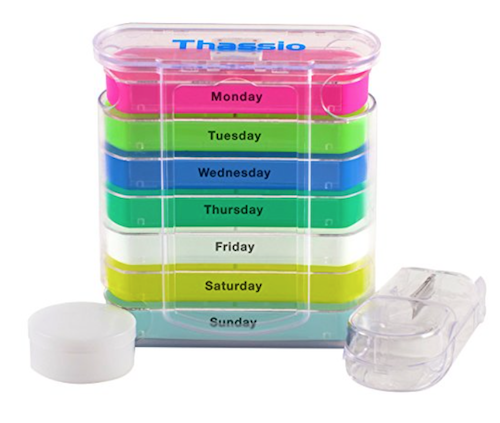 Thassio creates quality products for everyday life. Their 7 Day Pill Organizer includes a pill cutter and makes the chore of planning weekly medications easier for caregivers. Each daily case is divided into four compartments and labeled for AM and PM to make dispensing medication just as easy as organizing it. Key Features: Color-coded daily case divided into AM and PM sections with four total medication compartments Pill cutter and slicer simplifies the process of getting the dosage correct Daily compartments slide out and become portable Cost: *Approx. $16.99 43. Sagely Smart Weekly Pill Organizer @LiveSagely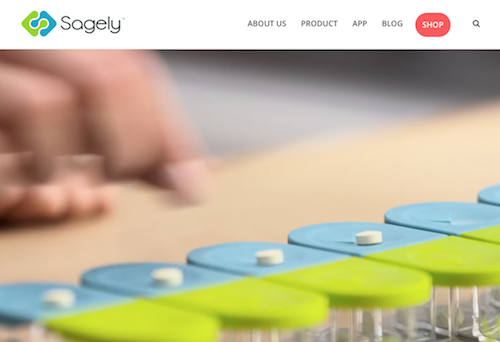 Sagely creates easy-to-use products that allow people to focus on healthy living. Their modern-day pillbox has a large capacity and a magnetized base to keep compartment in place while you fill them with daily doses. Caregivers love the ease with which you push pills through the lids and into the containers for improved loading accuracy. Best of all, the Sagely Smart Weekly Pill Organizer includes a free medication reminder app for iOS and Android devices. Key Features: Caregivers organize medication in four simple steps: place the pills on top of the lid, push the pills through the lid, open the lid and dispense the medication, and return the container to the magnetized base Includes seven oversized containers Innovative lid design provides space for counting out pills Vibrant two-color lids indicate day and night doses Made of clear, food-grade, BPA-free materials for safety and easy viewing Cost: *Approx. $29.95
---
More insights like this:
3 Ways to Strengthen Caregiver Mental Health

Being a caregiver often comes with many anxieties and challenges that one must navigate. Sometimes these outcomes can affect a caregiver's mental health. Caregiving often results in chronic stress, which negatively impacts a caregiver's physical and mental health. Moreover, nearly 33% of unpaid caregivers reported experiencing mental or behavioral health symptoms such as…

Read more

: 3 Ways to Strengthen Caregiver Mental Health

Caregiver Nation: A Pivotal Moment for Family Caregiving in the U.S.

This year's National Family Caregivers Month signifies a crucial turning point in the history of family caregiving policies and awareness. From advancements at the state level to federal initiatives, there's a growing commitment to addressing the needs of our nation's 53 million family caregivers. This positive shift is long overdue. The demands placed…

Read more

: Caregiver Nation: A Pivotal Moment for Family Caregiving in the U.S.

A Thank You Letter to Family Caregivers

In celebration of National Family Caregivers Month (NFCM), Careforth President and CEO Matt Marek shared his appreciation for family caregivers across the nation in a letter. The letter from Matt appeared in the Boston Globe, Hartford Courant, Atlanta Journal-Constitution, and the Indianapolis Star. Matt welcomes you to join Careforth in supporting the 53 million family…

Read more

: A Thank You Letter to Family Caregivers