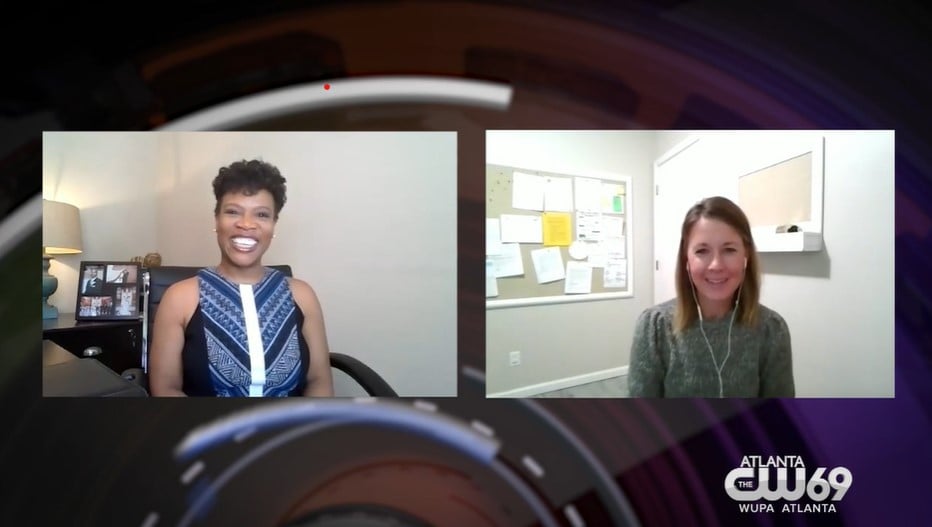 Seniorlink Director of Community Partnerships Lisa Bennett Discusses Structured Family Caregiving on The CW69 Atlanta
On October 3rd, Seniorlink's Director of Community Partnerships Lisa Bennett was featured on the CW69 News of Atlanta. Bennett went on air to speak with Keisha Lancelin, host of the segment "Focus Atlanta," about how Structured Family Caregiving can provided needed coaching and support for Georgians taking care of loved ones at home.
"During the pandemic, and over these last couple years, we know that caregivers have been facing more and more challenges as they've been taking on increased needs for loved ones at home and in the community," Bennett said on the broadcast.
"Seniorlink has made it their mission for the last 20 years to support and empower these informal family caregivers that are in the community, caring for their loved ones in the home," she added.
Throughout the segment, Bennett and Lancelin discussed the unexpected nature of caregiving responsibilities and the challenges of accessing resources. Bennett provided an overview of what Structured Family Caregiving entails, and directed viewers to the Seniorlink website to learn more.
Watch the Focus Atlanta segment with Lisa Bennett
Learn more about Structured Family Caregiving from Seniorlink and Caregiver Homes
---
More insights like this:
Careforth Named a 2023 WWCMA WorkWell Massachusetts Awards Winner for Exemplary Worksite Health Promotion

Careforth recognized for successful corporate health improvement and wellness program Careforth, an innovative caregiving company that empowers thousands of family caregivers across America to confidently care for their loved ones at home, is proud to have been named a 2023 WorkWell Massachusetts Awards program Award Winner for exemplary worksite health promotion in the…

Read more

: Careforth Named a 2023 WWCMA WorkWell Massachusetts Awards Winner for Exemplary Worksite Health Promotion

What happens when you put quality at the heart of what you do?

Careforth celebrates achieving NCQA accreditation for its Caregiver Homes Network again We are happy to announce that Careforth's Caregiver Homes Network Structured Family Caregiving service has again received a three-year Accreditation for Case Management with Long Term Services and Supports (LTSS) Distinction from the National Committee for Quality Assurance (NCQA). This marks the…

Read more

: What happens when you put quality at the heart of what you do?

Careforth Offers New Caregiving Coaching and Behavior Management Service for Family Caregivers in Indiana

The new service provides coaching and emotional support to family caregivers in Indiana. Careforth, a leading provider of Structured Family Caregiving and caregiver supports, is expanding to offer Caregiver Coaching and Behavior Management, a new service that provides family caregivers in Indiana coaching and emotional support to help them care for their loved…

Read more

: Careforth Offers New Caregiving Coaching and Behavior Management Service for Family Caregivers in Indiana