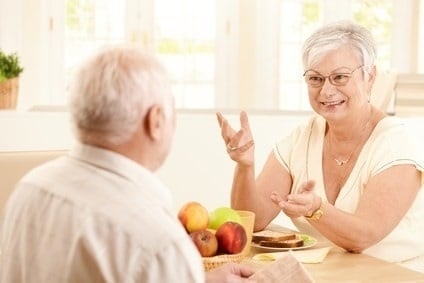 Memory Care Options for Low-Income Seniors
Memory care
for low-income seniors is a fast-growing segment of elder care, encompassing professional caregiving services provided to those living with Alzheimer's disease or other forms of
dementia.
With the rate of Americans being diagnosed with Alzheimer's at an all-time high – at least 1 person is diagnosed with the disease every minute – entire memory care communities are being built to support the demand for services. Some examples of
memory care
for low-income individuals include assisted living, continuing care communities, and skilled nursing communities. When home care is no longer an option for those living with dementia, a move to a residential care facility may be a necessary choice. Memory care is a long-term form of care that is typically found in secure facilities with staff who have specialized training in working with residents who have dementia. Activities and programs in these facilities are tailored to the unique needs of residents and the progressive nature of the illness.
How Memory Care for Low-Income Seniors Works
In an assisted living facility, seniors with mild- to moderate-memory loss are cared for in an apartment-style living arrangement. There are often health aides and trained nursing staff on hand to assist with the activities of daily living, and there may be meal programs for residents to participate in. This helps those living with memory issues to retain a level of independence, while having their basic needs met in a safe, home-like environment. Some types of long-term care communities offer secure areas for residents who require extra assistance or who may be prone to wandering, and some are able to help residents with needs such as medication management and medication administration. Memory care in a skilled nursing facility is ideal for those with mid- to late-stage dementia – or those who are dealing with other, concurrent health problems – who require more skilled nursing care. They are often referred to as nursing homes, and they provide residents with more supervisory care than is available at an assisted living community. Residents may be in a shared or private room, and have access to communal spaces such as activity rooms, dining areas, and lounge areas. The ward, wing, or facility itself will be secured and will only be accessible to staff and authorized visitors. In a skilled nursing facility, staff remain on-site 24/7 to care for residents with anything they need. There are frequently also psychiatrists on staff who have specialized training or experience working with patients with Alzheimer's disease and other forms of dementia, in order to develop and maintain medication regimens and other skilled therapies that can help to improve quality of life and enable residents to remain as independent as possible.
Cost of Memory Care
Because it is such a specialized field, memory care can be quite expensive. It is almost always residential in nature, and can span the course of many years – meaning bills pile up. The cost of memory care varies depending on location, but according to the 2014 Alzheimer's Disease Facts and Figures report from the Alzheimer's Association, an assisted living facility carries an average annual cost of $59,250 per year – or $4,937 per month. Nursing home costs for a semi-private room range from $94-$800 per day, with a median cost of $200 per day, according to the Genworth 2014 Cost of Care Survey.
Non-Residential Memory Care Options for Low-Income Seniors
If your loved one is able to remain in their own home, either alone or with the help of a part-time or full-time caregiver, home care options may be an option. Hiring personal care aides privately or through an agency can be costly, but the costs are often less than the cost of residential memory care. Other programs exist that can ease the financial burden of caregiving. For instance, Caregiver Homes offers a unique in-home caregiving model that supports family caregivers and even provides caregivers with a tax-free daily stipend to ease the financial burden of caregiving. Learn more about eligibility here.
Benefits of Memory Care for Low-Income Seniors
It goes without saying that having the right type of skilled care for you or your loved one is the biggest benefit of memory care for low-income seniors. Knowing that they are safe and cared for provides immense peace of mind. Assisted living facilities also offer the option for you or your loved one to maintain a level of independence as memory impairment progresses. It also ensures that those without a support network, or financial means, will be cared for in their final days.
Applying for Memory Care for Low-Income Seniors
Most nursing homes and assisted living facilities that accept Medicare and Medicaid have staff on hand to assist with applying for the programs in order to use the benefit to pay for memory care. It's worth noting, however, that Medicare generally does not pay for long-term care services that are considered "custodial care." (More on this below.) You can also speak with a caseworker at your local Department of Welfare or Department of Health for assistance with applications. Some states offer a Medicaid waiver program (the Home and Community-Based Services, or HCBS Waiver) that provides low-cost, in-home help for qualifying seniors and people with disabilities.
Qualifying for Memory Care for Low-Income Seniors
While the cost of memory care in both assisted living facilities and skilled nursing facilities varies from state to state, the amount of care a person requires will also impact fees. Depending on the level of care you or your loved one require, there are a number of different programs that provide memory care for low-income seniors. You may be wondering if Medicare or Medicaid pay for memory care. The answer is complicated. Medicare and Medicaid have very specific rules about what is and isn't covered under their programs with regards to elder and memory care. Medicare will not cover the costs associated with an assisted living facility. It will, however, pay for up to 100 days of skilled nursing home care in limited circumstances, but not for custodial long-term nursing home care. Medicare will also pay for hospice care delivered at a nursing facility, or an inpatient hospice facility, for people with dementia who are determined by a doctor to be near the end of life. For those with dementia and concurrent conditions, this may be an option for paying for memory care. Medicaid will cover all or some of the costs associated with an assisted living facility or nursing home, but certain conditions must be met. If you or your loved one are eligible for Supplemental Security Income (SSI), you are automatically covered through Medicaid. In order to complete your application, you will need to supply information about: where you live, family members, your monthly income, property, belongings, savings and investments, as well as medical expenses. These factors can all affect the amount of benefit you receive. If you or your loved one is planning on transferring assets in order to qualify for benefits, it is important to consult the rules in your state, as there are strict laws around this practice. In addition to Medicare and Medicaid, there are some programs for veterans that will pay for the cost of memory care. Contact your local Veterans Resource Center for guidance and assistance. It may also be worth speaking with your local assisted living facility or nursing home to determine if other arrangements can be made based on financial need. They may be able to provide discounts, or know of alternate funding sources that may be available.
---
More insights like this:
15 Tips on Transitioning a Loved One to Memory, Dementia, or Alzheimer's Care 

As a part of your journey caring for someone with dementia or Alzheimer's, there may come a time when the effects of the disease become too much for a caregiver to handle, and one must seek alternative care options. When deciding the right time to transition your loved one to memory, dementia, or…

Read more

: 15 Tips on Transitioning a Loved One to Memory, Dementia, or Alzheimer's Care 

How Caregivers Can Help a Loved One Navigate Grief Following an Alzheimer's or Dementia Diagnosis

When a loved one is diagnosed with dementia or Alzheimer's disease, there is a wave of emotions they experience, but grief is often front and center. Grief for the life they may have lived without the disease, anticipatory grief, sadness, anxiety and much more. Regardless of your role in the caregiving journey, your…

Read more

: How Caregivers Can Help a Loved One Navigate Grief Following an Alzheimer's or Dementia Diagnosis

The Stages of Alzheimer's Disease: Pre-Diagnosis to Late-Stage Dementia

In This Article: Alzheimer's Disease: Prior to DiagnosisAlzheimer's Disease: Early-Stage DementiaAlzheimer's Disease: Mid-Stage DementiaAlzheimer's Disease: Late-Stage DementiaHow Do You Know What Stage of Alzheimer's Disease a Person Is In?A Roadmap for Care Moving Forward

Read more

: The Stages of Alzheimer's Disease: Pre-Diagnosis to Late-Stage Dementia