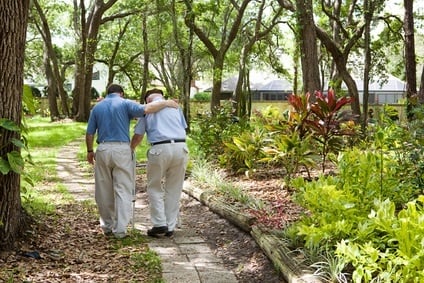 Tips for Avoiding Caregiver Burnout: 52 Expert Tips and Quotes to Help You Recognize, Prevent, and Overcome Caregiver Stress, Fatigue, and Burnout
In its 2015
Caregiving in the U.S.
report, The National Alliance for Caregiving estimates that approximately 34.2 million adults in the United States have been a caregiver to an adult age 50 or older in the 12 months prior to the study. That equates to approximately 14.3 percent of all adults in the U.S. who provide caregiving services to an adult. Seven percent of caregivers in the U.S. are 75 years of age or older, and most caregivers provide care over several years – four years on average. Twenty-six percent of caregivers have been providing care for one to four years, while another 24 percent have been providing care for five years or more. Nearly half of caregivers (49 percent) say they feel they had no choice in taking on their caregiving role. Among caregivers who provide care for 21 or more hours per week, that figure is even higher: 59 percent, compared to 45 percent of those who are providing care for 20 or fewer hours per week. These are just a few of the statistics that can play a role caregiver burnout, although many factors influence the emotional roller coaster of caregiving. Caregivers of an older age may have health problems of their own, which can add to both financial and emotional stress. And those who find themselves in a full-time caregiving role without having made a conscious decision to do so may experience mixed emotions when faced with the stressors of caring for an aging or disabled loved one. To help caregivers cope with the
physical and emotional stress
of caregiving and avoid caregiver burnout, we've put together this comprehensive guide featuring valuable tips, tools, and resources on recognizing the signs of burnout, what to do if you're beginning to experience symptoms associated with burnout, and how to
preserve your well-being
so that you can provide optimal care for your loved one.
What Causes Caregiver Burnout?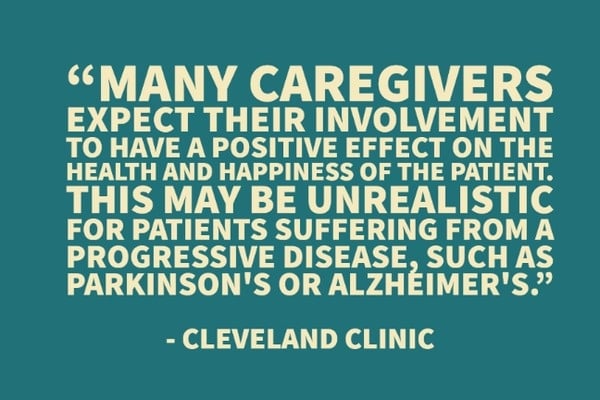 Caregivers may have unrealistic expectations about how their role will impact their loved one's happiness. "Many caregivers expect their involvement to have a positive effect on the health and happiness of the patient. This may be unrealistic for patients suffering from a progressive disease, such as Parkinson's or Alzheimer's." – Caregiving: Recognizing Burnout, Cleveland Clinic; Twitter: @ClevelandClinic
A lack of a support system may contribute to caregiver burnout. "Your coping skills and support system can also play a huge role in whether you experience burnout. Researchers found that caregivers with higher self-efficacy, the belief in one's own ability to complete tasks and reach goals, tended to have the least likelihood of burnout.
"Caregivers with an adequate support system of people they could talk to or turn to for help and who could use coping strategies, such as humor, to deal with stressful situations also fared better than those who didn't. Interestingly, how long you've been a caregiver didn't seem to influence the risk of burnout."
– Teresa Bitler,
Caregiver Burnout: Causes, Signs, and How to Prevent
, StrokeSmart.org; Twitter:
@natlstrokeassoc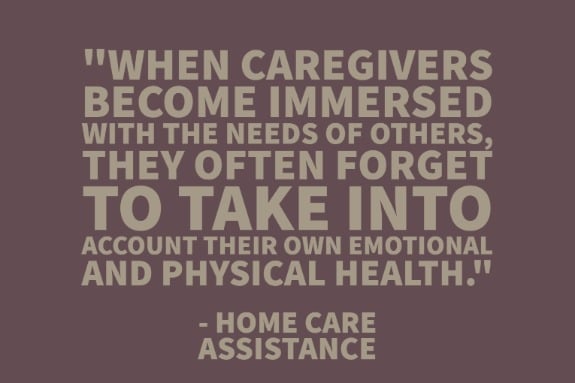 Recognizing the Signs of Burnout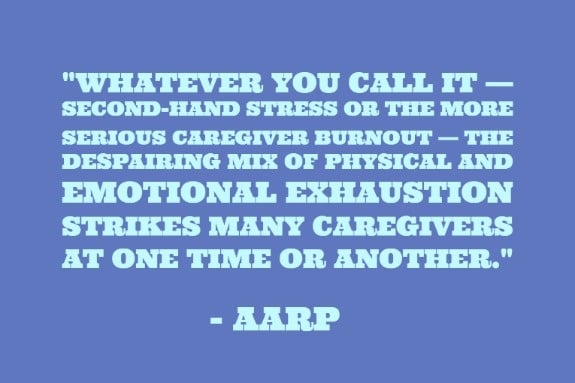 A roller-coaster of emotions can be a sign of burnout. "Whatever you call it — second-hand stress or the more serious caregiver burnout — the despairing mix of physical and emotional exhaustion strikes many caregivers at one time or another. As you ride the emotional rollercoaster of caregiving, you're easily overwhelmed and angry. You can't eat or you eat too much. You're exhausted even after a night's sleep. Your brain is foggy and you no longer care about the things that used to bring you joy." – 6 Signs of Caregiver Burnout, AARP; Twitter: @AARP
Caregivers experiencing burnout may begin to isolate themselves from friends and family. "If you discover that you consistently don't want to interact with people, especially close family and friends, it could be a sign that caring for your elderly loved one is becoming too draining." – Anne-Marie Botek, 6 Signs of Caregiver Burnout, AgingCare.com; Twitter: @AgingCare
Coping with the Challenges of Caregiving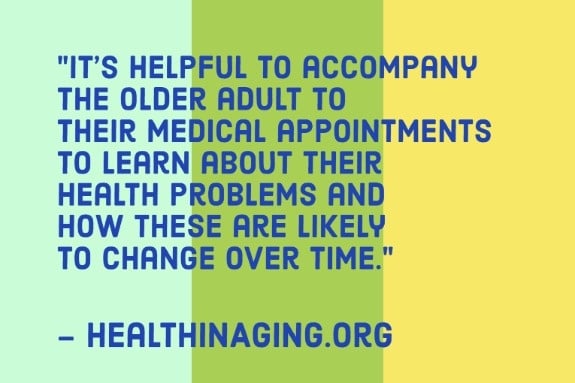 Get as much information as you can about your loved one's medical conditions and needs. "It's likely that an older person you care for has multiple health problems. They may take quite a few medications and see several different healthcare providers to manage these conditions.  This can make managing their care more complicated for you as a caregiver.
"It's helpful to accompany the older adult to their medical appointments to learn about their health problems and how these are likely to change over time.  As a first step in learning more, HealthinAging.org has a wealth of information on health conditions and needs unique to older adults that can help you be a better informed and prepared caregiver."
–
Tips for Avoiding Caregiver Burnout
, HealthinAging.org; Twitter:
@HealthinAging
Set reasonable expectations. "Set reasonable expectations for yourself and others. It may be that your brother doesn't do things exactly like you do when he helps your aging parent. Unless he is putting your senior loved one at risk for injury, let his way be good enough. Others will be more inclined to help when they don't feel they are being criticized for how they complete tasks." – Shelley Laurell, What's Your Risk of Caregiver Role Strain, Stress and Burnout?, Griswold Home Care; Twitter: @GriswoldCares
Find someone to talk to about your feelings. "Most importantly, if you have negative feelings, like anger or frustration, that is normal. It does not mean you are a bad person or a bad caregiver. Accept those feelings; find someone to talk about being a caregiver, either a friend or a professional. Just because you need to talk to someone does not mean you cannot handle being someone's caregiver." – Kristen Curzytek, Signs, Causes and Ways to Prevent Caregiver Burnout, One Reverse Mortgage; Twitter: @OneReverse
Ask for – and accept – help from others. "To prevent burnout, you need to put yourself first and get help.  Often caregivers neglect their own needs and this ultimately creates an emotional and physical strain.  Help can come through many resources.  You can ask for help—perhaps by reaching out to other family members to help carry the load, or relying on a friend or neighbor to lend a helping hand—even if it's just something simple like helping you with an errand.  Learn to delegate—you can't possibly do everything yourself—set realistic expectations for yourself and understand your limitations." – 5 Signs of Caregiver Burnout and How to Avoid it, Caregiver Services, Inc.
Keep a to-do list handy to refer to when someone asks how they can help. "Remember, you can't do everything! Keep a list handy so that when family and friends ask how they can help, you can give them a specific task to take care of.  Prioritize your to-do list to eliminate the stress you feel when not getting everything done. While it may be difficult at times, try to avoid having a pity party, and instead applaud yourself. The work you are doing does make a difference, even when you don't feel appreciated." – Taylor French, Signs of Caregiver Burnout, Amada Senior Care; Twitter: @AmadaSeniorCare
Stay on top of your personal health. "Keep your routine checkups, exercise when possible, eat healthy food (avoid downfalls, such as emotional eating), and get enough sleep. These are 4 key actions that can help you stay healthy." – Caregiver Burnout: Signs of Caregiver Stress & How to Help Avoid Burnout, MerckEngage; Twitter: @MerckEngage
Find ways to mass communicate. "Sure everyone wants to know how Mom's surgery went and how she is recovering. But you don't have time for a lengthy phone call with each and every interested person. Plus repeating the same story over and over again is exhausting. Use a site like CaringBridge to communicate with everyone all at once. And when you catch your breath you can scan the well wishes and comments on your time." – Ann Brenoff, 7 Tried-And-True Ways To Avoid Caregiver Burnout, Huffington Post; Twitter: @HuffPost
Recognize your limits. "Know your limits and do a 'reality-check' of your personal situation. Recognize and accept your potential for caregiver burnout. Seek out help!" – Tips on Avoiding Caregiver Burnout, Benzie Senior Resources
Nurture a functional dynamic. "Being a caregiver can be emotionally exhausting. Often times dysfunctional family dynamics can find their way into the relationship.  But it's important to not allow yourself to be negatively affected or abused.  Learning to distinguish between lashing out in distress and deliberately pushing the buttons that they know will manipulate and harm you are two different things. Brush off all illusions of ineptitude — you are doing the best you can and that's more than many will do in your situation. Protect your feelings with a mental iron gate; brace yourself for hurtful words, as these are often coming from a place of fear and loss of both authority and independence." – Tammy Gravis, Avoiding Caregiver Burnout, Aging in Home; Twitter: @AginginHome1
Learn to laugh. "They say laughter is the best medicine, so rent a silly movie, read a funny book or magazine or call a friend with a good sense of humor to find a way to let loose and chuckle." – Stacey Feintuch, Avoiding Caregiver Burnout, Health Monitor; Twitter: @HealthMonitor
Use relaxation techniques to cope with stress. "Stress can cause physical problems (blurred vision, stomach irritation, high blood pressure) and changes in behavior (irritability, lack of concentration, change in appetite). Note your symptoms and discuss with a doctor, as needed. Try to find relaxation techniques that work for you." – Being a Healthy Caregiver, Alzheimer's Association; Twitter: @alzassociation
Don't lose sight of your own identity. "I'm referring to the essence of what makes us who we are. My work is an important part of my identity, and I've kept that going, although I've had to change where and how I work. Music is also a big part of me, but I don't have time to sing in a choir, so I sing with my dad constantly. What is the unique combination of interests and skills that makes you 'you'? Find ways to incorporate them in your life, even when caregiving." – Amy Goyer, Five Tips for Sandwiched Caregivers, AARP; Twitter: @AARP
Take an educational class, if necessary, to learn better ways to communicate with your loved one or other family members. "Practice communication and behavior management skills if you are caring for someone with dementia. This will make your job easier. Learn how to do this by taking a class or reading how to online. The right way is not intuitive." – Leah Eskenazi, Tips for health and sanity that every caregiver needs, PBS News Hour; Twitter: @NewsHour
Find creative ways to build more physical activity into your day. "Finding time for exercise has all kinds of health benefits: It helps relieve stress, and can even prevent disease, according to the Alzheimer's Association. If a trip to the gym seems out of reach, try these health tips as an alternative:
Keep a yoga mat, stationary bike, or aerobics video on hand and grab a few minutes of exercise while your loved one naps.
Take your loved one on a walk outdoors to enjoy the sun; if the weather's bad, take a few circles around the mall and enjoy the window shopping.
Listen to your favorite music and dance while you cook or do household chores—you'll feel cheered and burn more calories.
Take other family members and friends up on their offers to help. Let them sit with Mom for an hour and do something you love: Take a bike ride, jog around the park, walk through the zoo with your grandson." – Verna DeLapp, Health Tips for Caregivers, Medicare.com; Twitter: @MedicareDotCom
Planning ahead can help you maintain a healthier diet, which is important for energy and overall well-being. "Plan ahead. Whether planning for dinner with the family, taking lunch to work, or shopping at the store, it can keep you focused on the foods you need and stick to a budget." – Michelle Howard, Healthy Eating Habits for Caregivers, Homewatch Caregivers; Twitter: @hwcaregivers
Make time for an activity you enjoy, even if only once or twice per week. "Make time for an activity you enjoy, even if you can only do it for a few minutes each day. Ask a friend or family member to stay with your loved one for an hour or two once or twice a week." – Your Health: Tips for Caregivers, CardioSmart; Twitter: @CardioSmart
Have a back-up plan. "Make a plan for how you will care for your loved one in case of an emergency. Have back up supplies and medical information. Notify your electric company and fire department if you have a medical device that needs power." – Tips for Caregivers, Food and Drug Administration (FDA); Twitter: @US_FDA
Early Intervention Strategies for Avoiding Burnout
Allow time to focus on you. "By allowing time to focus on you, you're more apt to recognize early signs of chronic stress and caregiver burnout, explains psychologist Dr. Janet Scarborough Civitelli, who has worked with families and caregivers in hospitals and community mental health settings. 'Many people don't realize how gradually stress and burnout can creep up, or recognize the need for self-care until it's too late,' Civitelli says. 'Half the battle is being proactive and preventing burnout, which is better than needing to recover from it later.'" – Lauren Gelman, 7 Tips to Avoid Caregiver Burnout, Reader's Digest; Twitter: @ReadersDigest
Sneak in a few minutes of "me" time whenever you can. "It's easy to get burned out when you're caring for a loved one, whether it's a special-needs child, a spouse with a chronic illness, or a frail older person. Taking time for yourself every day — even just a few minutes — is one way to help you recharge. Try yoga before breakfast, slip out for a 20-minute walk, go to the movies, or pursue any hobby you love. Reducing your stress will make you a better caregiver." – Reviewed by Lisa Bernstein, MD, 14 Ways to Avoid Caregiver Burnout, WebMD; Twitter: @WebMD
Take advantage of respite care services. "One very effective way to deal with burnout is to use respite care to get a little bit of time to yourself every so often. The Alzheimer's Association, Alzheimer's Foundation of America, and many other national and local groups have programs designed to help overwhelmed caregivers get some time away from the person with Alzheimer's, even if it's just to make an errands run." – Dennis Thompson, Jr., Medically Reviewed by Cynthia Haines, MD, Guarding Against Alzheimer's Caregiver Burnout, Everyday Health; Twitter: @EverydayHealth
Adopt healthy habits. "Adopt healthy eating, exercising and sleeping habits. Research proves a healthy, well-rested body is better able to absorb the rigors of stressful times." – Caregiver Burnout, Four Seasons Healthcare Resources for Seniors
Learn about the community resources available to you. "Know what community resources are available. Adult day programs, in-home assistance, visiting nurses and meal delivery are just some of the services that can help you manage daily tasks. Use our online Community Resource Finder or contact your local Alzheimer's Association chapter for assistance in finding Alzheimer's care resources in your community. Use Alzheimer's Navigator, our free online tool that helps evaluate your needs, identify action steps and connect with local programs and services." – Caregiver Stress, Alzheimer's Association; Twitter: @alzassociation
Make getting adequate sleep a priority. "Lack of sleep can affect emotional as well as physical health. It can produce anxiety, anger, irritability, affect concentration and task performance, impair judgment to the point of danger (driving, using machinery and administering medications), and impact job performance. Sleep deprivation can lead to mental distress, memory loss, and depression. One male caregiver reported that the emotional fatigue was greater for him than the physical exhaustion. He explained that his wife's behaviors (for example, false accusations, memory loss, hallucinations, and repetitive statements) often lead to daily arguments and disrupted routines that drained his emotions. He finally learned, over time, that he had to train himself to 'pick his battles' in order to avoid arguing as well as ignore some of his wife's peculiar responses and redirect their daily conversations." – Kristine Dwyer, Fighting Caregiver Fatigue, Today's Caregiver; Twitter: @4caregivers
Find a local support group or online support network. "You may be surprised how many are out there and how many people are in the same boat as you. Attend some meetings to receive feedback and learn coping strategies. Find the meeting that is a fit for you. Openly share your feelings and experiences with others." – Scott Eckstein, 8 Tips to Combat Caregiver Burnout, MariaShriver.com; Twitter: @mariashriver
Reprioritize and adapt your schedule. "If you've come to the conclusion that the current situation is not working for you, it's time to make a change. Create a new schedule that is a little more of a compromise and takes your schedule into account. If the person you are caring for has major objections, it might be time to create some more boundaries and let go of guilt. Remind yourself that there is only so much one person can do!" – Recognizing the Signs of Caregiver Burnout, Five Star Senior Living; Twitter: @5StarSenior
Fit some self-care into your day. "Caring for yourself is not wasteful or selfish: you can't help others if you become ill yourself. Fit more self-care into your day by:
Choosing a quiet spot in your house and making it your sanctuary. Schedule daily breaks—write them on your calendar or to-do list if you won't remember. Go to your quiet place and read, journal or listen to music.
Filling out The American Heart Association's caregiver's journal, especially the 'Caregiver Health Checklist.' Use it to set health goals and track important numbers like your blood pressure." – Rose Hayes, Know the Signs: Caregiver Burnout, Sharecare; Twitter: @Sharecareinc
Engage in regular physical activity. "Partake in regular physical activity/exercise to relieve stress, maintain body strength and agility, and for overall good health. Even walking outside around your own home if you can't venture away can help. Get a friend or neighbor to do it with you." – Donna Cardillo, RN, MA, Avoiding Caregiver Burnout, The Dr. Oz Show; Twitter: @DrOz
Find a creative outlet. "Self-expression can be healing and rejuvenating.  Many parents of children with special needs have some sort of creative pursuit – photography and scrapbooking, music or writing, sewing or cooking, woodworking or making jewelry, landscaping and gardening.
"An Outlet can be something as simple as jotting down a few sentences in a journal or arranging seasonal items on an indoor 'nature table.'  My husband's creative outlet is the computer: he composes electronic music and makes movies based on graphic representations of mathematical equations known as
fractals
.  The results are definitely artistic."
– Karen Wang,
8 Essential Tips For Preventing Caregiver Burnout
, Friendship Circle – Special Needs Resources; Twitter:
@FCMichigan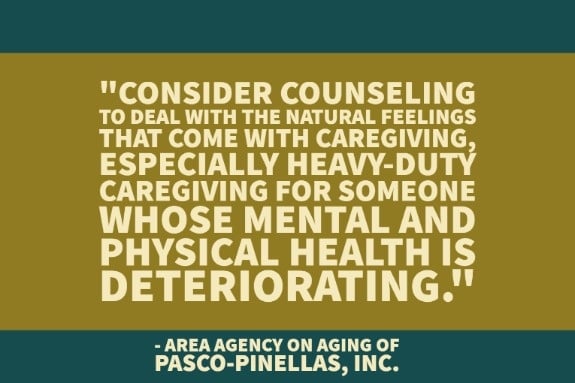 Don't be afraid to seek counseling. "Consider counseling to deal with the natural feelings that come with caregiving, especially heavy-duty caregiving for someone whose mental and physical health is deteriorating. Among these are anger, frustration, sadness, anxiety, and guilt. Some feelings are part of the grieving process you and your care receiver are experiencing." – Stage Three, Section 1: Preventing Caregiver Burnout, Area Agency on Aging of Pasco-Pinellas, Inc.; Twitter: @agingcarefl
Keep the flight analogy in mind: Always fasten your own oxygen mask before assisting others. "Probably all caregivers feel guilty at one time or other. Maybe you feel you're not providing enough care, or the right kind of care, for your loved one, or maybe you're upset that you've lost patience occasionally. You may feel bad about wanting more time for yourself, or you may be having a hard time with all that's involved in caregiving. This is natural, but it also may be a sign that you need a break.
"You can't be a good caretaker if you don't take care of yourself. A commonly-used analogy is the advice given to airline passengers on takeoff: in an emergency, fasten your own oxygen mask first before attending to a child's mask. The same principle applies to caregiving. You've got to tend to your needs first if you're to be responsible for another person. "If you're involved in long-distance caregiving, you're likely dealing with the guilt of not being physically present. You may not feel as physically drained as a caretaker who's present all the time, but that doesn't mean you're not worried and anxious. The National Institute on Aging suggests that you remember you're doing the best you can in your situation, and to take comfort in knowing that you're not alone. Support groups can also help long-distance caregivers."
– Pat Olsen,
Avoiding Caregiver Burnout
, Neurology Now; Twitter:
@NeurologyNow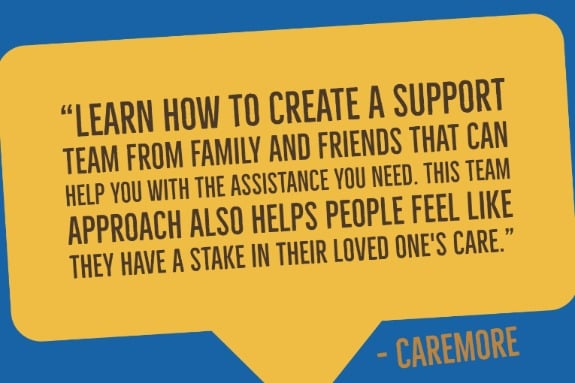 Form a support team. "Learn how to create a support team from family and friends that can help you with the assistance you need. This team approach also helps people feel like they have a stake in their loved one's care." – Avoiding Caregiver Burnout, CareMore; Twitter: @CareMoreHealth
Use technology. "Technology can help, but it can also be a burden if it's not specifically designed for caregiving. For example, the Claris Companion was developed to help ease the stress of care giving while increasing communication with the person receiving care. It's a simple in-home communication device for your loved one that's managed remotely by caregivers from any computer, tablet or smartphone.
"If the telephone is your loved one's only means of communication, then you know how time consuming and cumbersome this can be. But with little or no computer experience, your loved one can send you messages with the touch of one button to let you know how they're doing. They will receive reminders when to take their medication and you can receive an alert if they didn't. You can also quickly send email and text, photos, and event reminders, schedule regular 'check-ins' and soon video chat from anywhere. Everything that just pops-up on the Companion screen in large text so you know your loved one received your notification."
– Paul Sharman,
Avoiding Caregiver Burnout: Tips to make caregiving easier and save time…
, Claris Companion; Twitter:
@ClarisHealth
Call a family meeting. This is always a good idea at the start of taking on a caregiving role. "First things first: Assemble your caregiving team. That can include immediate relatives, extended family, or even close friends and neighbors, says Leah Eskanzi, a spokesperson for the Family Caregiver Alliance. Anyone who may be helping out with the responsibilities should be invited to this initial conversation—including your care recipient, assuming they are physically or mentally able participate. This is especially important if the person is in the very early stages of an illness like dementia, says Eskanzi. You want to involve them in any kind of estate planning while they can still make decisions. 'You may also want to call in a third-party mediator or social worker to help run the conversation, particularly if you think there might be any disagreements,' she says." – Maria Masters, 13 Things You Should Know Before Becoming a Caregiver, Health.com; Twitter: @goodhealth
Learn to value yourself. "Your care receiver may not be capable of understanding how much you are doing or sacrificing on his/her behalf. Family members and friends may resent the fact that you can't always be there for them. Employers can be understanding through a short-term crisis, but eventually, they get cranky if your caregiving responsibilities interfere with your ability to do your job. It's likely that over the long term, you will get more criticism from others than praise, so you must learn to value yourself:
Take an objective look at all you do.
Think about what it would take to replace you .
Imagine how appreciative you would be if the roles were reversed and someone was doing for you what you are currently doing for your care receiver." – Elaine K. Sanchez, Caregiver Burnout: How to Recognize, Regroup, and Recover from Caregiver Stress, Griswold Home Care; Twitter: @GriswoldCares
Use strategies to cope with worry. "Fear of the unknown plays a huge role in anxiety. Chronic worriers can't stand doubt or unpredictability. They need to know with 100 percent certainty what's going to happen. The problem is, no one can predict the future or control of the outcome of every situation. Thinking about all the things that could go wrong doesn't make life any more predictable and it won't keep bad things from happening. It will only keep you from enjoying life. Stop worry by asking yourself these questions:
What's the probability that what I'm scared of will actually happen? Is there a more likely, alternate outcome?
Is the thought helpful? How will worrying about it help me and how will it hurt me?
What would I say to a friend who had this worry?" – Marlo Sollitto, Anxiety Busters: 5 Ways to Overcome Your Anxiety, AgingCare.com; Twitter: @AgingCare
Build, nurture, and lean on your caregiver community. "A Pew Research Center Poll found that about 40 percent of American adults act as caregivers for a loved one. These people can share invaluable wisdom learned through first-hand experiences. Knowing that others are undergoing the same struggles can also help provide you with the encouragement you need to persevere. You have a powerful community behind you, you simply need to learn how to leverage it.
"Community building is a crucial step towards reducing the stress that caregivers experience. Your community can include your family, friends, colleagues and neighbors, as well as the family, friends colleagues and neighbors of the person you are caring for. You can also lean on others in your area who understand the challenges you are facing because they have faced them themselves. By maintaining peer support, family relationships, social connections and professional contacts, you will be armed with a powerful community who can help you through your caregiving journey. "A strong community of support is the key to overcoming the challenges of caregiving. It can reduce your feelings of isolation, provide you with trusted people to talk to, lend assistance with daily needs, and provide you with much-needed respite from your caregiving responsibilities. By understanding the challenges of caregiving and working to overcome them, you will ensure a happier and healthier life for yourself and your loved one."
–
An Introductory Guide to Caregiving
, Lotsa Helping Hands; Twitter: @LotsaHelping
---
More insights like this:
3 Ways to Strengthen Caregiver Mental Health

Being a caregiver often comes with many anxieties and challenges that one must navigate. Sometimes these outcomes can affect a caregiver's mental health. Caregiving often results in chronic stress, which negatively impacts a caregiver's physical and mental health. Moreover, nearly 33% of unpaid caregivers reported experiencing mental or behavioral health symptoms such as…

Read more

: 3 Ways to Strengthen Caregiver Mental Health

Caregiver Nation: A Pivotal Moment for Family Caregiving in the U.S.

This year's National Family Caregivers Month signifies a crucial turning point in the history of family caregiving policies and awareness. From advancements at the state level to federal initiatives, there's a growing commitment to addressing the needs of our nation's 53 million family caregivers. This positive shift is long overdue. The demands placed…

Read more

: Caregiver Nation: A Pivotal Moment for Family Caregiving in the U.S.

A Thank You Letter to Family Caregivers

In celebration of National Family Caregivers Month (NFCM), Careforth President and CEO Matt Marek shared his appreciation for family caregivers across the nation in a letter. The letter from Matt appeared in the Boston Globe, Hartford Courant, Atlanta Journal-Constitution, and the Indianapolis Star. Matt welcomes you to join Careforth in supporting the 53 million family…

Read more

: A Thank You Letter to Family Caregivers