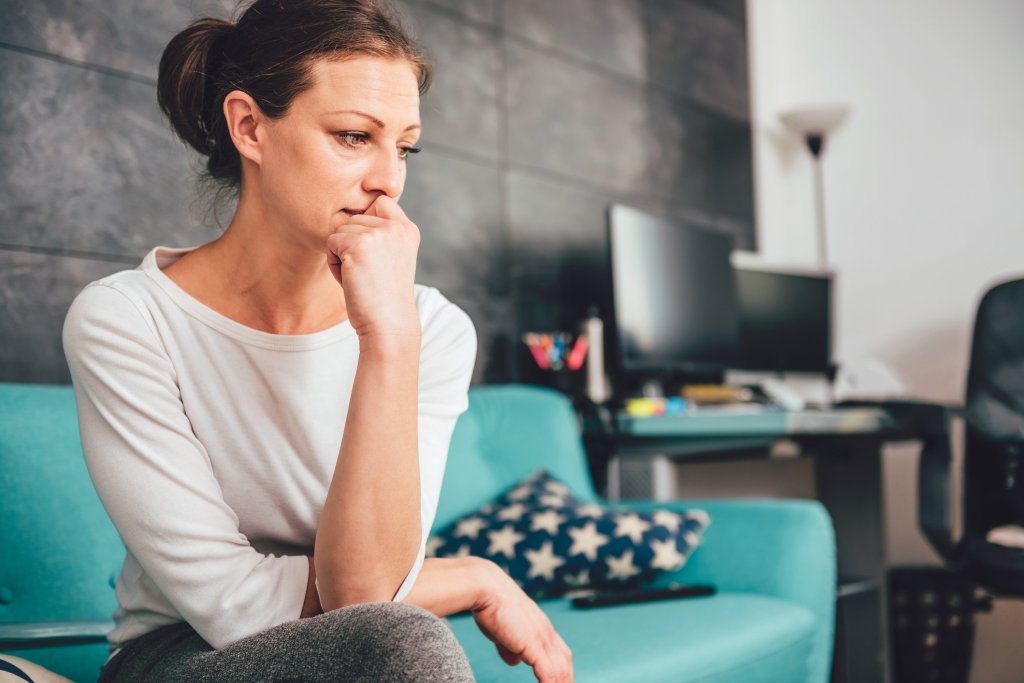 What is Caregiver Role Strain?
While it's common to want to help take care of a loved one, doing so can affect your well-being. In this post, we'll take a look at caregiver role strain, a common condition experienced by caregivers, as well as ways to treat and prevent it.
Definition of Caregiver Role Strain
Caregiver role strain is experienced when a
caregiver feels overwhelmed
and is unable to perform their role to the best of their ability. It's accompanied by feelings of stress and anxiety. There are many situations that can cause caregiver role strain to occur. The
financial burden
 of taking care of a loved one can cause immense stress, as can the sudden increase in responsibility. When their care recipient is experiencing difficult symptoms, caregivers often feel the effects of those challenges, too. For instance,
sleep difficulties
are common among people with dementia, as are
distress and irritation
. A lot of people, especially younger caregivers, can become overwhelmed by the sudden change of roles and drastic family dynamic shift.
Signs of Caregiver Role Strain
It's normal to feel some stress when you're put in a position where you have to take care of someone with an illness. After all, there is a lot of responsibility that goes along with the role and it requires a change in lifestyle. However, caregiver role strain goes beyond normal levels of stress and turns into feelings of loneliness, anger, and guilt. To identify if what you're feeling is caregiver role strain, take a look at this list of symptoms.
Insomnia or other sleep problems
Irritability
Social withdrawal
Change in appetite
Chronic tiredness and exhaustion
Loss of interest in sex
Loss of interest in hobbies
Crying easily and often
These are just some of the symptoms you might experience. Note that they are frequent symptoms of depression, which commonly goes along with caregiver role strain. If you're predisposed to depressive symptoms, caregiver role strain can exacerbate symptoms and be quite dangerous. It's important to seek help when you need it, as it will not only improve your life but the life of your loved one.
Ways to Prevent Caregiver Role Strain
There are a few things you can do to prevent caregiver role strain from occurring. Let's take a look at a few effective prevention strategies.
Take care of your health
While you're busy taking care of your loved one, it's important to not neglect your own health. This can lead to a potential illness that can make your duties that much more difficult and stressful.  The better you take care of yourself, the more equipped you'll be to take care of someone else. To stay in good shape, don't neglect your sleep. You need to get the right amount of sleep in every day. You should also prioritize squeezing in a bit of exercise and eating healthy meals. Consume ample amounts of fruits, vegetables, and whole grains, and avoid alcohol. Consider eating your meals with your loved one to strengthen your bond. One of the most important things you need to do is continue to laugh and have fun. Keep pursuing your hobbies and seeing your friends. It's still important to maintain your individuality and happiness, as that makes you a better caregiver.
Exercise together
Try something like
restorative yoga
. You may be able to do it with your loved one, and it's a great way to reinvigorate the both of you. You'll strengthen your bond while lowering your stress levels and getting in a bit of a workout.
Stay conscious of your behavior
When caregiving, there may be times when you lose your patience. If you find yourself becoming more irritable, take note of that. Don't let yourself slip into an angry phase – instead, take steps that can help to lift your mood. When you find yourself becoming irritable, it may be time to take a small break and enjoy some time alone.
How to Treat Caregiver Role Strain
While prevention is the best form of treatment, it is still necessary to treat role strain if it occurs. All of the above tips will not only help to prevent role strain, but can also help you reduce its effects. If you find yourself feeling anxious and stressed, there are also a few other things you can try.
Stay organized
To stay sane, you'll want to keep a schedule. Keep note of all of the things you need to accomplish each day but keep it flexible. Order it by importance, and if you can't get something done, don't sweat it. You should have an outline of your day but not be too attached to it that you spiral when something goes awry.
Build a support team
While you're supporting your loved one, you also need some support. There are always people available to talk to, whether that be a family member, friend, or a counselor. Don't isolate yourself from people and communicate your feelings. Let others know how you're feeling – they may be able to lend you a hand. If you can schedule time with friends, away from your duties as a caregiver, you'll be able to refresh yourself and be more attentive when you return.
Talk with your loved one
Although you're the caregiver, you and your patient are also a team. Keep the lines of communication open, discussing the care you provide and how you both feel. Schedule some time together to do fun activities to strengthen your bond. Caregiver role strain is common among primary caregivers. If you start to experience effects such as stress and fatigue, taking immediate action to
prevent role strain or caregiver burnout
will help you avoid more serious mental and physical consequences. When you're feeling at your best, you're better able to provide the care your loved one needs.
---
More insights like this:
3 Ways to Strengthen Caregiver Mental Health

Being a caregiver often comes with many anxieties and challenges that one must navigate. Sometimes these outcomes can affect a caregiver's mental health. Caregiving often results in chronic stress, which negatively impacts a caregiver's physical and mental health. Moreover, nearly 33% of unpaid caregivers reported experiencing mental or behavioral health symptoms such as…

Read more

: 3 Ways to Strengthen Caregiver Mental Health

Caregiver Nation: A Pivotal Moment for Family Caregiving in the U.S.

This year's National Family Caregivers Month signifies a crucial turning point in the history of family caregiving policies and awareness. From advancements at the state level to federal initiatives, there's a growing commitment to addressing the needs of our nation's 53 million family caregivers. This positive shift is long overdue. The demands placed…

Read more

: Caregiver Nation: A Pivotal Moment for Family Caregiving in the U.S.

A Thank You Letter to Family Caregivers

In celebration of National Family Caregivers Month (NFCM), Careforth President and CEO Matt Marek shared his appreciation for family caregivers across the nation in a letter. The letter from Matt appeared in the Boston Globe, Hartford Courant, Atlanta Journal-Constitution, and the Indianapolis Star. Matt welcomes you to join Careforth in supporting the 53 million family…

Read more

: A Thank You Letter to Family Caregivers