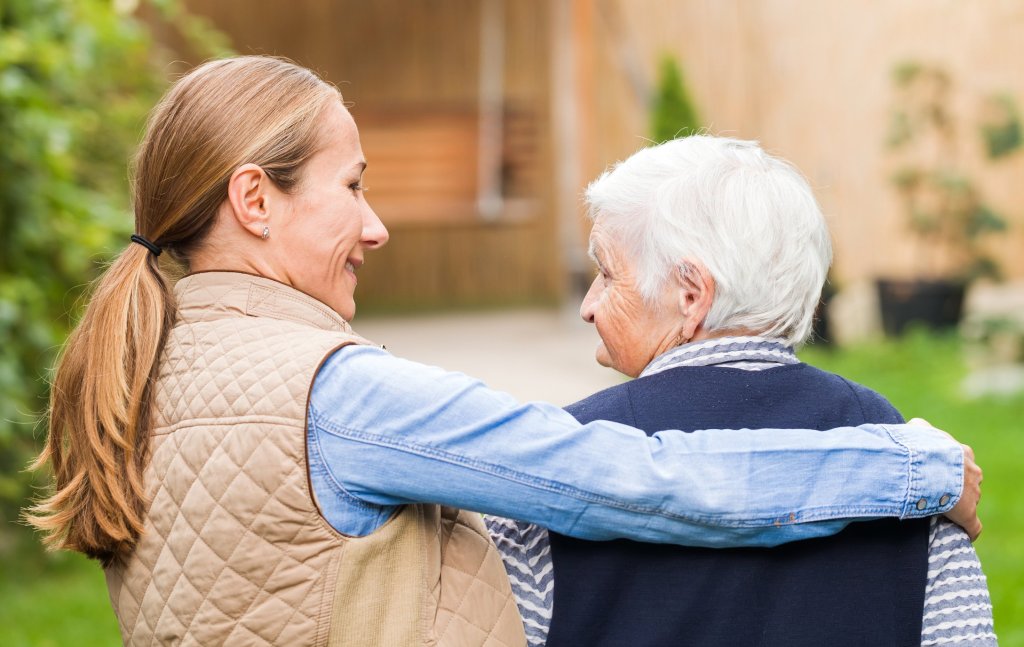 ---
Aside from medical care, seniors with dementia or other conditions often need help with day to day tasks. Here we'll define custodial care, what effects the costs involved, and the difference between custodial care and skilled care.
Definition of Custodial Care
Custodial care is care provided by non-medical professionals. These individuals help seniors with medical, physical, or mental conditions with daily tasks that they otherwise could not do themselves, including eating and bathing.
While it's recommended to be provided by professionals, custodial care can be provided by caregivers with no formal training in nursing or personal support care. As these tasks are usually routine tasks like eating, bathing, assisting with mobility, and using the toilet, no formal training is required.
Usually, custodial care is provided by an assisted living aide or in-home caregiver with or without nursing training. Medicaid or insurance sometimes covers the costs, but typically only if they are in a nursing home.
Duties of Custodial Caregivers
As mentioned, custodial caregivers are professionals – sometimes medically trained, sometimes not – who provide care to seniors. They don't typically provide medical care, but assist with more routine, day-to-day tasks. Here's a list of tasks you can expect from custodial care:
Assisting in the kitchen, including preparing meals and grocery shopping
Helping with mobility, as seniors often need help getting around. This includes lifting and carrying throughout the home
Sometimes involves driving seniors to and from their appointments and other places
Dressing seniors
Helping seniors get to and from the bathroom, including tasks like using the toilet and bathing
Custodial care differs from companion care in that custodial care includes assistance with tasks such as toileting and bathing, while companion care focuses primarily on social and emotional support.
Skilled Care vs. Custodial Care
Skilled care is necessary for patients who need medical services. They're often recovering from medical issues and are receiving end-of-life care. They're medically trained, often being nurses, and can provide more thorough care including dispensing medication, catheter care, wound care, physical therapy, and administering intravenous injections.
However, if all the patient requires is help with day-to-day tasks, then skilled care may be unnecessary. Custodial care is aimed for more long-term, every day care often prescribed for seniors.
Cost of Custodial Care
If you've decided that you or your loved one requires assistance from a non-medical caregiver, it would do you well to understand the price you may pay. There are a few things that contribute to the cost, including:
Do you need full-time, part-time, live-in, or care on an as-needed basis?
Are you going to look for a caregiver yourself or will you need the assistance of an agency? An agency can do all of the work for you, as they know where to look and will make sure whoever they find is qualified, but they will cost more.
Will you look for adult day care, in-home assistance, or a residential community?
Does the individual who needs care have a memory disorder or another condition that will require special attention?
With those considerations in mind, these national averages from 2017 will give you a general idea of the cost of care:
Homemaker Non-Medical Providers: $3,994 per month
Non-Medical Home Health Aides and Personal Care: $4,099 per month
Adult Day Care: $1,517 per month
How to Pay for Custodial Care
Custodial care is provided for those with non-medical issues, and usually, it's not covered by health insurance. For example, people recovering from an accident, requiring intravenous injections, a catheter, and seniors are primary custodial care patients. It can be tough to pay for out of pocket, although there are ways you could buffer the cost.
Custodial care won't usually be covered by custodial care on it own. You can get Medicare coverage if the care is prescribed by a licensed professional, and the care is conducted by an individual who is involved with Medicare. It will pay for caregivers with Medicare licenses for up to 100 days.
You can get Medicaid for custodial care as long as it's done in a nursing home. If you're opting for at-home care, you'll need to find another option. However, you will have to initially pay out-of-pocket before Medicaid kicks in. If you want at-home care, it may be covered under long-term care insurance. Medicaid benefits will vary depending on the state you're living in, so you'll need to look into that.
Long-Term Care Insurance. What may be the best option for paying for custodial care, long-term care insurance can be combined with Medicaid for full-coverage. They can help you pay for in-home custodial care and are fixed-price policies. However, you can get reimbursement for multiple years, as it's long-term insurance.
Whether provided by a family caregiver or as part of more comprehensive long-term care, such as nursing home care, custodial care is an important aspect of caregiving. Many families of older adults who require custodial care find that in-home caregiving, either provided by a paid personal care service or a family caregiver, is a practical solution.
---
More insights like this:
5 Great Holiday Nutritional Tips for Loved Ones with Complicated Medical Conditions

For many of us, the holiday season is a time of celebration, reconnecting with friends and family, and eating lots of delicious food. But for people with medical conditions that place restrictions on what they're able to eat, the holidays can be a difficult time to stay on track.

Read more

: 5 Great Holiday Nutritional Tips for Loved Ones with Complicated Medical Conditions

Understanding Atrial Fibrillation: Symptoms, Triggers, and the Link with Sleep Apnea

Atrial fibrillation (AFib), also called an irregular heartbeat or arrythmia, is a condition in which the upper chambers of the heart (atria) flutter due to irregular electrical stimulus. This creates chaotic, frantic heartbeats that lead to shortness of breath, fatigue, and other symptoms. In the United States alone, more than 2.7 million people experience irregular…

Read more

: Understanding Atrial Fibrillation: Symptoms, Triggers, and the Link with Sleep Apnea