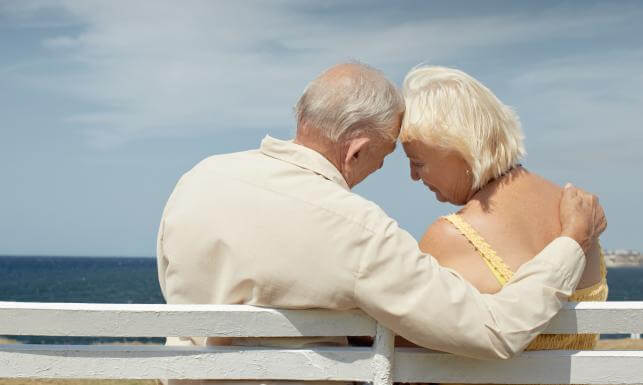 End-of-Life Decisions: The Difference Between Hospice and Palliative Care
It's never easy to consider hospice or palliative care for a loved one, and it's common for caregivers to experience stress and
grief
during this immensely challenging time. "When a loved one receives a serious diagnosis and members of the care team mention palliative or hospice care, it can be alarming, overwhelming and even confusing," advised Connie Blanton, RN care coach with Careforth. "Knowing what to expect can help make this transitional phase feel less frightening."
Read on to learn more about the support and resources to help caregivers through this difficult time, which ultimately can help them cope with and navigate this phase of their caregiving journey.
What is palliative care and who can receive it?
Palliative care is available to a person upon receiving a diagnosis of a serious illness such as cancer, dementia, heart disease, HIV/AIDS or other critical conditions. If your loved one is experiencing anything that can significantly or negatively impact their quality of life, they are a candidate for palliative care. The focus of palliative care is to provide a whole-person approach to reducing unpleasant side effects of treatment and help diminish symptoms. Members of the palliative care team can assist with pain management, coping emotionally with a diagnosis and treatment, caregiver support, planning for the future, and more. Palliative care is different from hospice care and not everyone receiving palliative care will move into hospice care. When a condition improves, or the transition into living with a chronic illness is less of a challenge, loved ones may no longer require palliative care. In fact, palliative care interventions can improve quality of life, multiple studies have shown. Sometimes, however, a person's condition becomes more serious, and a decision will be made to move that person to hospice care.
What is hospice care …and what it is not
Hospice care is typically reserved for those who are seriously ill and when someone is expected to live fewer than six months. Loved ones with significant decreases in functional and/or cognitive abilities, recurrent infections, frequent hospitalizations, and those with a diagnosis of a specific condition such as cancer, congestive heart failure, dementia and others are also typically eligible for hospice care. Hospice care is for individuals of any age that can benefit from services while in the end stages of life. It is available to your loved one when a cure isn't an option, and the focus shifts to symptom management. Physicians often refer loved ones to end-of-life hospice care, but caregivers should check with a loved one's individual insurance provider, Medicare, or Medicaid for full details on eligibility. Members of the hospice team can assist with medical supplies and equipment, pain management, therapies and respite care, spiritual and emotional support and more. Hospice care focuses on finding peace and comfort, and maintaining quality of life is the primary goal. While there are in-patient hospice facilities, the most common type of hospice care is care within the home. Hospice care can often be extended to longer-term care as needed, and some even "graduate" from hospice care if their condition improves. However technical or impersonal hospice qualifications may sometimes be seen, hospice care itself aims to be the opposite. "Hospice care is quite unique, as the focus is on the person and not a medical diagnosis," said Careforth's Blanton. "Person-centered care – that is the hallmark of hospice – focuses on a compassionate and comforted transition throughout a life-limiting diagnosis."
How to choose palliative and hospice care that is a good fit
Choosing palliative or hospice care always starts with a conversation and good communication. Since your loved one is at the center of this journey, so, too, should the conversation be centered around them. Here, there are three factors that should be considered:
Determine what is needed and what is desired.
When a loved one receives a serious diagnosis, the conversation around palliative or hospice care often begins with a physician or medical care team. Caregivers can act as information gatherers during this phase – determining what their loved one's physical needs will be, including any special care, equipment or medication they will require. From there, having conversations with the loved one (if they can do so) or their family is vital. Asking what their emotional needs are in the moment and what they anticipate them to be, how they'd like friends and family members to be involved or to help provide care and any desired spiritual support will help determine how they envision their journey and future, as well as what they will need for support.
Sometimes the need for hospice care is urgent, but more often there is time to research so loved ones and caregivers can find the right care options that fit their specific situation. Physicians and members of a loved one's healthcare team can also help provide insights and recommendations. Ask your personal and professional networks for referrals and obtain as many personal testimonials as possible to get a better sense of the quality of care and people's experiences.
Cost, convenience and location.
The out-of-pocket cost for palliative and hospice care can vary widely depending on the type of insurance your loved one has. Be sure to call the number on the back of their insurance card to discuss options as well as be in contact with the financial services team at a palliative or hospice care provider. In addition to cost, location is a crucial consideration. If care is being provided outside of the home, the location should be convenient for caregivers and loved ones to make it easier to visit and provide support.
How to know when it's time to move to hospice care
When a serious diagnosis is presented and your loved one has the choice to start new courses of treatment, conversations should take place about their personal goals and desires for their future. For example, when a person in your care is no longer physically able to tolerate treatments or is experiencing increased hospitalizations or infections due to these additional measures, this may be the catalyst for a discussion about hospice care. These often-difficult conversations should include their medical team, so they can share the realistic outcomes of new or additional treatments and help guide the discussion about hospice care. End-of-life caregiving is a time when compassion and comfort are at the forefront. However, there is still support for caregivers available. Careforth programs offer expert guidance on caring for your loved one throughout your caregiving journey, from beginning to end. Contact us to learn more, so you can feel supported at every turn.
---
More insights like this:
End-of-Life Caregiver Support: Five Tips for Prioritizing the Caregiver

During end-of-life palliative care and hospice care, it's typical for much of the focus to be on your loved one. However, anxiety, guilt, anger, and burnout are very common experiences for all caregivers. It's important that coping with these emotions is made a focus as well, so that your well-being and the care…

Read more

: End-of-Life Caregiver Support: Five Tips for Prioritizing the Caregiver

The Caregiver's Role in Creating An Effective End-of-Life Care Plan

End-of-life planning is a part of an estate plan that caregivers are often in the position to help establish for their loved ones. It formalizes the wishes of the person you care for, documenting their desires for what they'd like to happen at the end of their life. In short, an end-of-life care…

Read more

: The Caregiver's Role in Creating An Effective End-of-Life Care Plan

End of Life Planning: Expert Tips for Caregivers to be Prepared

Understanding your loved one's wants and wishes for their end of life can be an important part of caregiving. Unquestionably, these topics and conversations can be sensitive and difficult, especially when it comes to legal matters and end of life decisions. Whether you're caring for a spouse, an aging parent, someone with a…

Read more

: End of Life Planning: Expert Tips for Caregivers to be Prepared