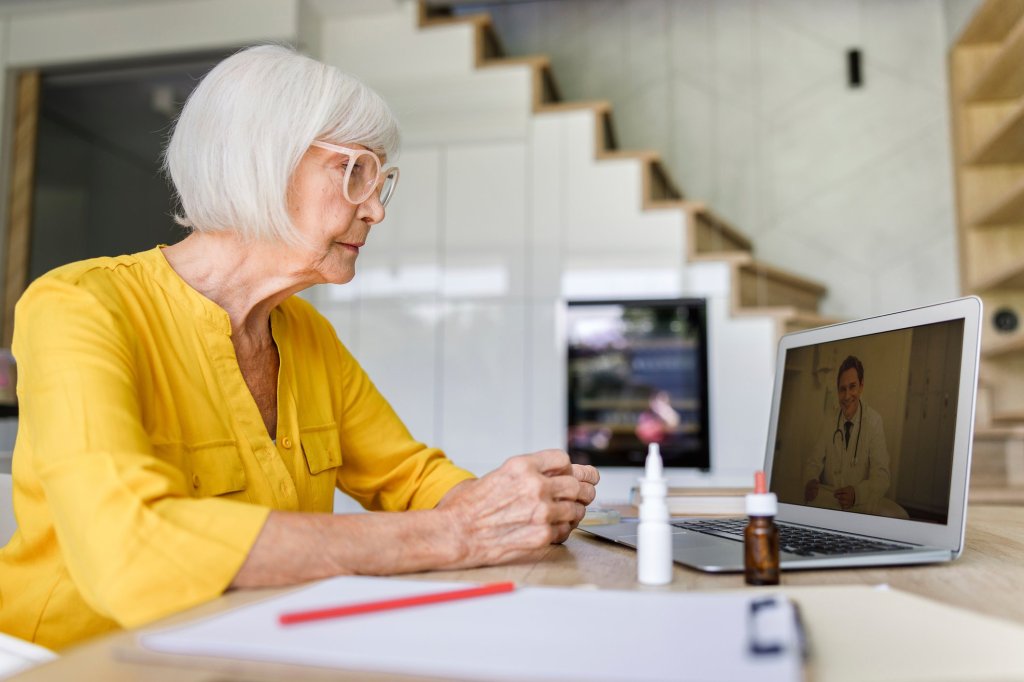 The 30 most important things for caregivers to keep in mind when receiving remote care
The COVID-19 pandemic turned everyone's lives upside down, but some populations were particularly affected by the crisis. Older adults, for instance, are at higher risk of contracting the virus, making it especially important for them – as well as their family members and caregivers – to maintain social distancing and follow all recommendations from the Centers for Disease Control (CDC) and their healthcare providers closely.
Caregiving through the coronavirus
has been a challenge for many caregivers. With older adults strongly advised to stay home as much as possible, remote care services such as
telehealth
,
telemedicine
, and
telehealth nursing
became vital lifelines for seniors and their caregivers. While these services enable older adults and family caregivers to access crucial healthcare advice, treatment, and support services from the safety and comfort of their homes, virtual delivery models aren't the same as an in-person visit. To get the most from remote caregiver support services, frequent, regular communication is key, between caregiver and care recipient and caregivers and healthcare providers.
Self-care
is also vital, as concerns about keeping their loved ones safe in the midst of the pandemic crisis create additional stress and anxiety for caregivers during this trying time. To learn more about the most important things for caregivers to keep in mind when receiving remote care and support services, we reached out to a panel of healthcare providers, caregivers, and senior care experts and asked them to answer this question:
"What are the most important things for caregivers to keep in mind as they get remote support, care, and caregiver support?"
Meet Our Panel of Healthcare Providers, Caregivers, and Senior Care Experts:
● Patrice Brown

● Suzanne Asaff Blankenship

● Mary Kate D'Souza

● Mica Phillips

● Lakelyn Hogan

● Kristen Fleming

● Karen Selby

● Louisa Stringer

● Carol B. Amos

● Valerie Henderson

● Aaron Blight, Ed.D.

● Kriss Kevorkian, PhD, MSW

● Lise Leblanc

● Peggy Maguire

● Dr. Giuseppe Aragona

● Patty Montoya

● Cheryl Albright

● Dominique Kent

● Rozanne Sedler, LMSW

● Meg Marrs

● Rick Lauber

● Jennifer Lane

● Faisel Syed, M.D.

● Joseph Tropper, MS, LCPC, CCTP

● Shadi Vahdat, MD

● Gareth Mahon

● Dr. Mayda Antun

● Terry Moore

● Aaron Goldsmith

● Gail Trauco, R.N. BSN-OCN
Read on to learn more about what caregivers should keep in mind as they receive remote support, care, and caregiver support.
Patrice Brown is the VP of Patient Programs and Advocacy at ZERO – The End of Prostate Cancer. "Peer-to-peer support programs can complement…" Other emotional or health services caregivers may be receiving, as it provides an emotional, social, and practical outlet. In a time when much communication must be done digitally or virtually, peer support programs are an easy and safe way for caregivers to access a shoulder to lean on.
Suzanne Asaff Blankenship is the author of How To Take Care of Old People Without Losing Your Marbles and a Speaker/Eldercare Expert at Eldercare Navigator. Suzanne's experience with eldercare came the hard way – by doing it. In her second decade of eldercare and after years of sharing stories, Suzanne found she wasn't alone in her eldercare journey, or in her search for solutions. With her unique approach of organized preparation sprinkled with her tongue-in-cheek humor, Suzanne guides others skillfully through the challenging experience of eldercare. "Caregivers who are caring for elders in person or remotely can find support in many places online now…" You don't have to feel alone or feel helpless; you can get assistance for you and your elder. So much of the in-person support that was previously available is now available online. The Alzheimer's Association has multiple classes and info online under Help & Support. All of their previous in-person classes are now offered online, some live and some recorded. Caregiver support groups have also moved online. Many local resources have moved online as well. Call your local helpline (2-1-1), supported by UnitedWay.org, to be connected with local organizations that can provide assistance with food, deliveries, mental health providers, tele-health options and other on-the-ground services near you. 2-1-1 is available 24/7 and is staffed with specialists who can connect you to programs in your local area. Telehealth is now up and running for primary care, geriatrics, and many specialties. Your elder can meet with care providers without going to their offices. Many doctors can use remote monitoring technology to check vital signs, pacemakers, and many other key health indicators. AARP.com is offering Tele-Town Halls online that answer many questions about COVID-19 and other senior-related issues. There are also multiple caregiver support articles, as well. If your elder lives in a care community, care conferences are now held via video or phone conference. Many activities directors are making appointments to Skype, Zoom, or FaceTime with elders and their families, where they assist elders with devices to connect remotely. Most pharmacies are offering delivery. Now is a good time to move maintenance medications to mail-order pharmacies. Many healthcare insurers are offering 24/7 nurse lines you can call to receive guidance and direction if you or your elder are needing medical information urgently but are hesitant or unable to get to a care provider. New technologies like MCharts (where you can combine all of your or your elder's medical information online) or Routinify (offering remote telecare services through home health agencies) are becoming more widely available to care for your elders in a remote and risk-limiting way. It might seem like you're on an island of isolation, but with a click or a call, you can connect with resources that help you and your elder stay healthy and happy.
Mary Kate D'Souza
@gentreo
Mary Kate D'Souza is the Chief Legal Officer and Founder of Gentreo. "During this COVID-19 crisis, it is important that caregivers and loved ones have…" Easy access to all estate planning documents, especially health care proxies and advance directives. It is also important that caregivers can access all other important health information from anywhere at any time.
Mica Phillips is the Director of Urology at Aeroflow Healthcare, a durable medical equipment supplier that provides individuals across the country with incontinence supplies through insurance. An advocate for those living with incontinence, Mica is committed to helping men, women, and children navigate their insurance benefits to receive high-quality products that they can depend on. "As we continue to practice social distancing and more care is given remotely…" There are several things caregivers must keep in mind while supporting their senior patients. First and most important, caregivers must be diligent about checking that any medical equipment is functioning properly and that seniors have clear directions on the proper usage of their medical equipment. Some medical equipment providers will also provide remote services to help caregivers and seniors ensure their devices are working properly. Secondly, with seniors being at the greatest risk during the pandemic, they will be spending less time outdoors. Lack of exercise can be especially harmful to seniors, so caregivers should try to encourage their patients to get exercise indoors. Video check-ins create opportunities for seniors to join in on virtual exercise classes, which not only helps them stay fit and healthy but also allows them an important chance to socialize safely. Additionally, hygiene is very important for senior care in normal life, but during a pandemic it is vital. Caretakers should compile a checklist of personal grooming tasks to share with their patients that will ensure their patients are taking care of themselves. Lastly, making sure seniors are well-supplied should be top of mind of caregivers, especially as the pandemic is causing delays in delivery and certain hygiene products are in short supply. With seniors unable to safely shop for themselves, it's important to check in regularly with patients to make sure that they have all they need. These necessary supplies include a wide variety of items, from everyday groceries to adult diapers/briefs and prescribed medications. Making a weekly checklist can help keep caregivers and seniors on the same page about what's needed and keep seniors in a healthy routine.
Lakelyn Hogan, MA, is a gerontologist and caregiver advocate for Home Instead Senior Care. In her role, Lakelyn educates professionals, families and communities on issues older adults face and provides resources to support family caregivers and their aging loved ones. She also serves on Dreamweaver Foundation's Board of Directors as VP and is active in the Alzheimer's Association's Walk to End Alzheimer's. "It's so important for caregivers to make their own health a priority while caring for those they love…" You can't be there for someone else unless you are well yourself. The stress of caregiving is particularly prevalent in the lives of family caregivers, but you don't have to go through it alone. When seeking support, here are a few things to keep in mind: Don't be afraid to ask for help. If you reach out, you may find those around you are more willing to pitch in than you may have thought. Additionally, if someone offers assistance, accept it. Working as a team or leaning on others when necessary can make a big impact on the stress you feel. Be honest. No one knows the way you feel better than yourself. When talking with experts or seeking other caregiver support, be sure to share how you feel and what you need to provide the best quality care.
Kristen Fleming
Kristen Fleming is the Regional Coordinator for Education and Training Services for the Caregiver Support Initiative, a program funded by the New York State Department of Health, which provides free resources as well as events for caregivers of loved ones living with Alzheimer's and other dementias. "I think one of the most important things for caregivers to keep in mind while they get remote support is to ask questions…" A lot of the technology that programs are using is new to us and even older adults caring for their aging parents. If caregivers don't understand how something works, ask for more specific instructions. Staff like us at the Caregiver Support Initiative and similar programs are here to help during this difficult time and are happy to give step by step directions. Remember that during this time you are not alone There is always help available and accessibility to resources to assist in providing care, as this time presents a whole new set of challenges.
Karen Selby, RN, is a registered nurse and Patient Advocate at The Mesothelioma Center. Before joining the team in 2009, she was the regional director of a tissue bank and an OR nurse. In her current role, Karen helps patients and caregivers navigate their cancer journey. "Caregivers looking to provide care and support while practicing social distancing still have plenty of options to offer remote care and patient management…" The CDC advises caregivers to obtain extra stock of necessary medications and over-the-counter drugs. Caregivers can use this time to review their family's emergency care plan and make contact with health care providers to prepare contingencies if loved ones become ill. Most importantly, caregivers should be practicing frequent hand hygiene and using other appropriate precautions when going out into the community. Providing care to a loved one means not exposing them to a virus you may be carrying back from crowded areas, such as supermarkets. Caregivers should also be canceling non-essential appointments that cannot be conducted virtually. Provide time and space for yourself as a caregiver, but remember to set aside quality time to connect with your loved one virtually, which can prevent feelings of loneliness and isolation.
Louisa Stringer
Louisa Stringer is MedicareAdvantage.com's caregiving expert. Serving as a Certified Caregiving Consultant™ and practitioner for Cape Wellness Collaborative, she advocates for family caregivers in the greater Boston area, offering mental wellness care for those who care for their loved ones with cancer. "Acquiring remote support and resources seems as easy as a click of a button these days…" The reality is that it takes some intuitiveness to know exactly what you need before accessing this information. And when you are a caregiver by profession, it needs to be correct information that is being offered to the ones being cared for as well as their caregivers. Remote support lacks the connection human beings thrive on, but nonetheless it is something instead of nothing. Recognizing that continued face-to-face interaction, even if on the computer, is the most effective communication. It is vitally important when acquiring the resources needed for those who rely on the professional caregiver for care. Caregivers are relied upon for these skill sets as they strive to provide care, even remotely, and spending time on productive connection is the key.
Carol B. Amos is the author of H.O.P.E. for the Alzheimer's Journey: Help, Organization, Preparation, and Education for the Road Ahead. She is a former caregiver and a CARES Dementia Specialist. Carol provides tips, tools, advice, and information to make the journey for Alzheimer's caregivers less stressful and more rewarding. "Caregivers must clearly understand and state the type of support they need…" This ensures the support will have the correct skill set. Caregivers must take into account how the loved one will accept the support and develop a plan for a smooth transition. When we enlisted a nurse to fill my mother's pill box and monitor her health as she began Aricept® treatment, my mother was insulted. We could have said the nurse was prescribed by her doctor or the nurse was required for the first two weeks of the medication. My mother looked for anything to prove we made a mistake. It didn't help that my mother had to remind the nurse to wash her hands before filling the pill box.
Valerie Henderson
Valerie Henderson oversees communications for Carewell, a company with a mission to improve the lives of caregivers through expert-vetted products, reliable service, and personalized content. She has been published in multiple outlets, including Reuters, NBC.com, and Entrepreneur, and is passionate about being the trusted steward of a brand's most unique asset — its voice. "Coronavirus is taking a particularly taxing toll on caregivers, so it's more important than ever for them to practice self-care…" Not only are they worried about their loved one's health, but they're probably also stressed about maintaining their own well-being so they can be healthy for the people who need them the most. Unfortunately, this kind of stress leads to a weakened immune system, which leads to increased susceptibility, and so on. It's a classic chicken-and-egg scenario. No one person should have to handle the burden of caregiving on their own, but during this unprecedented time of isolation, many people are doing just that. Instead of acting solo, caregivers should allow family members and friends to pitch in from a safe distance in some creative ways. Ask people to visit their loved one virtually to provide entertainment and emotional support; remind them to avoid talking about the pandemic and focus on positive, uplifting topics. Encourage younger family members to virtually read a story, sing a song, or hold up a piece of art they've created for their grandparent or other loved one. Reach out to siblings and friends for help with meal delivery, grocery orders, and bill paying — caregiving takes a village, and many people have a lot of extra time on their hands right now.
Aaron Blight, Ed.D., speaks regularly on caregiving and is the Founder of Caregiving Kinetics, a firm dedicated to those who care for the aging population. He has served as a family caregiver, home care company owner, caregiving scholar, and leader at the Centers for Medicare & Medicaid Services. "Here are a few important things for caregivers to keep in mind as they get remote care, support, and caregiver support…"
Distinguish what you can and can't control. Caregiving regularly reminds you that you have limited control over things like your loved one's condition, treatment, or prognosis. As if that wasn't enough, the current COVID-19 crisis may make you feel as if life itself has spun out of your hands. Despite such uncertain circumstances, your sustained efforts to address things you can control will allow you and your loved one to lead the best lives possible at the present time.

It's okay for you to get help. Caregivers often feel a responsibility to "go it alone" because they feel a sense of loyalty to their loved one or because they don't want to burden someone else with the tasks of care. If you're barely hanging on by trying to do it all yourself, then it's time to give yourself permission to get help. By "sharing the caring" you'll find some welcome relief.

By caring for yourself, you're better prepared to care for others. As a caregiver, you may be so focused on the needs of your loved one that you fail to take care of yourself. If you neglect your own needs, you can experience significant physical, mental, or emotional challenges of your own. Good self-care habits will make it easier for you to stay healthy and

strong for the loved one who depends on you.
Kriss Kevorkian, PhD, MSW, is the founder and CEO of A Grieving World. She is an internationally known expert in grief, death and dying, intuitively supporting those in need through all forms of grief, including ecological and environmental grief, and providing compassionate end-of-life care. She is a Contributing Faculty Member in the MSW program at Walden University. "As an expert in grief, death, and dying, I'd have to say that the most important things for caregivers to keep in mind as they get remote support, care, and caregiver support are…" To do their best to focus on their own needs as well as those of their loved one or patient. Being a caregiver is one of the hardest things to do, and there's rarely any recognition of all the sacrifices being made by the caregiver. There's no respite available for most caregivers right now, which makes it that much more challenging to find time for oneself. We often talk about practicing self-care, but it's nearly impossible to do right now. That being said, I would ask that caregivers put aside some time, no matter how much, but just some time for themselves. Ideally, it would be great to step away from your duties and focus on yourself, but right now, it would be great if caregivers could just find a few extra minutes to practice some breathing exercises. Before getting out of bed, focus on your breathing while thinking of a time when you were laughing so hard your sides ached. I don't know how many people can remember a time like that, but I hope they'll try. Please remember that while caregivers might feel so alone, there are people who they can at least reach out to by phone. It doesn't help much, though, when you're dealing with a crisis and need someone there to help, but someone is available to help you through whatever crisis you might be going through. Another thing to consider is keeping a journal. I realize this might sound hokey to some, but the feedback I've gotten from people who were first reluctant to journal has always been good. It might have taken a while to begin journaling, but once that process started, those who did it felt better. You're able to purge your feelings out from your body and onto the paper, releasing all that stress we hold too tightly to. I've been working with a caregiver whose husband is declining. She often tells me she feels alone, especially now that she can't even get out, but she knows she has people to call. She doesn't want to bother them. Patients and caregivers alike often worry about being a burden to others. They aren't. But that's not easy for a lot of people to believe. You aren't a burden!
Lise Leblanc
Psychotherapist Lise Leblanc applies her deep insights and effective strategies to the Conscious Caregiving Guide with the goal to help readers tackle their caregiving role and achieve optimum wellness for themselves and their loved one. "One of the biggest things to keep in mind when caregiving from a distance is that it can bring about a lot of guilt…" One caregiver who lived several provinces away from her ailing mother said, "It was a roller coaster of emotions as I struggled with worry and questioned how I could take care of her, being so far away. I wanted to be there and make sure she was okay. I needed to be there. After all, I was the nurse in the family!" Sometimes guilt comes from thinking we should be there, should be doing more, or shouldn't be putting our responsibilities on someone else. All these shoulds and shouldn'ts can stop caregivers from creating a good caregiving community and from trusting that their loved one is in good hands even though it's not their own. It takes a good support system to be a good caregiver, therefore, realizing we cannot do this alone – and should not do it alone – is a healthy starting point. So, here are a few tips that can help you set up a remote caregiving situation in a way that minimizes guilt as you care for your loved one from a distance. Create a Caregiving Community Identify all the close family members and friends who are checking in, asking questions, and showing concern and find out if there is anyone who is willing and able to contribute to meeting your loved one's needs. When you muster the courage to ask for help, and once others know what you need help with (specific tasks), you will likely find most are happy to assist. Develop a Care Plan Develop a plan that outlines who will be doing what and when. Negotiate roles and responsibilities. Be specific and include the task, which days it will be completed, and by who. Outline your own role and how you will provide support from a distance. Tap into Community Resources Once you have a care plan in place, look at what other resources might be available. Call your local caregiving associations and organizations that provide care to ask if there are programs and resources that could help you and your loved one. Trust the Caregiving Team Stay connected with your care recipient by checking in with them by text, phone, and visits when you can, but also trust that the care team is taking good care of your loved one. Release Guilt Talk to a counselor or trusted friend who can add new perspectives and help you recognize and appreciate that you are finding creative ways to meet your loved one's care needs while honoring your own needs and your own life. Reaching out for help can be one of the toughest parts for many caregivers, as well as the most important when it comes to preserving your own mental, emotional, and physical wellness while caring from a distance. Sometimes, the greatest gift you can give a loved one is to show them you are still able to enjoy your life to the fullest while caring for them.
Peggy Maguire is Cambia Health Solutions' Senior Vice President, Corporate Social Responsibility and Palliative Care Solutions. Philanthropically, she chairs the board of directors of the Doernbecher Children's Hospital Foundation and is a member of the All Hands Raised Leadership Council, the Habitat for Humanity campaign cabinet, and more. "There are a few things caregivers should keep in mind as they get remote support…"
Check in with themselves through the AMA's caregiver self-assessment questionnaire. 1 in 5 report that it's harder to take care of themselves when they are caring for others, often neglecting their own physical health. Many caregivers are drained by shouldering this responsibility alone, with no training and little additional paid or unpaid help. You cannot pour from an empty cup – self-care routines and delegating caregiving duties from time to time provide needed time to recharge and return with vigor. If no larger care team is available, many organizations offer free or low-cost respite care to allow unpaid caregivers a break.

Create a team of family members and friends so they don't have to act alone. Though 76 percent of caregivers say no one taught, prepared, or trained them to perform tasks when they initially took on their caregiving responsibilities, there are resources and support groups out there for caregivers. The National Alliance for Caregiving is a coalition of over 80 state and local organizations supporting family caregivers, offering training and community for new caregivers. Many health insurers also offer professional care coordinators that can help evaluate the recipient's needs and put them in touch with services to help drive down the personal and financial toll of caregiving. Local and community senior centers also offer support groups for caregivers.

Technology and the emotionally charged human touch component of caregiving complement each other. The more time they spend on caregiving, the higher the interest in technology that improves their care responsibilities. 41% of caregivers are interested in technology to connect them to live health and wellness experts to support their caregiving activities, and 39% agree a tool that connects them with a health guide via chat to help answer questions and complete caregiving tasks would improve their care responsibilities. Technology is a simple way to reduce the burden for caregivers, without compromising on care.

Buyer beware: Be aware of scams targeted at caregivers, especially as COVID-19 scams are on the rise, with hooks like 'return your stimulus check,' 'stock up on this staple before it's gone,' and 'colloidal silver will cure COVID-19.' Scammers understand that many caregivers are older themselves who want to protect their recipient but may not have the bandwidth to investigate these claims.

Reflect on the positive relationship with the recipient that led them down the path of primary caregiver, and exercise positive self-talk on the difference they're making in that person's life. Caregivers report that knowing the people they are caring for are safe (59 percent), having the opportunity to provide needed care to a loved one (54 percent), and seeing their loved one's quality of life improve (53 percent) give them the most joy, and more caregivers are likely to say their responsibilities give them increased joy (35 percent) versus stress (24 percent). Journaling and affirmations can help caregivers practice mindfulness and feel a sense of accomplishment for their underappreciated work.
Dr. Giuseppe Aragona is a General Practitioner and Medical Advisor at Prescription Doctor M.D. "A focus on healthcare is important right now, but keeping a person's mental health in check is also something to think about…" If you are going remote, make sure that you set up multiple ways that your people can get in contact with you, and let them know you are there for support as well as for their health. Have conversations away from health like you would normally do, as with the world as it is, there needs to be times away from thinking about the mediocre and normal.
Patty Montoya is an Anticipatory Grief Coach supporting caregivers to a terminally ill family member. "The most important thing caregivers need to remember at this time is that…" All the urgent services such as hospice nurses, palliative care, and nursing homes are still operating as usual. However, they might be short-staffed, so patience will be your superpower at this moment. At this moment, the most important thing you can do is to overly communicate. Have family meetings to understand the current circumstances and the roadblocks you might encounter. Second, make a list and delegate! This is hard for caregivers but is extremely important at this time because they might burn out, and this is a marathon, not a sprint. The last one, and most important, is to make sure that you have a plan of action. This plan should involve the advice of your health team to make sure that your loved one's needs are being taken care of promptly.
Cheryl Albright is a licensed occupational therapist with 17 years' experience working with a variety of ages and disabilities. She currently owns a private practice in Bradenton Florida specializing in yoga therapy and occupational therapy. "As a healthcare provider, here are my top 3 important things for caregivers to keep in mind with remote care…"
Telehealth is not the same as in person therapy. You can't drop off a loved one in front of the computer or phone screen and leave like in the outpatient delivery model. We are there to help guide you either through exercises, home or activity modification, or other activities to help support your loved one. We will need your help since our hands are not there to assist.

We are liable for everyone in the room. This includes pets. Hard to believe. On a recent AOTA (American Occupational Therapy Association) webinar, this was discussed and was news to providers, as well.

Medicare just started accepting telehealth delivery and reimbursing for OT/PT via telehealth. If you don't feel comfortable having a provider in your home yet and require therapy services, this can be an option for you.
Dominique Kent is a Joint Founder of the Live-In Care Hub, a not-for-profit organization committed to raising the quality of elderly care by giving people the opportunity to be cared for at home, where they can still feel part of everyday life. "The emotional health and well-being of caregivers is always important because…" A stressed, anxious, or unhappy caregiver cannot provide the level of care they want to or need to. In these unprecedented times, during the COVID-19 crisis when care and support must be provided remotely, it is even more important to maintain good emotional and physical health. Lack of real human interaction can create a sense of isolation that can affect a caregiver's capacity to care for their loved one. Communication is not as easy when done remotely, but it is vital to keep those communication lines open even if that has to be via video call. Communication needs to be more frequent with simple well-being 'check-ins.' Maintaining good emotional health is the single most important thing caregivers should focus on right now to help them cope with difficult situations such as the crisis we are currently in. One way of doing that is to take note of what makes you feel angry or sad and change those things if possible. Also try and minimize stress through relaxation or exercise and focus on the positive aspects of life. Ensure you have someone to talk to and always use a circle of support, peers, and friends, too.
Rozanne Sedler
Rozanne Sedler joined Bright Spot Counseling Clinic after over three decades as a clinical social worker at Jewish Family Service where she was a therapist serving primarily older adults. During that time, she was selected as the first Employee of the Year and was given a Life Time Achievement Award. Rozanne also had the unique experience of being initially responsible for the book Annie's Ghosts by Steven Luxenberg, which was the Michigan Humanities Book of the Year in 2015. "COVID-19 has been and will continue to be extremely stressful…" Many of those struggling with disease do not have enough family members or paid caregivers to care for them. It is fortunate that Medicare has made it possible for senior citizens to receive support from doctors, nurses, and mental health professionals in their homes by phone or on their computer. This is an unusual time for all of us, as we face this unimaginable situation on a daily basis with no real knowledge about when and if our lives will return to what was considered normal prior to the outbreak of the virus. Each of us is facing life individually. It is an additional stress if we are a caregiver to a loved one, be it a relative, close friend, or as an employed caregiver. Consider the following thoughts to ease this stress:
Support is support is support. While many of us would prefer in-person appointments with our doctors, therapists, or support groups, it is vital to take advantage of phone visits and online visits. You can't be the best version of yourself when caring for someone else if you're not receiving support. Caregiving is draining; absorb whatever support you can access.

Recognize that some problems are beyond our control. Focus on those situations that can be altered, which may mean finding new supports or services that are best able to meet your needs. While you might have been comfortable with your primary care doctor or support group, if they aren't able to meet your needs through phone or online visits, strongly consider finding temporary support.

Reach out to your local Area Agency on Aging to see if they have recommendations for virtual support or resources to help you in caring for your loved one.

As always, take care of yourself by eating properly, exercising, getting enough sleep, and staying in contact with family and friends. Give yourself a time out when possible.

Be realistic about what you can do and give yourself credit for what you are doing. Recognize the courage it has sometimes taken to meet the needs of the ill person.

Ask for assistance when you need it, be it from a family member, a friend, or from a community resource.

Accept your feelings as valid and understand that you will have conflicting feelings toward the ill person at times.
Meg Marrs
Meg Marrs is the founder of Safer Senior Care, a website dedicated to helping caregivers find the best resources for elderly friends and relatives in order to allow them to age in place safely and comfortably. "One of the most important things to keep in mind when providing remote care is that…" A lot of common body language we use to indicate stress, comfort, or understanding are absent with virtual care. This means that instead, caregivers will have to rely much more on language to assess the feelings and comprehension of the client or care recipient. Be prepared to repeat your words, speak very clearly, and be sure to regularly check in with your client to ask if they understand or if there is anything they want to be explained in greater detail. I'd also suggest sending follow-up emails or texts summarizing what you discussed during your care calls and highlighting any action items clients should remember and work on for the coming week. It can be more difficult to process information via video calls, so repetition and reminders are essential to instill the information you are providing.
Rick Lauber is a former co-caregiver, a published book author, and an established freelance writer. Lauber has written two books, The Successful Caregiver's Guide and Caregiver's Guide for Canadians, as valuable resources for prospective, new, and current caregivers. Lauber has also been twice-selected as a contributor to Chicken Soup for the Soul (Chicken Soup for the Soul: It's Christmas! and Chicken Soup for the Soul: My Very Good, Very Bad Cat). "Remote caregiving can prove to be more difficult; however, it is not impossible…" Caregivers need to remember that they still can help – even remotely. They may research for information, make telephone calls and arrange meetings, and/or handle a senior's banking or bill-paying. Caregivers also need to remember to find remote help and delegate tasks. Caregiving is not a job to be done independently. Arranging for remote help may not be enough. Caregivers will still need to oversee these arrangements and keep in touch / visit their parents regularly. Remote caregivers may be able to do more than one thing. For example, the in-home caregiver who visits a parent could be sent to the grocery store or on other errands while you're in town to visit with Mom or Dad. Think outside the box when looking for remote care. Professional organizations, homecare agencies, seniors' associations, and/or neighbors are commonly thought of first as remote resources; however, a member of a parent's church congregation or a community group could also be approached to help out.
Jennifer Lane writes at The Cancer Bomb, helping families and caregivers cut through the stress and overwhelm so they can get some of the craziness that comes with cancer under control. "Here are a few important things for caregivers to keep in mind as they get remote support…"
Stick to the facts: Be clear, give details, and use examples. Use clear examples of what's actually happening, and consider any risk associated with these details.
Here's an example: "This is the second day he is vomiting." "He can't keep anything down including water (hydration), food (starvation), and his medicine (life-sustaining)." Your job as a caregiver is to paint the "big picture" as clearly as possible so you can get the help you need.
Give accurate information: Talk to each other before an appointment. Make sure you understand and can clearly describe the symptoms, feelings, struggles, etc.
Having the correct information is critical to getting the support you need. Be sure. Ask questions and clarify information before speaking to the doctor or support team. And, if you don't know something, say you don't know. Don't guess!
Speak up: If you're not sure if something is important, it doesn't hurt to ask. Or, if something has become an issue, you're probably not the only one who has encountered this.
Faisel Syed, M.D.
@chenmed
Dr. Faisel Syed, national director of primary care for ChenMed, earned his medical degree at the Iberoamerican University in Santo Domingo in the Dominican Republic before performing a family medicine residency in Columbus, Georgia. ChenMed is the country's largest operator of primary care medical centers for seniors. "Due to the coronavirus, ChenMed is providing nearly 95 percent of its care and support for seniors via telemedicine…" Including video and phone appointments with primary care providers. Caregivers can help by:
Reminding patients about telemedicine appointments and assisting with the technology.

Having a current list of medications the patient is taking.

Being prepared to describe any symptoms of illness the patient may be experiencing.

Taking notes of the appointment. Log care instructions, therapy intervals, side effects, and complications.

Staying healthy themselves by following CDC guidelines to prevent becoming infected or infecting someone else with coronavirus or another serious illness.
Joseph Tropper, MS, LCPC, CCTP

@CoreWellnessJT
Joseph Tropper, MS, LCPC, CCTP is a clinical therapist, supervisor, and manager specializing in mental health wellness including PTSD, trauma, relationships, anxiety, and depression issues. "Nowadays, even caregivers are experiencing uncertainty…" People are unaware of the extent of COVID-19's impact now that new cases have gone down in China but are spiking in the United States, Singapore, Italy, and Spain. Being in an unsafe environment brings fear in an unfamiliar situation, and so, anxiety sets in. Also take note that there are a number of subtypes of anxiety that include panic disorder, generalized anxiety disorder, illness anxiety disorder, social anxiety disorder, phobias, and hoarding. What I recommend for caregivers is to adopt the following practices:
Write down your worries. This clears your mind and gives you a place to dump its content. Once out, things gradually become less stressful.

Create an anxiety and worry-free period. The basic level of this is to just decide, hey, from 9 AM until 10 AM each day, I just don't think about anything anxiety provoking. You will fight to make this happen but will slowly build up resistance. As you do this, you can switch to the advanced level, which is just the opposite, meaning you can only think about anxiety provoking things during a one-hour designated time slot each day. Try it after a few weeks of the basic approach, and you will be surprised at how productive you will become!

Sleep, exercise, and healthy food. What we eat and how we treat our bodies makes a big difference, especially in this time of a serious pandemic.

Read a book, listen to music, or engage in other relaxation, especially breathing. Distractions work. They buy time and allow us to calm our inner world and rejuvenate.

Practice the NAP Mindfulness Exercise. Notice, Accept, (let it) Pass. This acronym expresses a three-part process. First, NOTICE what you are feeling ("I'm really scared about my meeting with the boss"), ACCEPT it without judgement ("I accept that I am nervous about the conversation, this is normal, and I will not judge myself"). This step is very important. It is in the place of acceptance that we can move forward to let it PASS. Practice accepting uncertainty and letting go of self-judgement.
But is there any way to prevent these altogether? A little bit of anxiety is normal. Give yourself some time to process it. Acknowledging anxiety is always the first step to overcoming it. Then, practice self-care. Being prepared can keep your mind calm in very stressful situations. My clients find that while the initial taming of anxiety may be difficult, once it is under control it is a lot easier to maintain. Overall, only 1 in 3 people even seek help for anxiety, with the other two-thirds simply dealing with it or believing that it cannot be cured. The good news is that we know how to make things better for people with anxiety, and so much help is available. Firstly, many modalities address anxiety, which is one of the top five reasons people seek help. Secondly, many of the options (see my tips above) do not involve medication but are simply powerful coping skills and lifestyle tweaks. Thirdly, sometimes, after much effort and through advice from a medical professional, one decides it is time to try medication, and the good news is that many medications work very quickly.
Shadi Vahdat, MD
Dr. Vahdat is a hospital and integrative physician who practices in Los Angeles. She has taken care of patients in all stages of health and illness, from minor ailments to life-threatening conditions. Dr. Vahdat combines unique and distinguished training in both Western Medicine and Integrative Medicine. She is a board-certified physician in Internal Medicine, with experience in some of the best academic medical centers in the US. She has held academic positions in those centers with the responsibility of teaching future doctors. "The most important consideration for caregivers to keep in mind as they get remote support and care is…" How patients and the elderly will present with greater challenges during the pandemic.
This population is particularly at risk with greater mandatory social isolation. This could translate into greater mental health or behavior changes. As the elderly become more home bound with limited interactions, the risk of anxiety and depression will increase. This could present as changes in mood, appetite, or even sleep. Maintaining social contact with close

family will take greater importance.

Along with social isolation comes decreased physical activity, which could put this population at risk for developing muscle weakness, balance deterioration, and decreased mental and physical stimulation.

With decreased accessibility to doctors and more telemedicine, the patient's physician will be at a disadvantage to evaluate for subtle physical changes. It will be critical to take notice of new physical findings (i.e., areas of pain, swelling, respiratory symptoms, etc.) and bring

them to the health practitioner's attention.

It may be worthwhile to ask for home health care services to have physical therapists, nurses, and caregivers evaluate the patient in their home environment and be on the lookout for changes in the patient's baseline.

Caregivers need to pay special attention to lifestyle interventions to keep the elderly in the best health possible. Having the doctor and caregivers work on lifestyles interventions such as diet, sleep, stress, and exercise programs will help them maintain a stronger immune system and overall health.
Gareth Mahon is the CEO of The CareSide, a company that provides home-care and nursing services for seniors and individuals with disabilities in Western Australia. "One of the most important things caregivers should keep in mind when they request remote support is that…" They should comprehensively communicate the needs of those they are caring for. Due to COVID-19 concerns, in-person visits are happening less frequently with healthcare providers, so carers may not notice critical non-verbal details of those they are caring for. Specifically, making sure any differences in someone's usual appearance (such as coloring in their face), behavior (such as moving around the home less), and sleep patterns should be noted by carers. This way, they can arrange necessary medical tests or services to ensure the person is cared for.
Dr. Mayda Antun serves as the Chief Medical Officer of IMC Health Medical Centers. After completing her Internal Medicine residency and fellowship in Endocrinology, she went on to work in various clinical medical positions until receiving her MBA from University of Miami, positioning her on the medical administrative track. "We are all too familiar with the economical and clinical consequences caused by the COVID-19 pandemic…" Yet, the pandemic did bring some positive developments. The need to shelter at home, particularly for the vulnerable population of persons age 65 years or older or with chronic medical conditions, has accelerated the implementation of telemedicine as an acceptable and clinically appropriate means of providing health care. Some experts estimate the development and use of telemedicine was accelerated by 10 to 15 years due to the pandemic. Telemedicine has actually improved access for patients with illnesses and disabilities that make it difficult for them to travel to obtain health care services. As patients receive remote health care through telemedicine, certain aspects of the caregiver role also change. Legal Make sure that you understand and have addressed the legal requirements for you to easily and successfully function in your role as caregiver. You may need a power of attorney to allow you to assist your loved one with financial decisions. Talk to your parents about long-term wishes and if these are documented in a living will or advanced directive. You will also need a health care power of attorney or to be named as a health care surrogate in order to make health care decisions. Access to Information Face-to-face visits with health care providers make it easier for a caregiver to obtain medical information. To ensure you have timely information on visit summaries, lab and diagnostic test results, referrals and health plan authorizations, ask health care providers about access to their patient portals and what information is available through the portal. Make it a habit to verify at each visit that health care providers have updated contact information for you and the patient, and that their systems reflect you are a representative of the patient who may be given information. You and the patient may have to complete a form designating you as a representative. Remember to give each health care provider a copy the patient's advance directives and health care surrogate or health care power of attorney documents and any updates. Support Network You know how challenging and exhausting caregiving can be, and physical distancing can make it more difficult to receive the additional support that you may need. Make sure that your family and friends are aware of the additional precautions they need to take, such as wearing a mask and frequent handwashing, in order to assist in the care of your loved one. For additional support, join an online caregiver community such as through AARP or the Family Caregiver Alliance, or access information through many of the caregiver support websites. Check out this list of organizations from the American Society on Aging. Do not be afraid or embarrassed to discuss any issues with your loved one's health care providers!
Terry Moore
Terry Moore is the CEO and Founder of HomeoLux, a health and technology company that designs wellness products based on cutting-edge scientific research. Following his lifelong passion for science, research, and innovation, Terry Moore developed a new light technology, BEACON40, to complement his wife's treatments as she battles cognitive decline. "One of the hardest things about social distancing is that many of us have to stay away from our aging parents, disrupting the comforting routine of our visits…" And so, we call them or video chat with them instead, but it's not quite the same as being there. This is especially challenging for families who are battling Alzheimer's disease. What's the best substitute for a periodic visit? Instead of replacing the large event of Sunday brunch, for example, with a large virtual event (like an all-family video chat), consider replacing it with a dozen micro-events. Phone calls and texting are perfect, of course, for reminding your parents of your presence throughout the day. Here are some other ideas:
Play a game like Scrabble together on your phones. It's one big game, but it comes one move at a time, so it only requires short bursts of attention. But since each move is part of a larger game, it will stitch together the hours when you're not together. Word games are also especially good for brain health.

Share memories. Send old photos via your phone or in the mail. Send new photos, too, so they can see friendly faces like grandchildren, pets, or even growing spring gardens.

Share an experience, even if not in real-time. Agree to watch the same movie, listen to the same podcast, or read the same book. Not only can you discuss it together later, but you'll think of each other while you're doing it. Watch your parent's favorite show even if it's not quite to your taste.

Talk about the weather. There's nothing wrong with small talk. Step outside and let the same sun — or moon — shine down on both of you.

Bird watch. If your parent sees a new bird, they'll think of you and look forward to telling you about it. It will make you present to them even though you're far away.
Short conversations or connections can be easier for a person who has dementia because they are less tiring and there's less pressure to remember things and sustain a conversation. They also lessen the burden on you if the connection feels a bit one-sided. Don't underestimate the power of a steady stream of micro-contacts to keep you present to each other even over a distance. Always remember to take care of yourself. If you have been diagnosed with Alzheimer's disease or you are a caregiver or friend, it's never too early or too late to start a wellness routine for yourself. Commit to regular exercise and healthy diet habits, adopt a light therapy habit, and put yourself on a road to strengthening your mental acuity.
Aaron Goldsmith is the owner of Transfer Master. Transfer Master has built electric adjustable hospital beds for the home and medical facility since 1993. He started with a simple goal that hospital beds should allow wheelchair users to transfer independently in and out of bed. 25 years later, their customers are still at the center of everything they do. "Caregiving can be overwhelming, especially throughout COVID-19, but there are many things to look out for when providing remote support and care…" Some strategies include: Leverage Technology Use mobility-enhancing devices like lift chairs, electric adjustable beds, and rotating pressure mattresses to enable an elderly or bed-bound patient to be more self-reliant. Use Facetime or Zoom for remote check-ins. Financial Planning Caregiving is pricey, so it is important to begin financial planning early. This creates peace of mind, understanding where your income is going each month, and if there are any situations that involve pulling emergency funds. Support Groups Support groups are beneficial for caregivers because they are gradual community builders. Finding the ideal support group can be simple once you decide on the focus, size, and opportunities to gain support while caregiving. The solution to providing better caregiving is going to be finding new ways to reach your patient(s) – avenues other caregivers have not yet explored – and offering patients a unique, yet personal experience. Separating yourself from the crowd is going to be the key to future growth.
Gail Trauco, R.N. BSN-OCN

@Gail_Trauco
Gail Trauco, R.N. BSN-OCN is an Oncology nurse, Licensed Grief Mediator, Patient Advocate, and Founder of Medical Bill 911. As a registered Oncology nurse, pharmaceutical trials expert, and licensed Grief Mediator, Gail Trauco has spent four decades helping patients navigate the sea of red tape in the American healthcare system. She is known for finding solutions when everyone else says there is no way. Her Medical Bill 911 online course and book are helping American consumers around the country get out of spiraling medical debt. "The coronavirus pandemic has created the need for remote support, care, and caregiver support…" Caregivers remain on the front lines of healthcare, providing needed patient care. Remote support for caregivers includes both personal and professional support. Patient visits may occur via telemedicine to allow for ongoing physician care and management. Caregivers may be present during the telemedicine call, so it's necessary to ensure that ongoing HIPAA compliance and confidentiality are maintained. Remote caregiver support is crucial. Employers need to ensure an adequate supply of PPE for both caregiver and patient. PPE may be shipped to a remote caregiver's place of practice or home. This should include, at a minimum, masks, gloves, and hand sanitizer. Caregivers need to be sensitive to their own physical and emotional well-being. Stress and fatigue may create additional anxiety. Caregivers always need to be alert for COVID-19 symptoms, both for the patient and themselves. Remote caregivers need to be selfish to help maintain their health and wellness. Shelter-in-place creates isolation and leaves individuals feeling lonely. Stay connected with others through telephone conversations, FaceTime, Facebook, Instagram, or other video chat options. It's difficult being a remote caregiver. Try these four ways to ensure self-care:
Practice mindfulness

Go for a walk

Video chat with a friend

Read a book
Remote support, care, and caregiver support has been a valuable resource for family caregivers for years, but in the midst of the COVID-19 pandemic, the importance of remote caregiver support became paramount. With many measures such as social distancing recommendations likely to remain in place for the foreseeable future, remote caregiver support will remain a staple in caregiving. Keeping these recommendations in mind will help you get more from remote support services and will help you better care for your loved one, even when in-person support isn't accessible.
---
More insights like this:
3 Ways to Strengthen Caregiver Mental Health

Being a caregiver often comes with many anxieties and challenges that one must navigate. Sometimes these outcomes can affect a caregiver's mental health. Caregiving often results in chronic stress, which negatively impacts a caregiver's physical and mental health. Moreover, nearly 33% of unpaid caregivers reported experiencing mental or behavioral health symptoms such as…

Read more

: 3 Ways to Strengthen Caregiver Mental Health

Caregiver Nation: A Pivotal Moment for Family Caregiving in the U.S.

This year's National Family Caregivers Month signifies a crucial turning point in the history of family caregiving policies and awareness. From advancements at the state level to federal initiatives, there's a growing commitment to addressing the needs of our nation's 53 million family caregivers. This positive shift is long overdue. The demands placed…

Read more

: Caregiver Nation: A Pivotal Moment for Family Caregiving in the U.S.

A Thank You Letter to Family Caregivers

In celebration of National Family Caregivers Month (NFCM), Careforth President and CEO Matt Marek shared his appreciation for family caregivers across the nation in a letter. The letter from Matt appeared in the Boston Globe, Hartford Courant, Atlanta Journal-Constitution, and the Indianapolis Star. Matt welcomes you to join Careforth in supporting the 53 million family…

Read more

: A Thank You Letter to Family Caregivers