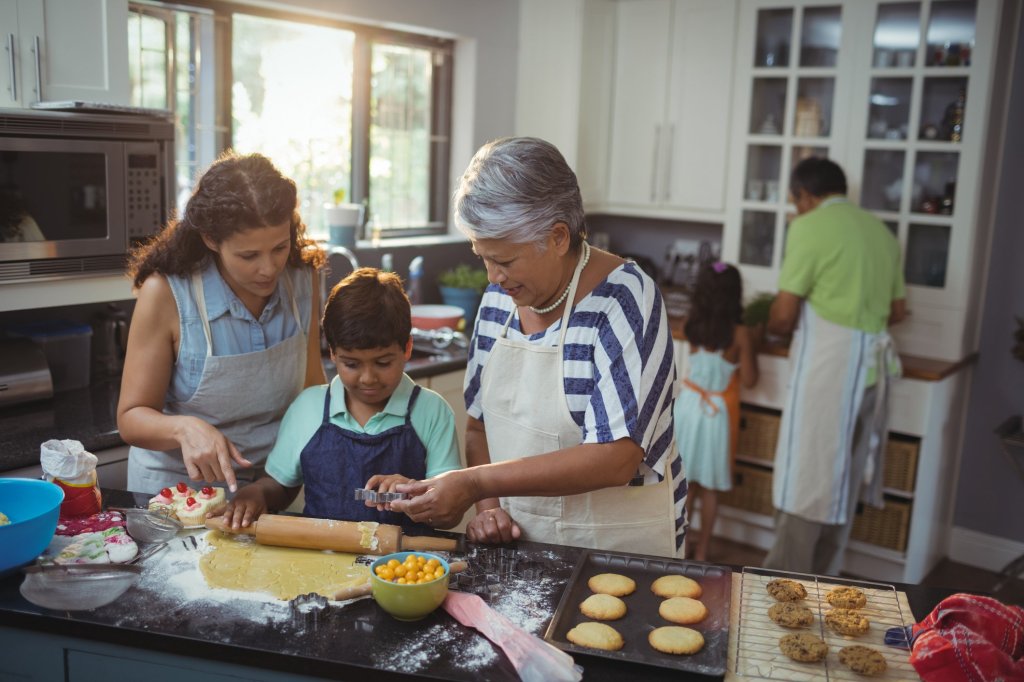 Tips for Finding the Best Home Delivery Services for Seniors and Caregivers
Being a caregiver is a
tough job
– but that doesn't mean there isn't help available. There are respite services, special
funding for caregivers
, and several options in the way of state and community-based services. One of the most accessible ways to get extra help – on demand – is by taking advantage of the many home delivery services. Though there are an assortment of home delivery services available,
estimated at $200 billion
, online food delivery is an especially fruitful global industry. There are a number of
meal delivery services
specifically designed for seniors, some at a low cost or entirely free for eligible seniors. These services are particularly helpful for older adults who have difficulty preparing their own meals due to mobility issues or other concerns. While many caregivers will prepare
easy recipes
ahead of time or even daily, it's not always easy to keep up with the demands of cooking and meal preparation in addition to your other caregiving duties. Meal delivery services provide the peace of mind of knowing that your loved one is receiving nutritious, balanced meals. Plus, meal delivery services can cater to special dietary needs such as
low-sugar
, vegetarian, and more. In addition to online food delivery, caregivers and seniors alike are benefiting from the convenience of medication delivery and even grocery delivery. To help make the selection process simpler, we've collected an assortment of recommendations from the experts who know best. We've also included tips and tricks to help convince your loved one of the merits of home delivery.
What to Look For in a Home Delivery Service
Home delivery services aren't one-size-fits-all. "Knowing what you need from your meal delivery service makes it easier to choose the best one for you. Here are some things we recommend thinking about: Your budget. Meal delivery services vary, but in general, expect to pay around $12 per meal. That means getting a single main meal for one person daily, six days a week, will cost around $72. Of course, the cost will rise if you add in lunches and snacks. Knowing your budget helps you figure out if a service is a good fit. Your diet. If you have a special dietary requirement such as eating vegetarian or following a diabetic-friendly diet, be sure to check that the meal service caters for your needs. How many meals you need. Not every senior needs every meal covered by their service. Perhaps you can cook some meals but can't cope with doing it daily. Or perhaps you have a family member who can assist with meal prep, or help prepare meals for the freezer." – The Best Meal Delivery for Seniors, The Senior List; Twitter: @SeniorList
When selecting food services, opt for one that tailors to dietary needs. "For a growing number of people in America,low-sodium, diabetic gluten-free meal options are necessary for health reasons. For others, tailoring around taste and sensitive digestion can make a huge difference." – How to Find the Best Senior Meal Delivery Service, Chefs for Seniors; Twitter: @chefs4seniors
Explore the benefits of home meal kit services. "One of the main attractions of meal kits is the convenience of it all. You don't need to run to the grocery store, you don't need to chase down random ingredients across town, you don't even need to come up with any ideas for dinner. All you do is go online take a look at the week's offerings and then make your selections. The meals will then come directly to your door without you ever leaving the driveway. Meal kits can help you live healthier for a number of reasons. One, the kits introduce you to fresh, organic ingredients that you may not have been used to eating, and by encouraging you to cook at home, you're less likely to step out and eat less healthy food outside the house." – Choose from the Best Meal Delivery Services for Services, Top10.com; Twitter: @Top10MainCom
Assess your local options – and do your research, too. "Choosing the right meal delivery service can be a little daunting, with all the options available. Here are some questions you must ask yourself when choosing the right meal delivery service.
Learn to save cash with meal delivery services. "Using a prepared meal delivery service can really benefit those seniors who are on a tight budget. Instead of stressing about the varying cost of groceries, they can sign-up for Meals on Wheels and pay on a regular basis. They'll always know what their meals will cost, which helps to keep them on track with spending. Plus, you do get a great deal for the value you're getting. In the end, using a meal delivery service can actually save cash when compared to the price of frozen dinners you'd buy at the grocery store. Even seniors want to keep a little extra cash in their pockets!" – Dan Scalo, 4 Benefits a Meal Delivery Service Can Have for Seniors, Meals on Wheels Loveland Berthound; Twitter: @LovelandMeals
How to Talk to Aging Parents About Home Delivery Services
Gather information first. "Talk with your loved one about what they think their needs are and consult with other family members who are involved in their care. Once you have determined which tasks they are struggling with and which services could be useful, it's important to begin researching providers in their area. Try to gather as much information as possible to make an informed and confident decision." – Marlo Sollitto, In-Home Services that Can Help Seniors Continue to Live Independently, AgingCare; Twitter: @AgingCare
Early intervention is key. "If you think that your senior could benefit from medication pick-up and other services (or definitely requires services, but is reluctant to admit it), start the conversation early. The need for a helping hand at home isn't going to just go away. In fact, as the years pass by, your senior will probably begin to need more help, not less. The earlier you speak to them about the options available in their homes, the more functionality they may be able to retain — and the safer they will be." – Medication Pick-Up and Other Services: Why They're Crucial For Homebound Elderly, Institute on Aging; Twitter: @IOASFBAY
Let them know that they are not alone. "A newly released surveyfinds that one in six Americans over 50 say they order groceries online. Among this group, just over half say they place orders once a month or less. The survey included 1,004 respondents and was commissioned by the International Food and Information Council, an industry-funded education organization. Despite low penetration and frequency, a majority of older Americans that shop online say they're very or extremely satisfied with the service, the survey found. The results also note that lack of mobility, transportation issues and being able to take their time while they shop are motivating older Americans to try grocery e-commerce." – Jeff Wells, Could Older Americans be an Untapped Market for Grocery Delivery?, Grocery Drive; Twitter: @GroceryDrive
Give them the facts. "Pharmacy delivery services frequently make use of advanced computer technologies to ensure that your prescriptions are filled correctly.
"Delivery pharmacies may achieve greater accuracy compared to brick-and-mortar drugstores. One study found that while the drugstore error rate was about 1 in every 50 prescriptions filled (or 1.72%), the error rate for medication delivery was less than 1 in 1,000 prescriptions (or only 0.075%). With a medication management service that includes home delivery, you can have confidence that you'll be getting the right medications, dosages, and dosage forms. This may reduce your risk of adverse reactions and hospitalization." – Discover Five Important Benefits of Pharmacy Delivery Services, Integrity Pharmacy; Twitter: @IntegrityPharm
Medication Delivery Services and Tips
Take advantage of mail-delivery pharmacies. "The other way to get prescriptions is through the mail. With this, you can get a 90-day supply of your medications delivered to your home. Sometimes your health plan will have lower copays for mail order medications than retail pharmacies. If your prescription is current some of the mail order pharmacies will let you order your refill online for easier service. There are a few problems with mail order though. If you order through an unreliable online drugstore you could get counterfeit medication or the wrong kind. Also, your packages of medication could get stolen from your mailbox. Mail delivery is slower too, and it could take 2 weeks to receive the medication you need so you have to allow for that when ordering." – Home Delivery Services for Seniors, SeniorAdvisor.com; Twitter: @SeniorAdvisor_
Ensure that the prescription delivery service is licensed and based in the U.S. "Your seller should be located in this country. Make sure the seller is licensed or registered by the state where it's based. To find out, go to the web site of the NABP." – Kara Mayer Robinson, Online and Mail-Order Medicine: How to Buy Safely, WebMD; Twitter: @WebMD
Stick to one pharmacy. "Whether you shop in store or by mail order, once you find a pharmacy that fits your needs, our medical consultants strongly recommend you fill all your prescriptions there whenever possible. That way one pharmacy has a complete record of what you're taking and can flag any potentially dangerous interactions. That might not be feasible, say, if you get your blood pressure drug through mail order and your doctor prescribes a post-surgery pain medicine that you need right away. When that happens, let each pharmacy know all the medications you're taking and update them regularly on any changes." – Ginger Skinner, Using a Mail Order Pharmacy Doesn't Always Save You Money, Consumer Reports; Twitter: @ConsumerReports
Get prescriptions (and more) delivered to your door through national pharmacy chains like CVS. "Through CVS Pharmacy's newest delivery offering, the majority of CVS Pharmacy stores across the country are able to offer same-day delivery of eligible prescriptions. When a medication has been filled and is ready for pickup, patients can opt to have their medications delivered within hours. They simply have to select On-Demand prescription delivery service via the CVS Pharmacy app, through SMS text, or by calling their local CVS Pharmacy. The delivery service charge is $7.99and the packages will be delivered by Shipt. Along with eligible prescriptions, thousands of the most popular health and household items carried by CVS Pharmacy, including cold and flu remedies, allergy medications, pain relief, first aid, digestive health, vitamins, baby, personal and feminine care products, can be added to delivery orders." – Erin Pensa, CVS Pharmacy Launches Same-Day, On-Demand Rx Delivery Nationwide, CVS Health; Twitter: @CVSHealth
Opt for automatic refills and delivery. "Mail-order pharmacies offer an automatic refill option, in which they charge your credit card on file and mail your medication before you run out. If you opt out of automatic refills, you'll still receive refill reminders by phone or email. They'll even contact your physician annually to renew your prescription." – Laura Daily, Should You Switch to a Mail-Order Pharmacy? Here Are the Facts to Consider, The Washington Post; Twitter: @washingtonpost
Consider prescription delivery services that package medications as individual doses. "Amazon's billion-dollar acquisition of PillPack in 2018 signaled that the tech giant is serious about trying to shake up the medical industry. While the e-health market is still emerging, PillPack has a license to operate in all 50 states and a credible history as a stand-alone pharmacy offering to deliver prescriptions to your doorstep. Your prescriptions are also packed in individual doses, so you're never unsure about what to take." – Paul Schrodt, What is the Best Pharmacy Delivery Service?, yahoo! Finance; Twitter: @Yahoo
Take delivery fees into account prior to signup. "The fee structure for prescription delivery services is very straightforward. As long as your medications are covered by an insurance plan, your payment will only be the cost of the copay. Beyond that, most services offer standard delivery for free (as well as optional up charges for faster delivery).
"Some services will deliver prescriptions that are for 'self-pay' customers, too. In this case, it is critical that you call around and confirm the cost of the prescription itself, as the price can vary dramatically from one source to another." – Best Prescription Delivery for Seniors 2019, Grandfolk; Twitter: @Grandfolk
Walgreens is another pharmacy provider offering delivery services. "Another favorite pharmacy of many, Walgreens is now offering its very own delivery service. In 2018, Walgreens announced its new next-day prescription delivery service, which uses local Walgreens pharmacies to deliver patients' prescriptions within the next calendar day. It's one of the fastest and most convenient options, aside from next-day delivery." – Save Time and Money with a Prescription Medicine Delivery Service, Nation.com
When using a mail-order pharmacy, ensure that insurance is squared away. "Use a mail service pharmacy that's contracted with your insurance plan. Call the mail service pharmacy for instructions. Normally you need to complete an order form, provide the prescription, and make a payment online or through the mail. Your doctor can also fax the prescription in or e-subscribe it. Payment can be made with a credit card, debit card or withdrawal from your checking account. It can take more than a week to get your prescriptions when first starting, so you may also need your doctor to write a prescription for your first month and have it filled at a local pharmacy to fill in the gap." – Leslie Degner, RN, BSN, How to Get Your Prescriptions Delivered to Your Home, Enhanced Vision; Twitter: @enhancedvision
Meal Delivery Services and Tips
Explore community-based delivery options. "Meal delivery services will allow seniors who have difficulty preparing meals for themselves healthy meal alternatives. These meal options are both easy and nutritious. In addition, the meals offered are also served at senior centers which not only lets seniors enjoy nutritious meals, but they can do so in the company of other seniors. Here, you can check on transportation help for your senior to go to one of these centers for meals at your local Aging Services Offices or at the centers themselves." – Benefits of Home Delivered Meals for Seniors, Right at Home; Twitter: @rightathomeny
See if your loved one is entitled to free meals through their Medicare Advantage Plan. "Most Medicare Advantage plans that offer Medicare meal delivery usually offer the service for a limited time. For example, if you're discharged from a hospital or a skilled nursing facility, you may receive 10 pre-packaged frozen meals. Your plan may have limits on how many times per year you can receive the post-discharge Medicare food delivery service.
"Some Medicare Advantage plans let you choose meals based on any dietary restrictions you may have, including:
Diabetic
Fish-free
Gluten-free
Kosher
Pureed
Renal-supportive
Vegetarian
"Another way Medicare Advantage plans can offer meal delivery services is if you have a chronic condition. Your plan may offer a set number of pre-packaged meals annually if you have special dietary needs." – Troy Frink, Medicare Meal Delivery Service and Meals On Wheels, MedicarePlanFinder.com; Twitter: @medicare_finder
Or check Medicaid eligibility. "If you or someone you know are a senior or you are a person with a disability you may be eligible to participate in Medicaid home food delivery. Under the Social Security Act, in 1981, the federal government established the Home and Community Based Care Services program (HCBS) that provides waivers for meals.
"If you are unable to cook for yourself or if you do not have someone that can help you prepare food you can have food delivered to your home rather than meal preparation services. There are a variety of programs that are based on financial and non-financial requirements. Many programs will deliver food daily, every few days, or weekly to seniors or people that are disabled and cannot prepare their own food." – Medicaid Meal Delivery Services and Qualifications, Senior-Meals.org; Twitter: @SeniorMealHelp
Give meal kit delivery services a try. "Meal kit delivery services are different than prepared meal delivery. Prepared meal delivery services are heat and eat meals. Meal kits allow you to still prepare the meal – just quicker. With meal kit delivery, the ingredients are pre-measured and packaged with a step by step recipe, so you can prepare dinner. The meals usually take between 30 to 45 minutes to fix, although some take longer. Most kits will require you to have a few pantry basics like salt, pepper and cooking oil on hand. And of course, you'll need the utensils to cook with." – The Best Meal Kit Delivery Options for Seniors, AgingInPlace; Twitter: @ageinplace
Sign up for Meals On Wheels. "Meals On Wheelsis the largest national provider of senior meal services. The impressive meal delivery organization is composed of 5,000 nutrition programs across the country and even offers catered menus and dietary food options in some states and counties. Meals on Wheels is part of the no senior is left behind campaign to help nourish seniors in an easy, affordable way and has become one of the 'most successful social solutions in America,' according to the organization.
Some Meals on Wheels community programs distribute to local senior centers, while others deliver meals directly to senior's and caregiver's homes. You can look for available services in your area by entering your zip code in the tool." – Dana Larsen, Food Services for the Elderly, A Place For Mom; Twitter: @APlaceForMom
And find even more options with Meal Call. "Meal Call is a volunteer organization that provides worldwide listings for Meals on Wheels and other nonprofit meal-delivery organizations. They also help recruit volunteers to assist in these programs. The Meal Call website provides a directory of meal service providers listed by location." – Ilene Jacobs, These Services Help Get Meals to Seniors During the Holidays, Care.com; Twitter: @CareDotCom
Check our Uber Eats. "Uber Eatsoperates as part of the Uber ride-sharing app and delivers food from thousands of restaurants in over 130 American cities. Uber charges a booking fee, and for orders in "busy areas" there may be an additional fee. The app gives you the ability to track your order, so you can see where your delivery person is at all times." – Senior Meal Delivery Services, Senior Living; Twitter: @seniorlivingorg
Try Munchery's ready-to-eat and ready-to-heat meals. "In several major cities across the U.S., Munchery centralizes making a huge number of the same chef-designed meals each day, using fresh, local ingredients. This model — versus a restaurant, which makes lots of diverse meals — allows Munchery to price their ready-to-heat and eat meals at great prices, similar to many fast-casual restaurants. For example, a Jerk Chicken Bowl is $9. Munchery kicked off serving San Francisco, Los Angeles, New York, and Seattle. My mom loves it!
"Tips: They usually offer a coupon to get you started at low risk. You can schedule delivery within a specific hour. Hot meals need to be re-heated usually, and come in a heatable container." – Sue Wyshak, Healthy Food and Meal Delivery Ideas for Seniors Who Don't Cook, Balance Small Business; Twitter: @thebalance
Magic Kitchen offers custom meal plans designed by a dietician. "Magic Kitchen is a famous meal delivery service that takes senior meals and health issues very seriously. Its senior meals are designed by a dietitian to be as healthy as possible. They are prepared by pro chefs to be low in sodium, tasty, and flavorful. Each course consists of a main dish and 1-2 sides. You can order multiple 7-serving meal packs or create your custom diet plan by selecting individual courses. Senior discounts are available." –Best Meal Delivery for Seniors, Top 10 Meal Delivery Services; Twitter: @TopMealDelivery
Plant-based? Try Purple Carrot. "Purple Carrot boasts plant-based, vegetarian meal kits. Choose from a 'Quick and Easy' plan that boasts simple dishes designed to cook in 30 minutes or less. If you're short on time or a new home chef, the simple and straightforward recipes are the perfect introduction into home cooking.
"Purple Carrot also offers a 'Performance Meals' plan. This plan's meals all include at least 20 grams of plant protein per meal. Purple Carrot's protein-packed ingredients include quinoa, spinach, tempeh and kidney beans. Lastly, there's the 'Chef's Choice' plan that features gourmet dishes. The recipes feature seasonal ingredients and are designed to expand your culinary horizons. Subscribers choose between a 1–2 servings kit or a 3–4 servings kit. Shipping is always free, and there's no time commitment required." – All the Best Meal Kit Delivery Services Available in America Right Now, Epicurious; Twitter: @epicurious
For the best in gourmet, try Home Bistro. "Home Bistro and DineWise were once the kings of the prepared meal delivery services. Today, they are a small shell of what they used to be, but that is good and has value for some family caretakers who are looking for the perfect balance of gourmet quality, generous portion sizes, convenient packaging, and can afford the $15 and $25 per meal gourmet upgrade." – Senior Meal Delivery Services, Senior-Meals.org; Twitter: @SeniorMealHelp
EveryPlate is the best for budget meal kit. "At just $4.99 per serving and with an emphasis on delicious, hearty meal options and generous portion sizes, EveryPlate is the best plan for those whose journey into meal kit delivery is based on affordability. It keeps its overhead low by offering eight easy recipes to choose from weekly, which does mostly exclude vegetarians and those on special diets, but the eight available meals are full of variety and flavor otherwise. Get 18 meals for only $3.33 each, free shipping on your first order, plus the ability to skip or cancel anytime." – Pamela Vachon, The Best Meal Kit Delivery Services of 2019: Home Chef, Blue Apron, HelloFresh and More, CNET; Twitter: @CNET
Grocery Delivery Services and Tips
Take a look at the most popular grocery delivery services. "When it comes to the companies where seniors shop online for food or groceries, a few stand above the rest in terms of their frequency of use. The top grocery delivery companies are Amazon Fresh (58 percent), Peapod (24 percent), Google Express (18 percent) and Fresh Direct (17 percent). The top meal-kit delivery companies are Blue Apron (63 percent) and Hello Fresh (42 percent), with several others at 10 percent or less. Standing atop the prepared meal delivery companies is Schwann's (37 percent), followed by orders from restaurants (16 percent) and from Freshly (12 percent)." – Survey Finds That Few Older Americans Grocery Shop Online, But Lowering Hurdles Could Save Many, International Food Information Council Foundation; Twitter: @FoodInsight
Wide selections make for healthier, more diverse diets. "If you do remember to adjust your delivery, you have a great opportunity to try new foods. It is rare for people to try new things at the store, since they can't go get groceries right after they hear about something interesting. If you use a delivery service, you can place an order as soon as you hear about something that you think you might like. Since delivery services can usually carry a wider variety of foods than traditional stores, you can be confident that it will have the new thing that you want to try." – 7 Ways a Senior Grocery Delivery Service Can Improve Your Life, Everyday Senior Living; Twitter: @everydayseniors
Order your perishables with Peapod. "Items skip the store and go from the Peapod warehouse directly to your home. It's affiliated with Ahold-Delhaize grocery stores, including Giant and Stop & Shop. Unattended delivery is available in some areas, so you don't have to be home when your delivery arrives — Peapod leaves it in an insulated container." – Lisa Rowan, We Broke Down the Top 5 Grocery Delivery Services So You Don't Have To, The Penny Hoarder; Twitter: @thepennyhoarder
Be on the lookout for digital coupons aplenty. "When you place an order online for grocery delivery, one or more coupons may apply to the items you're purchasing. Often, the discounts from these coupons will show up automatically during the checkout process or you'll be able to apply them to your purchase with a simple click. Automatic coupons create a more streamlined shopping experience and they're especially helpful to seniors who want to minimize the amount of typing they need to perform to complete a purchase.
"Seniors will benefit from not having to hunt through several pages to find a coupon. Coupons are clearly announced for each item and sites will often highlight deals. For example, AmazonFresh promotes Fresh Deals on various items." – Why Seniors Should Start Using a Grocery Delivery Service, Nation.com
Amazon Prime members choose AmazonFresh. "If you're an Amazon Prime member and based in a major city, AmazonFresh may become your go-to grocery delivery service. For $14.99, customers can select from over 500,000 items, and have them delivered the same day. Early morning delivery times are also available and will be shipped within your requested 2-3 hour window of choice. The selection includes fresh produce, home essentials, and toys, among other must-have products.
"AmazonFresh initially launched in Seattle in 2007, but it's expanded to other major cities worldwide. You can access the online Amazon grocery store at any time, making it easy for anyone to complete their shopping "trip" on their computer or mobile device. And thanks to the company's acquisition of Whole Foods Market, the grocery store products are also available for purchase and delivery. If you're in the Seattle area, there are also two locations where you can pick up your pre-packaged groceries." – The 8 Best Grocery Delivery Services of 2019, Verywell Fit; Twitter: @Verywell
Get weekly groceries with InstaCart. "Instacart's user-friendly system streamlines the shopping experience and makes it easy to take advantage of sales, spot items that fit dietary restrictions, and specify replacement options if an item isn't available. You can choose from affiliates like Whole Foods, Publix, CostCo, CVS, and PetCo. Past purchases are saved irrespective of what store you have ordered from. This makes it convenient to comparison shop between Instacart stores to find the best price for a favorite product. Depending on availability, groceries can be delivered within two hours or even within one hour at a higher fee." – Best Grocery Delivery Plans for Seniors, AgingInPlace; Twitter: @ageinplace
Take advantage of free grocery returns with Jet. "Unlike most of the services on the list, Jet doesn't send a personal shopper to your local grocery store, they have their own inventory of grocery items they send. Unlike the other options, they therefore make free returns a big selling point if you end up with something you don't need. They also offer free shipping on orders over $35." – Kristen Hicks, 5 Ways Seniors Can Have Food Delivered to Their Door, SeniorAdvisor.com; Twitter: @SeniorAdvisor_
For dinner, groceries, and more, Postmates is a great choice. "If you want dinner, but also need to stop by the store for tissues, shampoo, and a few other necessities, Postmates has you covered. This service will purchase anything you need from any store. Your Postmate can go to the auto store for oil, the grocery store for food, the pharmacy for your prescription, and the restaurant for your meal. No senior should be without this service since it covers so much. They deliver at all hours of the day and night, too. Simply put what you want on your Postmates shopping list and pay the small delivery fee. If there is an issue with your order, your Postmate will text or call you for additional information. Postmates operates in a growing number of cities." – A Food Delivery Service Serves Seniors Too!, SeniorsMatter.com
Reap the benefits of chilled (not frozen) meals with Personal Chef to Go. "Personal Chef to Gouses FedEx to ship chilled (not frozen) meals across the country. These are easily reheated and come in individual trays. The company follows American Heart Association guidelines for healthy meals and focuses on being low in fat, salt and sugar, while remaining flavorful. The company will tailor to individual dietary needs, often without extra charge.
"The meals are sent every week or every second week, depending on the plan you choose. The site also highlights the weekly meal plans, so you know exactly what to expect. There are some appealing choices in the mix, including more unusual dishes than other services offer." – Prepared Meals for Seniors – What Are the Options?, Kapok; Twitter: @multiculturalc5
---
More insights like this:
3 Ways to Strengthen Caregiver Mental Health

Being a caregiver often comes with many anxieties and challenges that one must navigate. Sometimes these outcomes can affect a caregiver's mental health. Caregiving often results in chronic stress, which negatively impacts a caregiver's physical and mental health. Moreover, nearly 33% of unpaid caregivers reported experiencing mental or behavioral health symptoms such as…

Read more

: 3 Ways to Strengthen Caregiver Mental Health

Caregiver Nation: A Pivotal Moment for Family Caregiving in the U.S.

This year's National Family Caregivers Month signifies a crucial turning point in the history of family caregiving policies and awareness. From advancements at the state level to federal initiatives, there's a growing commitment to addressing the needs of our nation's 53 million family caregivers. This positive shift is long overdue. The demands placed…

Read more

: Caregiver Nation: A Pivotal Moment for Family Caregiving in the U.S.

A Thank You Letter to Family Caregivers

In celebration of National Family Caregivers Month (NFCM), Careforth President and CEO Matt Marek shared his appreciation for family caregivers across the nation in a letter. The letter from Matt appeared in the Boston Globe, Hartford Courant, Atlanta Journal-Constitution, and the Indianapolis Star. Matt welcomes you to join Careforth in supporting the 53 million family…

Read more

: A Thank You Letter to Family Caregivers