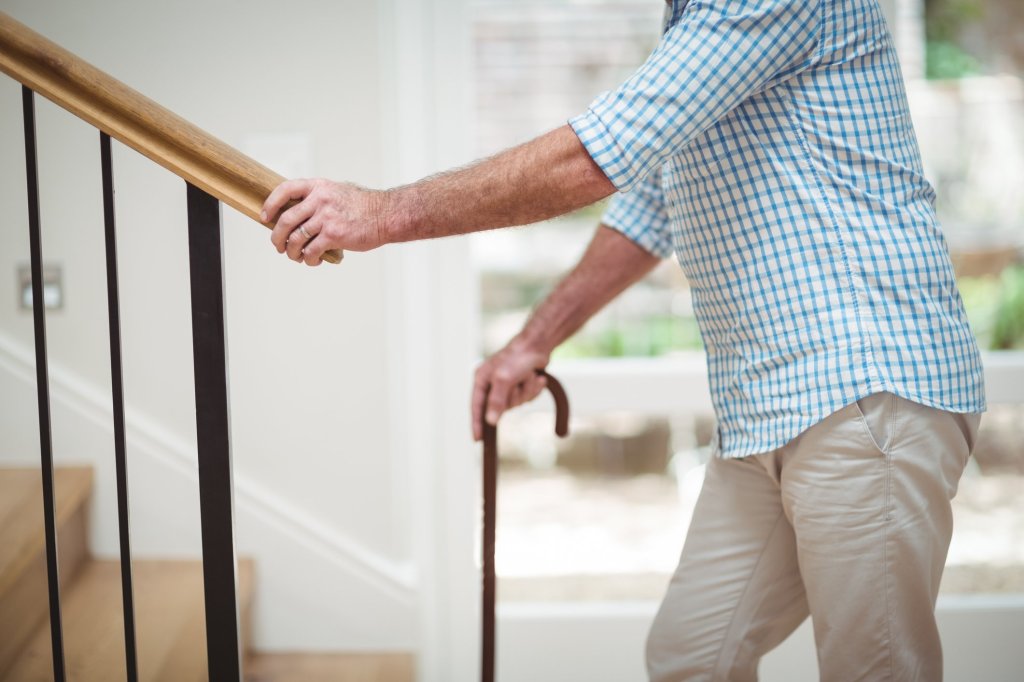 Home Modifications for the Elderly
If your elderly parents are living independently or you're caring for an aging loved one at home, safety is a prominent concern. At first glance, the home may not seem like a particularly dangerous place. But there are many hidden risks for the elderly around the home, from uneven thresholds or slippery floors that can cause trips and falls to poor lighting conditions and clutter that can make the home difficult to navigate for seniors with mobility challenges. These risks can make it difficult for your aging loved ones to perform
instrumental activities of daily living
safely. Investing in technology is one good way to enhance the safety of your elderly loved ones.
GPS trackers
for seniors with Alzheimer's disease or dementia can make it easy to locate an older adult who wanders or gets lost, and it's also a good idea to get a
cell phone for your aging loved one
so they can call for help if needed (as well as stay in touch with friends and family near and far). Aside from technology, however, there are many modifications you can make in the home to make it safer and more functional for your elderly loved ones, from the simple and free or low-cost to extensive renovations. We've rounded up 50 expert tips and home modification ideas that will help you create a safe, functional space for your aging loved ones throughout the home:
General Home Modification Tips for the Elderly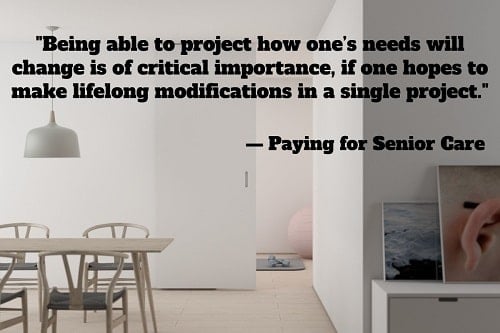 Enlist the help of an occupational therapist. "While it is possible and tempting for the non-professional to assess the modifications required to make a home both accessible and safe for the elderly, the use of a professional occupational therapist can be worth the additional effort and is sometimes paid for by Medicare. There are two major considerations. First, it is important to recognize that aging is a progression, modifications to accommodate needs today might not be sufficient for needs two years in the future. Being able to project how one's needs will change is of critical importance, if one hopes to make lifelong modifications in a single project." – How to Make & Pay for Home Modifications to Enable Aging in Place, Paying for Senior Care; Twitter: @PayForElderCare
Home modifications aren't always expensive; in fact, some are free. "Many home modifications are inexpensive. Examples of typically low-cost modifications include replacing cabinet knobs with pull bars, installing grab bars in the bathroom, adding night-lights, increasing bulb wattage, and getting rubber grips for faucets. And some changes are free – such as removing throw rugs that pose a slipping hazard and regulating water temperature to avoid scalding. But other modifications can be pricey, such as installing a wheelchair ramp or lowering kitchen counters." – Kathleen Michon, Attorney, Paying for Home Modifications, NOLO; Twitter: @NoloLaw
Ensure all stairways are well-lit. "Increase lighting on all stairs, either by plugging night-lights into wall outlets or installing overhead fixtures or wall sconces." – HomeFit Guide, AARP; Twitter: @AARP
Reduce glare and maximize lighting. "Some of the basic modifications to make a home elder-friendly involve adjustments to compensate for sensory loss that can be made without a major investment in remodeling. For those with low vision, walls should be painted a light but glare-free color while ceilings should be white to better reflect the room's lighting. Floors should be dull rather than waxed both for safety and to eliminate glare. Since older people need more light to perform the same tasks that they did in their younger years, more lighting fixtures should be used, especially direct task lighting and higher wattage bulbs. Light bulbs should not be visible so that glare is reduced." – Dr. John Connolly, Castle Connolly Medical, Home Modification for Senior-Friendly Living, AgingCare.com; Twitter: @AgingCare
Get rid of clutter. "The more space you allow in each of your rooms, the better. Make sure there are clear pathways and plenty of space to walk in without bumping into anything, especially in the rooms you spend a lot of time in. Unnecessary furniture can go to family members or be put on Craigslist. Just keep what you need now and get the rest out of the way so your home has more uninhibited space." – Kristen Hicks, 15 Home Modifications to Make Aging-in-Place Safe, SeniorAdvisor.com; Twitter: @SeniorAdvisor_
Consider wheelchair accessibility. "Improving accessibility means making doorways wider, clearing spaces to make sure a wheelchair can pass through, lowering countertop heights for sinks and kitchen cabinets, installing grab bars, and placing light switches and electrical outlets at heights that can be reached easily." – Home Modifications, Age Safe America; Twitter: @agesafeamerica
Consider smart door locks and alarm systems to enhance safety. "Smart home locks security systems give individuals with mobility issues the comfort of knowing that they are safe in their own home. A range of products is available. Basic models allow an individual to lock and unlock doors using a smart phone, a convenience for individuals for whom walking across the home to lock and unlock the doors throughout the day can be a challenge.
"More sophisticated systems offer more complex home monitoring and capabilities that allow you to turn lights on and off, lock doors, and view video cameras no matter where you are in the world, as long as you are connected to the Internet." – Budget-Friendly Smart Home Accommodations for Seniors and Individuals with Special Needs, HomeAdvisor; Twitter: @HomeAdvisor
Install a wheelchair ramp in the main entryway. "Putting in a permanent ramp that lets you enter your home using a walker or wheelchair costs about $1,600 to $4,000. When a permanent ramp isn't possible or is too costly, a portable ramp could be an alternative. A portable ramp to cover a step or threshold at the entrance of a house costs as little as about $60 to up to about $800.
"To prevent slips and falls, look for ramps that are sturdy and have high-traction surfaces. Review specifications for the weights that ramps can bear. Many can accommodate 600 to 850 pounds. Ramps also come in a variety of lengths from two-feet to 12-feet long and some have handles for easier carrying." – 11 Low-Cost Aging in Place Modifications You Can Do Yourself, Retirement Living Information Center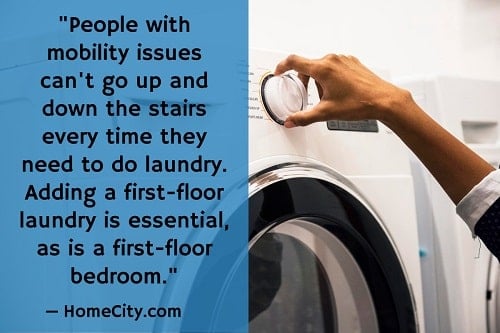 Add a first-floor laundry. "People with mobility issues can't go up and down the stairs every time they need to do laundry. Adding a first-floor laundry is essential, as is a first-floor bedroom. Sometimes you can add this by converting a den into a bedroom or a closet into a laundry area. Because this will require the addition of closet space for a bedroom or power and venting for a laundry room, this will require the help of a professional contractor." – Should They Stay or Should They Go: Home Modifications and Selling Your Home, HomeCity.com; Twitter: @HomeCityRE
Install rocker-style light switches. "Rocker style, 'push' light switches are easier to operate and use compared to traditional toggle 'flip' switches. They are larger and require less effort to use." – Aging in Place: Essential Home Safety Modifications, DiscountRamps.com; Twitter: @DiscountRamps
Eliminate cords to reduce the risk of trips and falls. "Not only are excess cords unsightly, but they can also pose a serious tripping hazard. Try to rearrange the electronics in the living room to minimize the space between the device and the electrical outlet so that the cords are contained in as small a space as possible. If this is not an option, secure the cords as close to the wall as possible using electrical tape. Avoid letting any cords cross doorways or walkways, and replace the tape as often as needed to ensure the cords stay securely in place. To reduce fire hazards, minimize the number of cords you plug into any one outlet and secure multiple cords with Velcro straps to keep them organized." – Stephanie Howe, Elderly Care Safety by Room: Living Room, Comfort Keepers; Twitter: @StephanieHoweCK
Stairs, both indoors and outdoors, should be equipped with firmly attached handrails. "If you have stairs indoors or outside, handrails should be firmly attached and run the entire length of the staircase. Consider adding a reflective strip to each step where appropriate." – Cardinal Senior Care Staff, How to Make Home Safer for the Elderly, Elder Options of Texas; Twitter: @ElderOptionsTX
Invest in smart home products to make the home safer and more functional for the elderly. "Technology is a game-changer for remaining independent in your home and staying connected with others, says Erik Listou, co-founder of the Denver-based Living In Place Institute, which trains professionals in the housing and medical fields on accessibility and safety in the home. Sensors can keep a virtual eye on you and your home to improve comfort, security and energy efficiency. As you move around your home, the devices can report back to a caretaker or a loved one about your daily routine.
"Voice-controlled personal assistant devices give you the ability to turn on or off household items such as lights, a TV or a thermostat. Moreover, with a push of a button, you can control connected-home systems around the house, including sprinklers, windows and locks." – Brenda Richardson, Design for living: Modifications can remove the obstacles to aging in place, The Washington Post; Twitter: @washingtonpost
Make the entryway a safe zone. "Multitasking is a recipe for disaster. Create an area for your bundles and packages both inside and outside your home. Use the surface when coming and going to keep your hands free and your balance high when coming and going." – Shayne Fitz-Coy, Co-CEO and President of Alert-1, Steps for Converting a House into a Senior Friendly Home, SeniorLiving.com
Widen doorways. "One of the greatest barriers to staying in a home that isn't set up for people with mobility issues is the amount of space to move around. When you start to slow down and need help getting around, you can find that your home doesn't allow movement for more than a person on their own. If you need to use a walking frame, crutches or a wheelchair, door frames and room layouts can turn out to be a bit of a tight squeeze.
"You might even be having trouble with spacial awareness and need a bit more room to move about. Wheelchairs can be especially difficult. Although they often fit through the door, there isn't always enough room for your hands, which is a disaster if you prefer to push yourself. "You don't want to have to have someone help you every time you want to go through the door. What you can do is have your doorways widened. Although this sounds like a big task, it's easy and quick." – Emily, The Complete Guide to Home Adjustments for Independent Living, The Senior List; Twitter: @SeniorList
Install slip-resistant flooring throughout the home. "The type of flooring you have can affect how safe you are in your home. Slick, shiny floors can cause glare and be slippery. Throw rugs and some area rugs are trip hazards. The wrong indoor or outdoor tile can cause slips and falls.
"Flooring and coefficient of friction rating (COF). Tile and other flooring materials have a special rating that shows how slip-resistant it is. These ratings are only used in the United States, so tile and flooring coming from other countries may not have it listed. Higher ratings are better than lower ratings. "There should be two different COF ratings listed – static and dynamic. The Static COF should be no less than 0.6, and the Dynamic COF should be no less than 0.42 to comply with the Americans with Disabilities Act (ADA) requirements. "If you are looking into purchasing new flooring, ask the store what the ratings are on each type you are considering." – Home Modifications for Elderly and Disabled Persons – Making Life Easier In Every Room, Hammer and Heart; Twitter: @hammernheart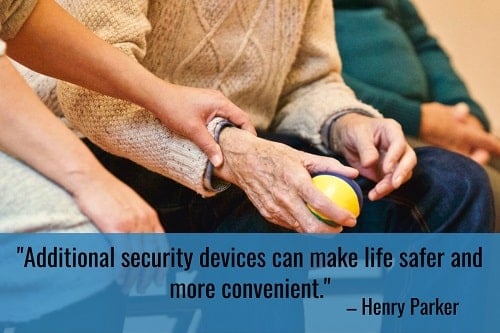 Install a home security or home monitoring system. "Because senior citizens are more vulnerable to home invasions, a monitored home security system is a wise investment for any home where an elderly person lives alone. These systems are monitored by a professional service at all times. If the system senses a problem, it alerts the monitoring company, which then contacts the appropriate authorities. This way the resident won't have to worry about making the call themselves.
"Additional security devices can make life safer and more convenient. A biometric lock on the front door makes it harder for criminals to enter and eliminates the need for the resident to fumble around with keys. A video doorbell lets the resident see and talk with a visitor before opening the door. "If your loved one needs a little extra attention, installing an activity monitoring system will let you keep an eye on them from wherever you are. This type of system provides video monitoring as well as information about the use of appliances, doors, and other home features to help you spot behavioral changes that might signal a developing medical issue." – Henry Parker, Home Modifications for the Elderly, Home Reference
Add swing-clear hinges to doors. "Narrow doorways could be difficult for walkers and wheelchairs to navigate. Replacing standard hinges with 'swing clear hinges' allows the door to swing completely clear of the door opening. This can add an extra 1.5 to 2" of clearance without widening the doorway.
"Cost of a handyman or trim carpenter: about $150. A pair of these hinges generally costs between $20 and $30." – Five Fixes Under $500, CaregiverStress.com
Home Modifications for the Elderly in the Kitchen
Store the items used most often within easy reach. "A senior climbing on a step stool or chair to retrieve an item stored too high is dangerous. Store the most used items in lower cupboards to prevent a fall." – Lior Zitzman, From Minor to Major: The Complete Guide to Home Modifications to Prevent Seniors From Falling, BigRentz; Twitter: @BigRentz
Avoid throw rugs. "No matter what your budget, make the flooring in your kitchen and elsewhere in the house a top priority. Spills that are not easily cleaned can lead to slips and falls. Any floor covering that you choose should be non-glare. Avoid carpet tape at all costs. And don't even think of incorporating rugs as a part of your kitchen floor aesthetic – there is a reason they are called 'throw' rugs!" – Kitchen Of The Future: Remodeling For Comfortable Aging In Place, AgingInPlace
Install a pull-out pantry. "Because it lets you see everything at a glance without having to shuffle items around, homeowners of all ages will find a pullout pantry useful. But besides being convenient, drawers that give you easy access to your canned goods and cereal boxes also put less strain on your back and knees. You can even use the pullouts to store heavy portable appliances, such as blenders, slow cookers and toasters." – Sam Ferris, Houzz Contributor, 10 Practical Kitchen Designs for Seniors Aging in Place, Care.com; Twitter: @CareDotCom
Rethink kitchen storage with accessibility in mind. "Adding pullout landing boards of spring-assisted shelving can also help with heavy items.
"Think outside the stack, and store dishes and baking sheets on end by adding dowels in your existing cabinets. You can also find ready-made inserts at various home stores. Consider lazy susan trays, full-extension slide shelving, sliding wire organizers, and pull-down shelves as well. "It's much safer for older adults to be able to pull shelves toward them instead of having to crouch down to search inside a lower cabinet or using a step stool to reach items in higher cabinets." – Chuck Winkles, President of New Life Bath & Kitchen, 6 Affordable Ways to Create a Senior-Friendly Kitchen, DailyCaring; Twitter: @DailyCaring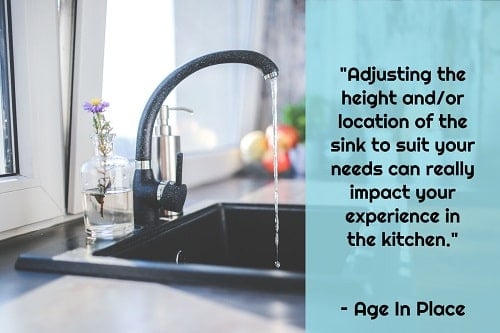 Adjust the height and/or location of the sink to suit your needs. "Adjusting the height and/or location of the sink to suit your needs can really impact your experience in the kitchen. You can also add a roll-under sink so those that are wheelchair bound can use it. There are motorized, adjustable height counters/sinks available, which can go from a standard height to something more accessible by someone who is in a wheelchair. A local cabinet maker or Certified Aging in Place Specialist can help you find a solution right for you." – Kitchen Ideas for Aging in Place, Age In Place; Twitter: @aging_in_place
Consider upgrading the refrigerator to take advantage of new, useful features. "The refrigerator is a good place to apply the budget liberally. New refrigerators come with better lighting, more storage space in the doors, and better ice/water dispensers that make usability a priority. Updating appliances to energy efficient models is also a good way to save money and get a tax break at the end of the year. Having updated appliances should limit the amount of maintenance also. Newer appliances tend to be quieter and will help reduce background noise." – The Aging in Place Home: The Kitchen, SeniorsMatter.com; Twitter: @Seniorsmatter
Instead of area rugs or throw rugs, use rubber mats. "Area rugs can create a tripping hazard for seniors, especially as they don't lift their feet as high. And, area rugs can cause slips as they can move. Instead, get the rubber anti-fatigue mats for the sink area and stove/range area. These are heavier, so they won't cause slips (they stay in place due to their own weight). Also, if these get wet, they are way less slippery vs tile or other hard surfaces. In addition, these are so much easier on your feet and back, so you'll be less tired." – Debbie Gartner, Home safety tips for the elderly: 10 Easy Modifications for the kitchen, Realty Times; Twitter: @RealtyTimes
Use contrasting colors for countertops, and consider a lower counter height for wheelchair-bound seniors. "Choose a countertop that is in a different color from the cabinets. If nothing else, make sure the edges are a different shade. This demarcation will make it easier for weak eyes to spot things.
"If your elderly parent is wheelchair-bound, then consider lowering the counter height from the standard 36 inches to about 30 inches, so it's easier to work from a seated position." – Linsiya Patrao, Elder-friendly | Kitchen Design Tips for Senior Citizens, LivSpace.com; Twitter: @livspace
Home Modifications for the Elderly in the Bathroom
Home Modifications for the Elderly in the Living Room
Rearrange your living room layout, keeping only the furniture you need. "As you age in place, you'll want to consider more than just the size of your living room space. Of course, you need enough room and a space that's uncluttered, but how you lay out that space also affects whether you can safely get around. A coffee table with legs that curve outward, for example, can be a tripping hazard. An end table that's too far from the side of the couch can mean that you can't reach what's there and without risking a fall or strain as you lean over. There are all kinds of problems that can occur from a bad layout.
"There's no need to get rid of every piece of furniture: keep everything you need, but keep only those things, so your layout remains simple and efficient. If you need to use a wheelchair later and you want to transfer from the chair to the couch, is the coffee table in the way? Does the couch slide on your wood floors? These are the kinds of questions to ask yourself when you're setting up your living room to age in place. You can still make your living room look nice, but the main goals need to be comfort and safety." – Aging In Place? Consider A Living Room Update For Safety And Security, AgingInPlace.org
Arrange furniture so that lamps and other appliances are within reach of an outlet. "Arrange furniture so that outlets are available for lamps and appliances without the use of extension cords. If one is absolutely necessary, place it on the floor against a wall and out of the way." – Victoria Araj, Home Safety Tips and Modifications for Seniors, Zing! By Quicken Loans; Twitter: @QuickenLoans
Eliminate low furniture if possible. "For those who use a cane, walker or other mobility device, furniture placement is key to maintaining a comfortable and safe living area. Low furniture, such as coffee tables, stools and ottomans, are particularly troublesome, as they may be hard to see and can easily catch on walkers and other devices as they go by. As a rule, a safe living area provides easy, unobstructed passage.
"Conversely, not all seniors with mobility impairments are willing to use an assistive device. Though such devices are the best means to prevent falls and accidents, respect must also be shown to each individual's desire for independence. Can such a balance be found? If your loved one is adamant in their refusal to use an assistive device, sturdy furniture can be closely arranged to allow for safe passage from one object to another. Though such an arrangement is far from ideal, it may be a necessary compromise for those who desire to maintain independent mobility." – Home Modifications That Will Make Seniors More Comfortable (and Safer!), Fedelta Home Care; Twitter: @Fedeltahomecare
Create three-foot-wide clear paths for easy navigation. "Organize your furniture to create 3-foot wide clear paths around the room, and make sure there are no holes or rips in the carpet or other floor irregularities. Create a walkway using large furniture elements, such as the back of the sofa. You can also arrange furniture to create a "resting area" where you can pause if you need to adjust to lighting level changes (e.g., going from a dimly lit hallway to a bright living room)." – Your Living Room, VisionAware; Twitter: @visionaware
Add more windows or skylights to improve natural lighting. "Impaired vision can cause accidents when not supported with proper lighting. Besides installing the right light fixtures, it will help if you have a lot of natural light in your home for your elderly loved ones. If you feel like your senior relative's home can use more windows, bring it up with them and encourage them to add more and open them to allow natural light into the home. This will help aid their vision and let them move freely and without worry in and around their house." – Kevin Hill, 5 Home Modifications to Help Seniors Age in Place, Western Stairlifts; Twitter: @Westrnstairlift
Provide comfortable seating at an appropriate height. "Make sure seating is comfortable and at appropriate height for ease when sitting and standing." – Kathleen Allen, LCSW, C-ASWCM, Senior Care Management Services, LLC, Making Your Home Dementia Friendly, BrightFocus.org; Twitter: @_BrightFocus
Home Modifications for the Elderly in the Bedroom
If it's not possible to have a bedroom on the first floor, consider adding a stair lift. "Almost seven million Americans, many of them seniors, use some type of assistance device for mobility. This may be a cane, a walker, a motorized scooter, a wheelchair, or crutches. For these individuals, stairs and multi-story homes present a serious challenge. Even if you currently require no assistance walking or maneuvering up and down stairs, your aging-in-place plan should include a bedroom on the first or main floor.
"A ground-floor bedroom may not be an option for you, however. In that case, you may want to consider a home stair lift. Stair lifts benefit people dealing with a wide range of issues, including problems with balance, knee and back problems, heart and lung issues, and other types of mobility challenges. Different types of stair lift designs may offer better comfort and ease of use, depending on the challenges you're dealing with. For example, a standing platform can be more beneficial for someone with problems bending their knees, and yet it's not as wide as a full-seated lift, which features a seat and footrest, and typically is operated by the push of a button. You might also opt for a lift that has a perch-style seat, as this doesn't require a full bend and is also good for those with knee problems." – Important Updates And Modifications For The Bedroom, AgingInPlace.org
---
More insights like this:
End-of-Life Caregiver Support: Five Tips for Prioritizing the Caregiver

During end-of-life palliative care and hospice care, it's typical for much of the focus to be on your loved one. However, anxiety, guilt, anger, and burnout are very common experiences for all caregivers. It's important that coping with these emotions is made a focus as well, so that your well-being and the care…

Read more

: End-of-Life Caregiver Support: Five Tips for Prioritizing the Caregiver

End-of-Life Decisions: The Difference Between Hospice and Palliative Care

It's never easy to consider hospice or palliative care for a loved one, and it's common for caregivers to experience stress and grief during this immensely challenging time. "When a loved one receives a serious diagnosis and members of the care team mention palliative or hospice care, it can be alarming, overwhelming and…

Read more

: End-of-Life Decisions: The Difference Between Hospice and Palliative Care

The Caregiver's Role in Creating An Effective End-of-Life Care Plan

End-of-life planning is a part of an estate plan that caregivers are often in the position to help establish for their loved ones. It formalizes the wishes of the person you care for, documenting their desires for what they'd like to happen at the end of their life. In short, an end-of-life care…

Read more

: The Caregiver's Role in Creating An Effective End-of-Life Care Plan